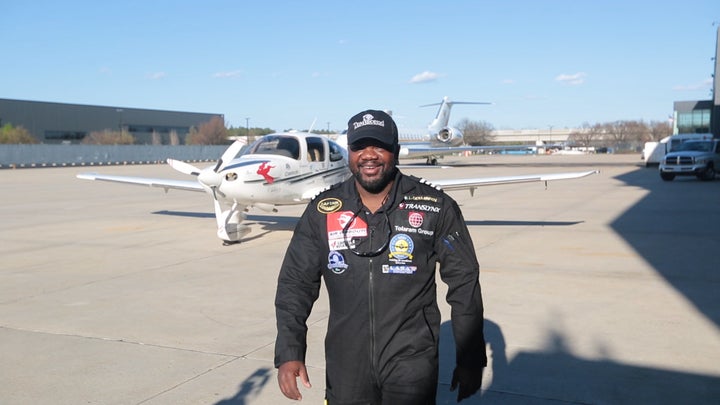 "I just don't want to be remembered as the man who flew around the world solo, I would rather want to be remembered as the guy who overcame all odds."
I often heard the saying that one's dream can only come true if one is a dreamer. Well I was a dreamer and on 29 March 2017, my dream did come true and I became the first African and 9 British pilot to fly solo around the world in an aircraft half the size of an average family car since 1933, when the records began.
What was remarkable about me flying around the world wasn't the fact that I flew an aircraft around the globe but that I did it in the face of adversity and overcame many failures.
Whilst many would have been satisfied with being an airline pilot, I was not done until I had achieved the dream I held for many years.
It only washed over me once I'd finally landed back in Washington DC after nine months. The dangers I'd faced, the challenges I overcame, the strength I found. I had thought it would be tough, I just didn't realise quite how tough circumnavigating the globe would be.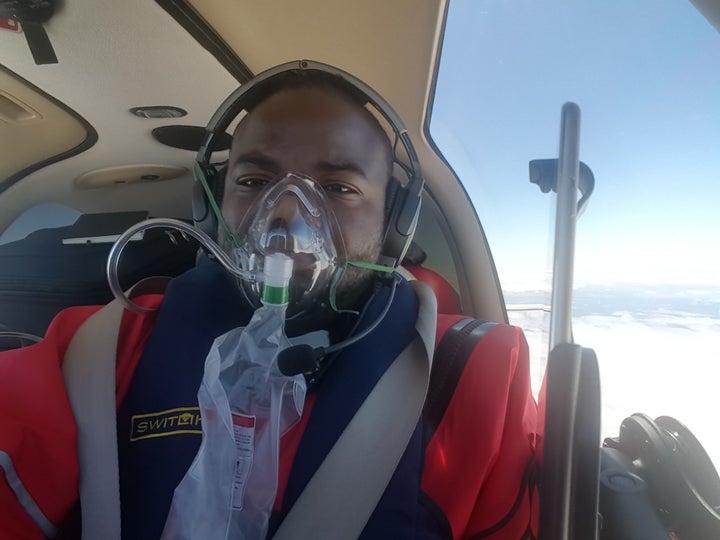 Bizarrely, the physical flying was the easiest task as it was all other activities surrounding each take-off that was challenging.
So back to how it all started…
I was born in London England to Nigerian parents (Segun and Elizabeth Odujinrin), and moved to Nigeria as a toddler. At a young age I became obsessed with flying but had no clue into how to become a pilot or indeed any clue as to where to begin.
I remember vividly making paper kites and flying them into the night on our four-story building balcony and I very quickly became the other street kids launch master as our house was the tallest on the street. I'd watch the patterns my kites would make and notice the planes, littered across the sky, making their own patterns across the inky black night.
"What are they doing?" I'd ask my father, who was kind enough to explain the holding pattern to me, when we'd watch them late into the night. One day my father told me that he himself had dreamt of becoming a pilot.
I knew those aircrafts were coming from far and wide and it was at this point that I started dreaming of what it would be like experiencing the world.
But my father had never fulfilled his ambition. He was encouraged to choose a different path despite his yearning to fly. A career in aviation had been considered an exceptionally dangerous one and my mother's family set my father an ultimatum. My mother or his career…
I was only 10 years old when I had this conversation with my dad and it resonated with me. The idea of a man only a generation away from me having to give up on his dream. I appreciated all that my father had sacrificed, but I felt destined to fly. Unfortunately, it was not long before I realised that I had my work cut out for me trying to convince these same family members that I was dreaming of a career in aviation.
I could sense a little regret in my father's voice and a part of me did not want to suffer the same fate by not chasing my dream. So, since then I would often tell everyone I came into contact with that I was going to become a pilot even though I had no clue of how to go about it.
Luckily for me, as I was turning 14, my aunt married 'Uncle Ayo', a fully qualified pilot. Finally, I had someone within the family to emulate!
Meeting Uncle Ayo for the first time, I could barely contain my excitement. As a kid, this man looked like everything I could ever dream to be. I was full of admiration.
Naturally I pestered him night and day with phone calls until he relented and invited me on board to fly with him the next time he was in our part of the country. This was beyond my wildest dreams and I painstakingly counted the days until he next visited.
Walking with my uncle through the airport corridor was like walking alongside a major general with everyone saluting in respect. He was so highly regarded, I felt so proud to be associated with him… and this was before we'd even made it to the cockpit!
Needless to say, my experience in the cockpit was unforgettable and to this day I remember exactly how it went, from the night stop in Kano, Nigeria to the early start the next day. I barely slept over the next few nights as I dreamed of my first flying experience.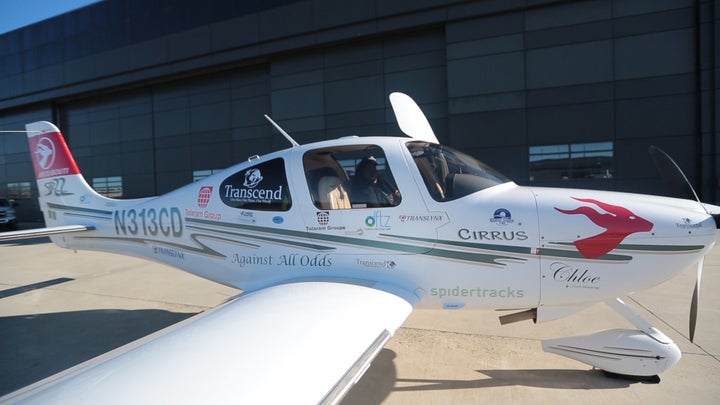 I knew had found my calling. I caught the flying bug and there was no stopping me now!
From that first experience, the people who knew me were undoubtedly bored of hearing my plans to become a pilot and fly around the world.
The majority never believed me. People would always remind me of all the reasons why I could not be a pilot. But I was full of conviction and determined to succeed. I simply saw myself in a world of no limits.
I endured years of discipline and hardship in order to raise enough savings to acquire my Private Pilot Licence (PPL) in April 1999. In 2010, I had saved enough money to further my professional pilot career by obtaining my commercial licence.
Despite becoming a professional pilot in 2011, the real love of flying around the world never left me and I started putting all my resources together in 2014 to make the 29 of March 2017 a reality.
There were numerous highs and lows on the trip. Lack of funds to starting the project, suffered numerous aircraft technical problems, racial discrimination, being suspected of being a spy, and logistical nightmare crossing various boundaries etc. Being cleared to land into Washington DC after all those challenges gave me a different perspective to live.
The biggest lesson I learnt from flying around the world is that your background only determines your starting point in life, and the finish line is determined by an individual's tenacity.
It is for that reason why I want to inspire kids especially those from less privileged backgrounds.
It is such an honour to have been able to circumnavigate the globe and be amongst the very elite members of the world's earthrounders.
It is my hope to break more records in the coming years and I have my eyes set on the all-time altitude record of flying a single engine aircraft to 60,000ft solo.
Life Less Ordinary is a weekly blog series from HuffPost UK that showcases weird and wonderful life experiences. If you've got something extraordinary to share please email ukblogteam@huffingtonpost.com with LLO in the subject line. To read more from the series, visit our dedicated page.
Related