We know all too well that beauty is only skin deep, but our relationships with our hairdressers, nail technicians and beauty therapists goes much deeper. Over the visits - and years - they've become friends, confidantes and the people we go to when we need a pick-me-up or a confidence boost.

The data everywhere shows that women have been worse-affected by COVID-19, and that includes female entrepreneurs, many of whom helm beauty businesses, which were the last to open their doors post-lockdown in August.

While at-home haircuts and DIY beauty treatments skyrocketed during lockdown, nothing beats the experience of going into your favourite salon or nail bar, relaxing for a spell and emerging feeling like the best version of yourself. We chat to customers and clients about what they've missed - and how they feel - now that they're able to support their local women-owned businesses.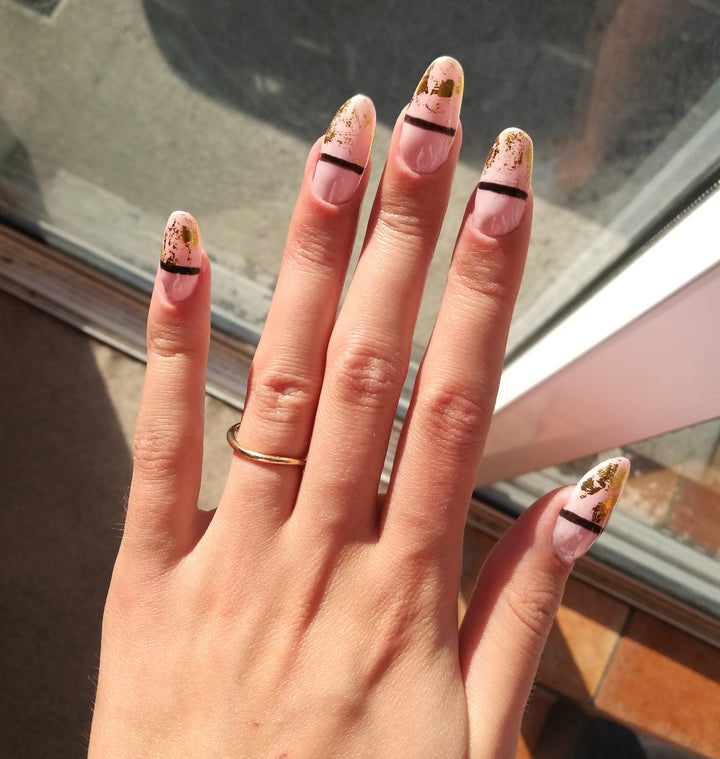 "My local nail bar inspired me to start my own nail business"
19-year-old Indya, from south London, has been a regular at her local nail salon for the past three years. Those months it was shut helped to ignite her entrepreneurial spirit:

"When we went into lockdown I was really upset I could no longer have my nails done. I decided to buy the products myself and practice. I enjoyed it so much I have invested in a nail course and have set up a small area at home to practice on my friends and family. I am hoping by the end of the year I will be qualified and will be able to run a successful nail business," she says.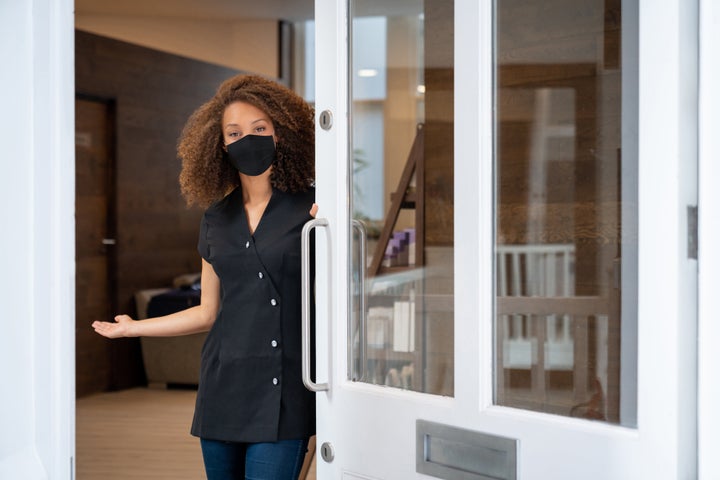 "My pick-me-up was made even more delightful because it was contributing to their livelihood - it felt a bit like my nails were for a good cause"
Going back to get her nails done after months of no maintenance was a welcome return to normality for Teresa, 50.
She says: "It was amazing to have the pick-me-up, but it was also a bit of a homecoming for me. I've been going to the same local nail salon since they opened nearly seven years ago. The first time I was back I saw the owner - we wanted to hug each other after such a long time… But of course we couldn't, so we settled on an awkward elbow bump, which made us both laugh. We were both equally happy and relieved to see the other. I really feel for these small business owners during this time."
"It always feels like I've visited a friend but the bonus is I come out of there looking fabulous"
"I have been a customer at my local hair salon for 26 years. I won't go anywhere else. My family are also customers. The salon provides a warm, family feeling. The stylists can actually make you look 10 years younger. They are just fabulous, they give advice on colour to suit your skin tone, cut and style your hair to suit your face shape - it's always great advice. Pre-pandemic, the junior stylists were always ready with hot beverages and biscuits - it's very courteous and friendly," says Amanda, who's in her mid-40s, and lives in south London.

"During lockdown I missed this place the most. It was hard not to be able to go there and my hair was very grey and unmanageable. The moment they could arrange appointments again, I was eager to book in. I had my hair dyed and cut and styled and felt so great. I just adore my salon, they are just amazing from the senior stylists to the juniors. It's a beautifully presented shop with an amazing workforce."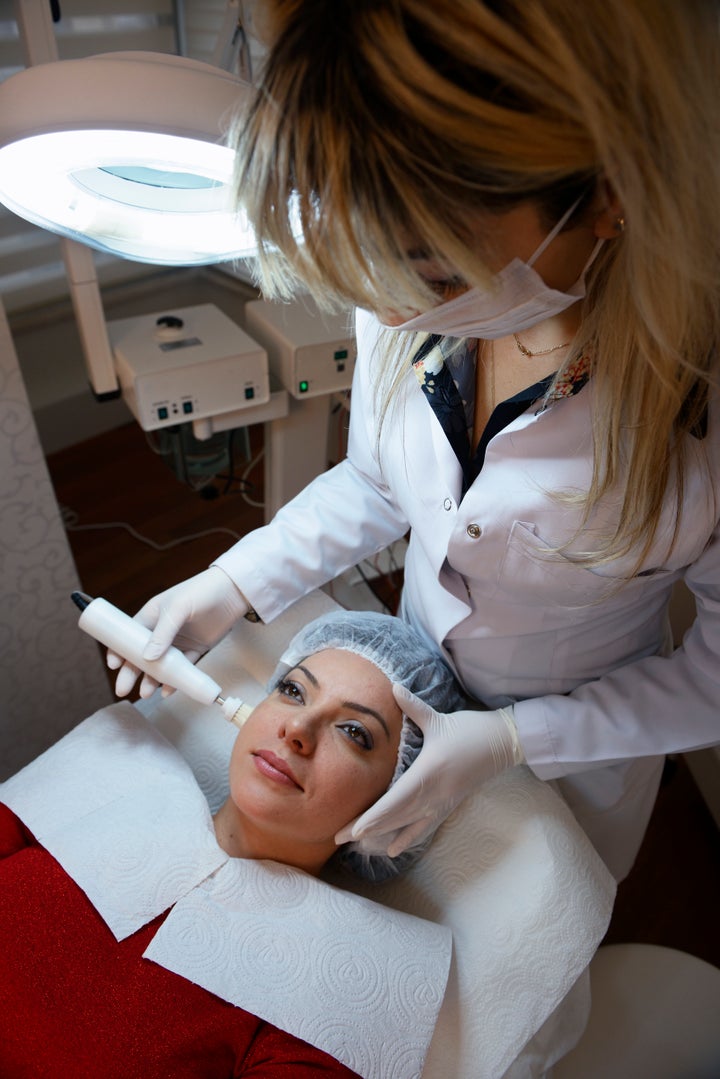 "There are no words to describe the elation I felt when the salon reopened"
"When my beauty therapist had to shut her salon down due to lockdown, I was devastated. I have been having numerous treatments over the last 20 years and wouldn't go to anyone else. I trust her and often allow her to choose the best treatment for me, rather than choose myself. I tell her that she is my angel, as she is always able to ease my pain, especially when my muscles spasm due to my multiple sclerosis. I love that she is able to tell me the science behind many of the treatments free of charge - she's not just a beauty therapist but a counsellor: non-judgemental, funny and professional," says Lorna, from London.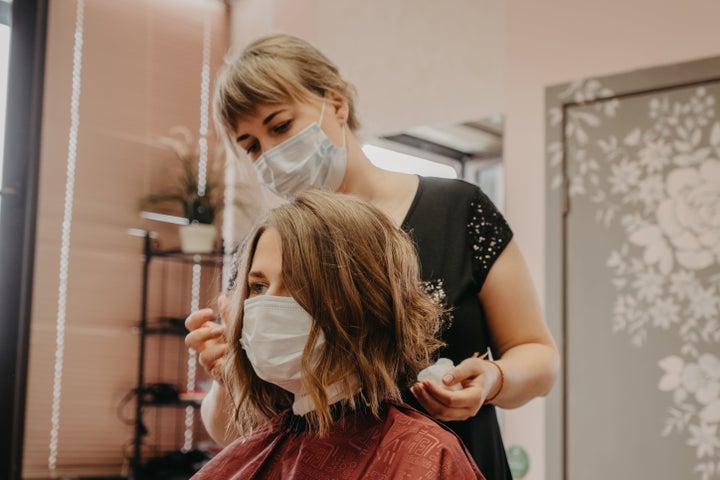 "As soon as I enter, I feel at ease and relaxed"
Pat, a grandmother from Swansea, has been a regular at her local salon for years - and now visits have become a family affair with multiple generations getting their hair done together.

"I adore the lady that runs my local nail salon. She really is a friend. I forget about everything else I should be doing. My daughter and granddaughter also visit the same salon so we chat about what the family has been up to," she says.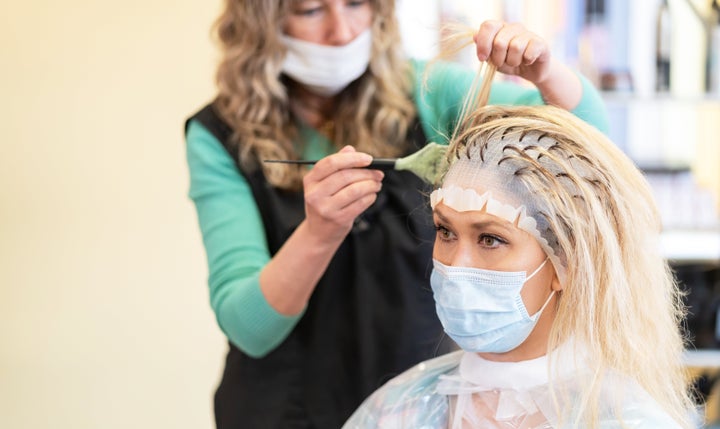 "Getting my hair done is my way to treat myself every few months"
24-year-old Emma tends to give her blonde hair a boost in the salon every few months, but found she missed out on the social aspect of salon visits as much as getting her roots done:

"I love to get my hair done. I take it as an opportunity to just sit and relax - something I rarely do. I enjoy chatting with the hairdressers. It's a way to meet new people, hear new stories and ideas, and create bonds that potentially lead me to be loyal to that salon."