The couple were granted the injunction to protect their children's privacy but they have been named by the press in the US and Scotland, where the injunction has no force, making their identity an open secret while the papers must still report no identifying details of the case.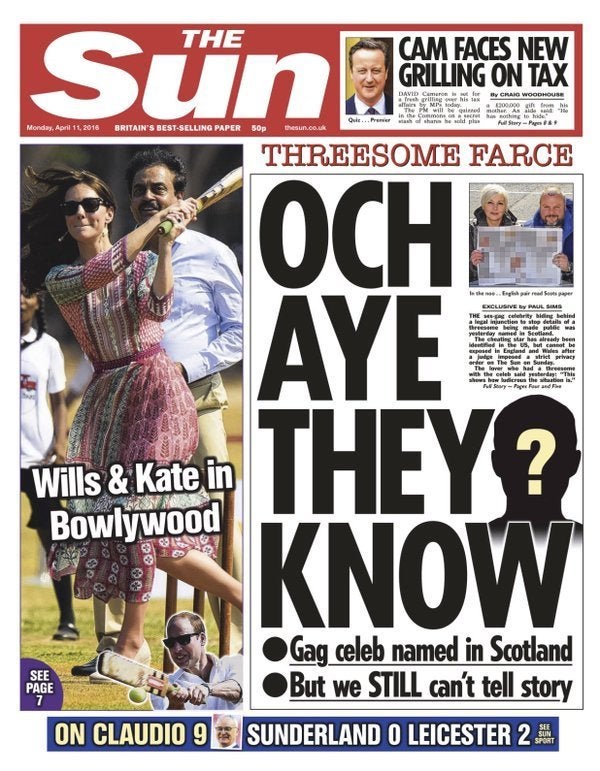 Ashley Highfield, the chief executive of Johnston Press, which has just acquired The i newspaper, told BBC Radio 4's Today Programme: "I think in a digital world it's increasingly unsustainable where one quick Google search will reveal the person in question."
He added the law should be changed.
According to The Telegraph, an unnamed MP is planning to name the pair in the House of Commons, where parliamentary privilege would protect the politician from legal repercussions for breaching the injunction and allow the papers to report details of the case.
In 2011, then Lib Dem MP John Hemming allowed papers to name Ryan Giggs as the footballer behind a 'super injunction' - one whose existence cannot even be reported - trying to prevent news of his affair with Imogen Thomas becoming public.
He named Giggs in parliament, by which point his identity was already an open secret on social media and in the press abroad. The footballer gave up all right to anonymity less than ten months later.
Monday's Sun decried it as a "threesome farce" and carried a picture of the Scottish paper - censored - across a double page spread.
It has a 'write to your MP' cut-out for readers to send demanding that "in the interest of free speech I want to see the celebrity threesome injunction lifted".
It adds: "The injunction is an affront to freedom of expression. Please help end this farcical situation."
The injunction was granted in relation to a Sun On Sunday story, who interviewed someone from the other couple with whom the celebrity known only as 'PJS', had sex.
PJS and his world-famous spouse YMA, as they were identified in court, were granted their injunction at the Court Of Appeal.
The court said it granted the injunction as their children's right to privacy outweighed the paper's right to free speech.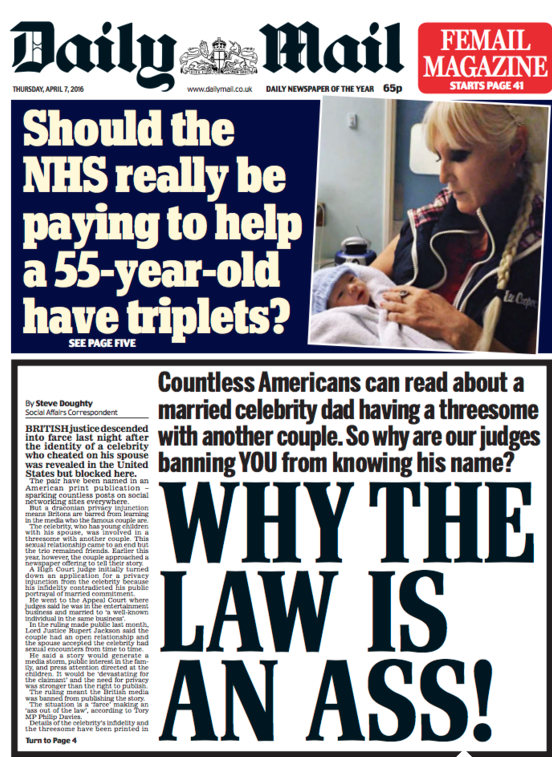 This went down very badly among the press, with The Daily Mail splashing "Why The Law Is An Ass!" on Thursday.
Hemming told paper: "It's absurd trying to hold back the flow of information in the digital age by using a court order that can only go as far as Hadrian's Wall ... It undermines public debate in England and Wales."