You're reading Relationships DIY, a series full of tips, tricks and perspective on keeping your relationship healthy and happy during the pandemic.
There's been a lot of talk of turbo relationships in lockdown. Certainly couples are moving in together more quickly than they might have done. Many friends are also making the leap – nesting up in bubbles instead of staying solo.
Whether you're buying a new place together or one of you is moving into the other's person's place, redecorating can be a good way of expressing your shared ownership of the space. If everything on the floor or walls is owned or chosen by one partner, it can make the other person feel a bit like a guest.
Moving home is a big life event, so it's understandable it might stir up some anxiety or cause headaches along the way. Couple that with the stress of decorating and furnishing a new pad to suits everyone's tastes and budget – and you have a recipe for potential conflict.
Before you spend a miserable afternoon fighting over what to buy in Ikea, here are some top tips from interior designers on where to start and how to seamlessly mesh styles and belongings with your significant other or flatmate.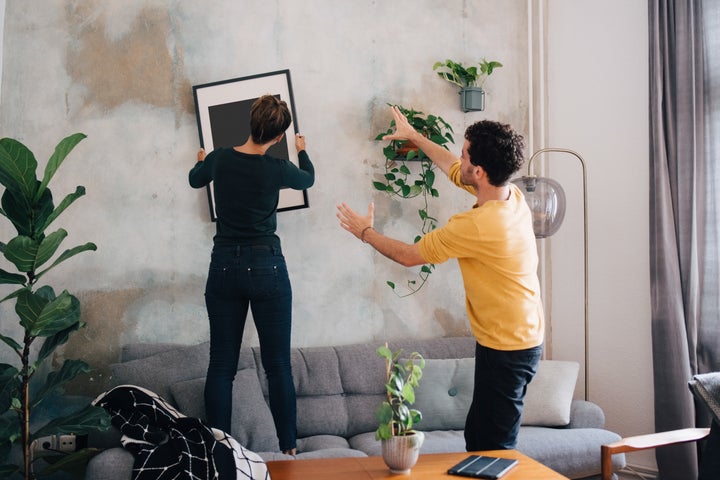 Communication counts
Like everything else when it comes to relationships, communication counts for a lot. There's always going to be some give and take when it comes to moving in together. Be prepared and start the move discussion early, so you have time to plan, talk through and budget.
It might be worth agreeing on a joint guiding principle before you start the process. London-based interior designer Lisa Mettis from Born and Bred Studio says she lives by the wisdom of William Morris: "Have nothing in your house that you do not know to be useful, or believe to be beautiful."
This is particularly important in times when we have to be very mindful of waste and tend to live in smaller spaces, Mettis points out. "Marrying two different styles with thought and clarity does work. It's what will make a home yours."
Edit your inventory
Merging your stuff is often a mountainous task, but it's a mountain that can be conquered if you know the right way. Both parties should know what they're dealing with from the outset. Decluttering can be rewarding, if hard work emotionally – so allow yourself a few sessions to work through it.
"A couple of weeks before the big move spend a weekend helping each other do a big cleanse," suggests Mettis. "Create a 'keep, charity or sell' pile. Having a clear out can be very cleansing. There is little point carrying the emotional and physical baggage of the unwanted or unloved to a new collective space."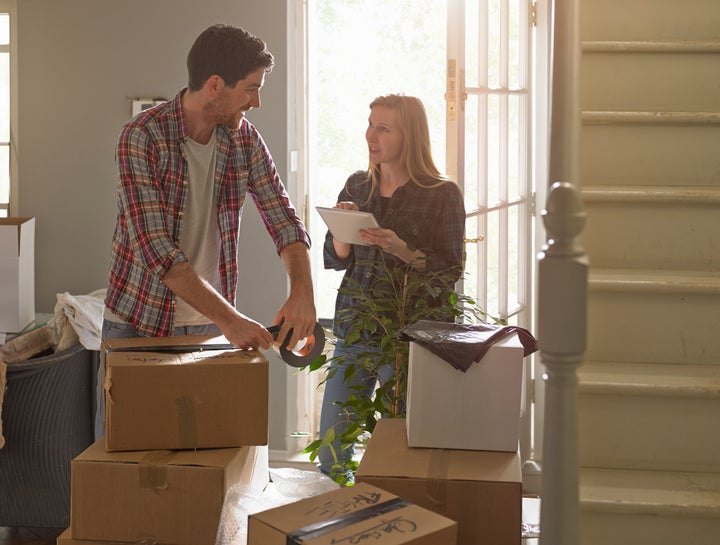 Once you've decided what to ditch, what to keep and what to buy new, you can move on to the next big hurdle – figuring out if there's enough space for it all.
"If you both have too much stuff you really want to keep, it's time to get creative with storage. Full height fitted storage can work really well and we love clever storage furniture like ottoman storage beds and footstools," explains interior designer Jo Sampson, project manager at Absolute Project Management.
"As a last resort, you may find yourselves more willing to declutter once you are in. Anything you don't unpack within the first six months is a good candidate to get rid of."
Clash of the styles
Everyone's design tastes are different and can be deeply emotional. "Often they are connected to our childhood homes and sense of identity," says Sampson, who says to keep in mind the reason you are doing this is "to create a home you both love".
This is why Trish Scorgie, an interiors consultant at Mel Massey Studio, never recommends her clients start completely afresh. "By throwing everything out, this doesn't reflect any of their personality," she suggests.
"The best homes are layers of history that have their own narrative – this cannot be bought off a shelf. What starts off as the history and memories of two individuals will soon develop into one which is shared."
Talk through why you love your respective styles, be honest, and you'll work out how you can incorporate elements that everyone's happy with into your home. Figuring how to be sympathetic and embrace each other's tastes and distastes can be a fine balancing act, but it's important to be respectful and considerate, especially if design is something that's a big priority for either or both of you.
"Establishing a 'house style' does take time but if you're really both into interiors it's imperative you're clear," advises Mettis advises. "Let's face it, we're increasingly spending more time indoors and with each other. We need to be looking at four walls we love."
See the bigger picture
Mood boards, mood boards, mood boards, recommend the experts. Pinterest might just become your best friend. It's certainly a great place to start, somewhere to find inspiration individually, then figure out together how it works.
"Working through visual media together is the quickest and easiest way to find the overlap in preferred styles," says Sampson. "Pinterest, watching shows such as Grand Designs, and flipping through interior design magazines is really useful to get an understanding of where the overlap lies."
Take baby steps in your research, coming back together to consult one another, and make sure you come to a complete agreement before deciding on the big purchases like a bed, sofa, wardrobe, and dining table.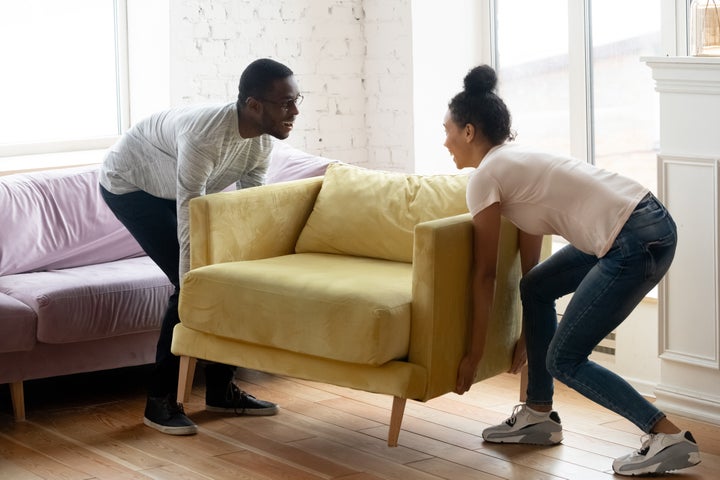 Size matters
Get acquainted with a measuring tape because you're going to use it a lot. Measure your space, then measure it again and measure once more for good measure to ensure everything fits.
"The biggest mistake we see is clients buying oversized furniture for their space. As well as fitting a space, make sure that you leave sufficient distance between items so that you don't overcrowd a room," Scorgie advises. "Only buy things that you love – sometimes a significant amount of research is needed to find the perfect item. Make sure that when you go shopping – even if it's online – you know what you both want so you can ensure that you have a coherent style."
Know when to see a professional
Consider an interior designer as a mediator, if you have the budget. Sometimes you just need an unbiased opinion and more often than not they can help save you time and money in the long run.
"We can pinpoint exactly what you can't put your finger on, style-wise, particularly when marrying two styles in a new home," says Mettis. "It's about ensuring both parties are represented in a timely and cost-effective manner, as well as, getting the job done in a timeframe that's not a one-day project. Also, most interiors designers are versed as an unqualified couples' therapist!"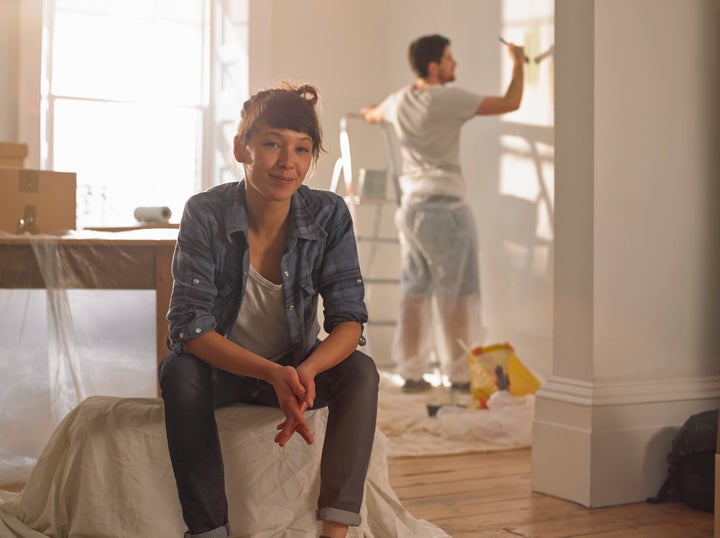 Compromise isn't a bad thing
Don't think of it as the end of the world if you're compromising. It's important to discuss the kinds of things you'd like in your home together and reach fair compromises, whether you decide to meet somewhere in the middle or dedicate different rooms and areas to your preferred styles. Plus, your tastes might end up a lot more cohesive than you thought.
"Compromising between different styles will require both of you to let go of some ideas you are attached to and that can be hard work," says Sampson.
"Opposing design styles are best handled the same way compromise is dealt with in any other issue – by listening, being empathetic, and by understanding that while you don't feel the same way your partner does about something, it doesn't make their view any less important."