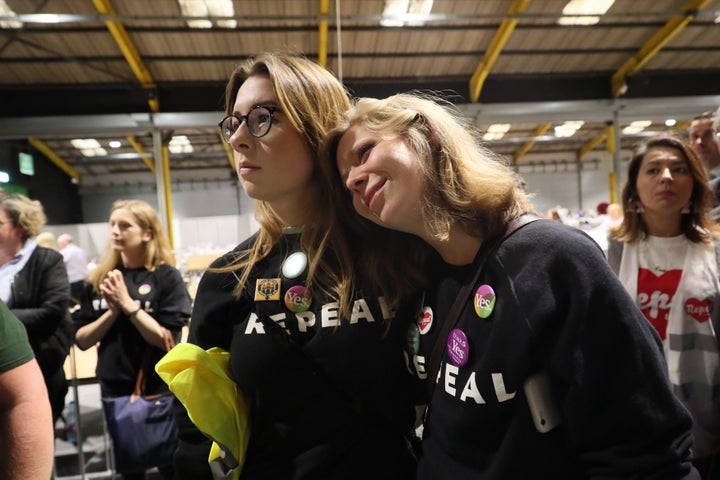 IRELAND - The Irish prime minister has said the country is united and has voted "resoundingly" in favour of relaxing abortion laws following an apparent landslide result in the historic referendum.
The Taoiseach, Leo Varadkar, said on Saturday the result was the culmination of a quiet revolutionthat had been taking place in Ireland for the past 20 years. "The people have spoken," Varadkar said.
His announcement came after the spokesman for Ireland's anti-abortion campaign, Save The 8th, conceded defeat after polling data suggested an overwhelming victory for the Yes campaign, with an estimated 7 out of 10 voters backing abortion reform.
Galway East, in the west of Ireland, became the first constituency to declare a result, with 60.19% for Yes and 39.81% for No. Turnout was 63%.
At the Royal Dublin Society, where counting started at 9am, the mood in the Yes camp was of exhausted jubilance, and as news of Save The 8th's statement came in, cheers echoed around the hall.
Varadkar said he planned to have a new abortion law enacted by the end of the year, adding that the approval of the referendum was a "culmination of a quiet revolution" in Ireland.
From his own constituency of Dublin West, Varadkar tweeted an image of a results sheet that showed 74% had voted in favour of relaxing the law. In Dublin Central, 92% of people were reported to have voted to repeal the eight amendment, which currently ensures abortions are banned unless a woman's life is in immediate danger.
One poll by national broadcaster RTE suggested around 70% of the electorate have voted to end the country's all but blanket ban on terminations, with another, by The Irish Times, recording 68% in favour of ditching the prohibition.
Colm O'Gorman, executive director of Amnesty International, said he hoped Saturday would be a huge milestone for women's rights. "It looks like the people of Ireland have resoundingly voted to end the 35-year-old constitutional abortion ban.
"In this, Ireland will send a powerful message to women and girls in Ireland and across the globe that their human rights and reproductive health matter.
"That women should be treated with dignity, equality, respect and compassion."
The likely result paves the way for a change in Ireland's legislation on abortion, and speaking on Saturday, the head of the Irish opposition, Michael Martin, said his party would not stand in the way of relaxing the laws.
Pundits had suggested his party's supporters were almost evenly split between Yes and No, and many of his party members in the Dail parliament advocated a No vote. He said the Dail would have to honour the will of the people.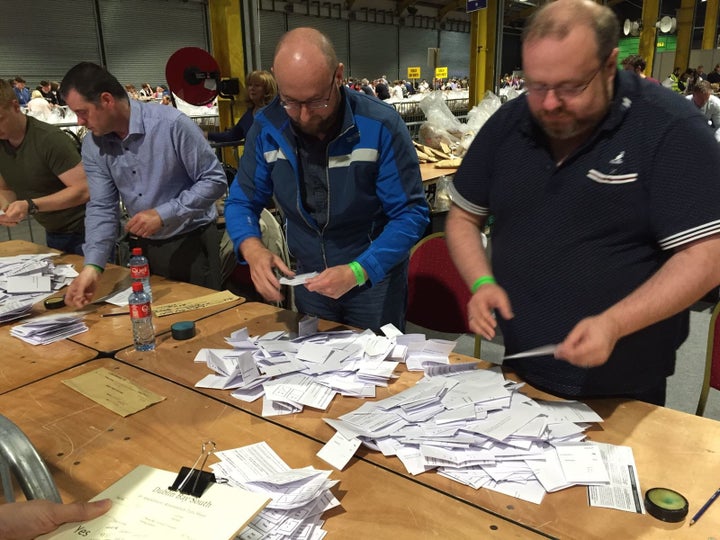 Reacting to the exit poll results, a director at the British Pregnancy Advisory Service (Bpas) said Irish voters have shown that denying women the right to abortion services in their own country in 2018 is not acceptable.
Clare Murphy said: "This is a momentous step forward that is long overdue.
"For decades, Irish women have been forced to travel hundreds of miles to our clinics in England, often alone, at a huge personal and emotional cost.
"The result, once confirmed, means that the Irish government can bring an end to this suffering, and legislate to provide the care women need at home."
On Saturday Ireland's health minister, Simon Harris, said he had called in to the vote count in his home town of Greystones. "Have always known my constituents to be compassionate. Results bear that put - 82% in Greystones box, 83% in Delgany box and around 75% throughout all the county #togetherforyes," he tweeted.
Ireland's deputy premier, Tanaiste Simon Coveney, another Yes campaigner, said the referendum had made him proud to be Irish.
"Thank you to everybody who voted today – democracy can be so powerful on days like today – looks like a stunning result that will bring about a fundamental change for the better," he tweeted late of Friday night. "Proud to be Irish tonight."
But in the No campaign camp, the mood was one of disappointment. Prominent anti-abortion campaigner Cora Sherlock said: "Exit polls, if accurate, paint a very sad state of affairs tonight," she tweeted late on Friday.
"But those who voted No should take heart. Abortion on demand would deal Ireland a tragic blow but the pro-life movement will rise to any challenge it faces."
The exit polls represent a remarkable turnaround in public opinion in little over a generation. In 1983, 67% citizens voted to insert the Eighth Amendment into the constitution.
The seismic reversal in opinion seems to have been delivered by the younger generations.
People under the age of 53 could not vote in 1983. On Friday, those age groups seem to have backed Yes in overwhelming fashion.
Almost 90% of voters under 25 appear to have voted Yes.