Will coronavirus be the Grinch that stole Christmas? It's one of the many questions on everyone's lips, following the continued Covid-19 restrictions.
News of a second lockdown lasting until December 2 has people worried whether or not Christmas will be the same.
And, Gove confirmed the four-week national lockdown in England could be extended beyond December 2. The Cabinet Office minister said the government would be "driven by the data" when it came to making the decision. "We are going to review it on December 2," he added.
"It's our hope, on the basis on the analysis, that we have that we will have significantly reduced the reinfection rate," Gove said. "We will always take the decision in the national interest, based on evidence."
Sage member Jeremy Farrar also suggested restrictions could need to be extended, saying that while December 2 was a useful target, "I just don't think we can become fixed on it".
It comes after a projection by the government's own scientists showed the second wave of coronavirus will be more deadly than the first.
The projection – shared by the Scientific Advisory Group for Emergencies (Sage) and reported in The Telegraph – suggested the death toll could remain high throughout the winter, peaking at a lower level than in spring but then remaining level for weeks – or even months.
In September, Boris Johnson announced restrictions, which included the 10pm curfew across England, weddings of just 15 people, working from home if you can and mandatory face masks in more settings.
The prime minister said at the time: "Unless we palpably make progress then we should assume that the restrictions I have announced will remain in place for perhaps six months."
His statement marked a different tone to the previous Downing Street briefing, where he said: "I'm still hopeful, as I've said before, that in many ways we could be able to get some aspects of our lives back to normal by Christmas."
"To what extent Christmas may be cancelled depends on us right now."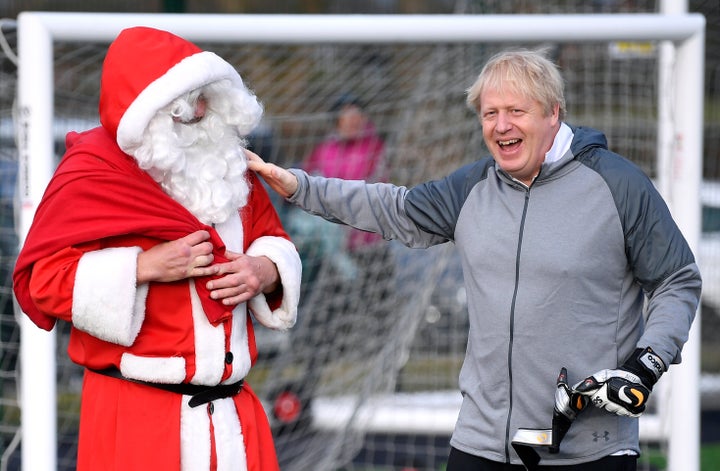 "The re-opening of schools and the shedding and seeding of the virus more widely in the population leading up to Christmas will make ongoing, leap-frogging, Covid-19 outbreaks more likely," says Dr Julian Tang, consultant virologist and honorary associate professor, at the University of Leicester.
Christmas Day (and the lazy period afterwards) doesn't pose a big problem in itself, he adds. It's the run-up that's the issue.
"In the UK – unlike in Asia where everything is open and people go out a lot – Christmas is mostly a home and family affair – almost like a voluntary, self-imposed lockdown for a few days," he says. "However, the main risk is likely the pre-Christmas shopping days and the festive spirit that this creates."
Dr Tang's concern is we'll begin to relax social distancing behaviours if we're going to crowded shopping malls and sipping mulled wine in packed pubs after restrictions ease.
"Shopping online for Christmas is safer but much less atmospheric and festive, so may not be so popular," he says.
Although some universities are conducting lectures online until 2021, Prof. Bloomfield is concerned about the impact of many students returning home from campus.
"They'll have Christmas parties and then they'll come home and spread out across the country and spread the virus elsewhere," she says. "It just doesn't really bear thinking about."
Paul Hunter, a professor of medicine and expert in infectious diseases at the University of East Anglia, is a little more optimistic.
Christmas is a religious festival and will never be formally "cancelled", points out Prof. Hunter, but we may need to celebrate it in more intimate ways this year. Judging by the current trajectory, the next peak infection rate could be December to January, he adds.
"The big office work parties and things like that almost certainly won't be happening in my view, which some people might breath a sigh of relief at," he says.
Even if church ceremonies do go ahead as usual at Christmas, "the big issue about churches is the age distribution," says Prof. Hunter.
"Most people who attend tend to be quite old, on average. It's quite plausible that the government may recommend shielding again at some point, probably sooner rather than later, I would guess," he adds. "Even if church services can go ahead, it may be the case that three quarters of the congregation can't turn up because they're supposed to be shielding."
Schools still might be open, adds Prof. Hunter, "but the typical school nativity play probably won't happen".
"Schools won't be getting loads of parents into a hall to watch their children pretend to be shepherds," he says.
Of course, as different restrictions are already in place across the tiers, multi-household meals are unlikely to be happening. Even if restrictions ease, granny might need to stay home. "Covid-19 can be more severe in older populations," says Dr Tang. "So, sadly, multi-generational family gatherings may be potentially less safe and may need to be avoided."
A vaccine may be available by Christmas, says Prof. Bloomfield, adding a glimmer of hope. But the chances of it being rolled out nationally by December are slim.
"It will take many, many months to produce enough vaccine to produce what we call 'heard immunity'," she says. "There might be enough for those at highest risks – healthcare workers and people in extremely vulnerable groups – but to produce population herd immunity by Christmas, from what I've heard, is not a possibility."