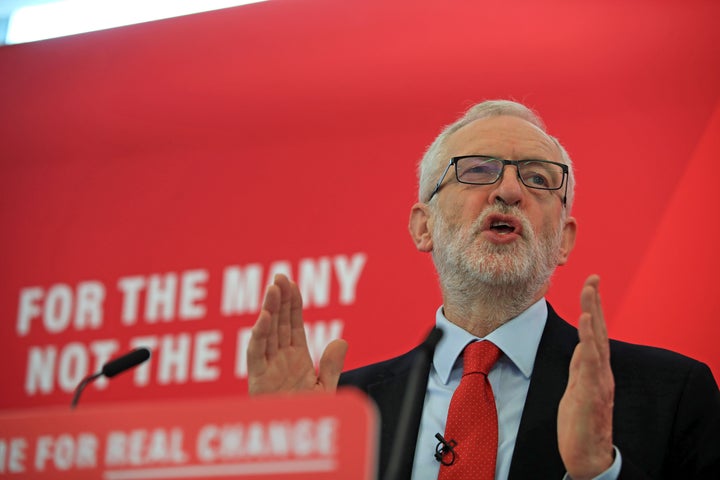 Sign up now to get The Waugh Zone, our evening politics briefing, by email.
Hey, big spenders!
"Crackpot" and "crazy" is how the Tories have described Labour's "broadband communism" pledge to deliver free full-fibre internet to everyone's home and business by 2030.
And while an oft-cited 2017 YouGov poll showed majority support for Jeremy Corbyn's plans to nationalise rail, mail, water and energy, most voters (53%) actually thought telephone and internet services should be kept private.
But is there method to the madness?
Fundamentally, people like free stuff and the policy had real cut through, pushing Boris Johnson off the top spot on BBC's News At One despite the prime minister's blitz of the broadcaster's studios on Friday morning and moving financial markets.
Voters also find broadband frustrating, with just four firms scoring over 70% in Which? customer scores , and around half registering their dissatisfaction with how internet service providers handle their complaints.
It's also an issue talked about an awful lot in parliament by MPs complaining about the service in their area while the media takes little notice.
Boris Johnson certainly feels like it's an issue worth talking about, putting his pledge to deliver gigabit-capable broadband by 2025 at the forefront of his domestic policy agenda.
But election and polling experts today tell me that even if Labour's policy is popular, it may not deliver the votes they need to win the election.
First of all, the most disconnected and poorly served areas are often in very rural Tory safe seats or isolated communities in deep Welsh and Scottish nationalist territory.
Secondly, it does not seem to be an issue that determines people's decision on how to vote, unlike the economy, health or Brexit, for example.
Of course, it will save people money on bills but there is not a huge amount dividing the parties. Everyone agrees that more, faster broadband is better, and there isn't the kind of "rip-off" clamour found with rising energy bills or rail fares.
One expert also tells me it fails to shift the dial in terms of voters' general perception of Labour – that they will spend a lot of money on nationalisation, although they concede the pledge could mobilise less interested voters.
There has also been a row over exactly how much Labour's plan will cost: the party say £20bn, BT say £100bn.
And while Tory attacks have highlighted the cost, they have also zeroed in on Corbyn and John McDonnell's ability to actually deliver what they are promising.
With both parties promising to spend big after this election, that issue of competence could become more crucial and Johnson will be asking voters who they actually trust not to waste the money.
Quote Of The Day
"The most difficult psychological question anyone has ever asked".
‌– Boris Johnson struggles to answer Naga Munchetty when she asks why he is "relatable" to the public.
Cheat Sheet
Donald Trump will visit Britain just 10 days before election day to attend a Nato leaders meeting from December 2 to 4, the White House confirmed. The president is a fan of Boris Johnson and has criticised Jeremy Corbyn, although the Labour leader has sought to weaponise his closeness to the prime minister.
Boris Johnson admitted he could have done more to help flood victims in the north and midlands as he announced a new package of support. Speaking to BBC Breakfast's Naga Munchetty, the prime minister did not apologise but said he sympathised with those dealing with the "disaster of flooding" and accepted "you can never do enough".
A vicar who yelled "terrorist sympathiser" at Jeremy Corbyn and is allegedly behind a string of racist and homophobic tweets has been suspended from the Church of Scotland. Rev Richard Cameron confronted the Labour leader on the campaign trail in Glasgow earlier this week.
Hillary Clinton said a "heavily misogynistic" atmosphere online has discouraged British womenfrom standing in the general election. The former presidential candidate also claimed social media culture was serving the "amplification of hatred" which she suggested influenced "political assassination" of Labour MP Jo Cox.
Meanwhile, the Lib Dems have urged Johnson to publicly reject the endorsement of far-right activist Stephen Yaxley-Lennon . The English Defence League founder, also known as Tommy Robinson, called on his followers to back the prime minister.
What I'm Reading
Concerns over 'foreign interference' as India-linked Hindu nationalist group targets Labour candidates | Open Democracy
Got A Tip?
Send tips, stories, quotes, pics, plugs or gossip to waugh.zone@huffpost.com.
🎙️Subscribe To Commons People
Each week, the HuffPost UK Politics team unpack the biggest stories from Westminster and beyond. Search for Commons People wherever you listen to podcasts and subscribe.