While many have condemned such responses, some of us still feel unsure about how to act if they witness such an incident.
So one woman has created a helpful illustrated guide on how to help.
In her post, Yener explained: "Some could say: 'Yes but you can use that technique for instances of harassment other than Islamophobic attacks!', and my reply is: Sure! Please do so, it also works for other 'types' of harassment of a lone person in a public space!!
"However I'm focusing on protecting Muslims here, as they have been very specific targets lately, and as a French Middle Eastern woman, I wanted to try and do something to raise awareness on how to help when such things happen before our eyes - that way one cannot say they 'didn't know what to do'."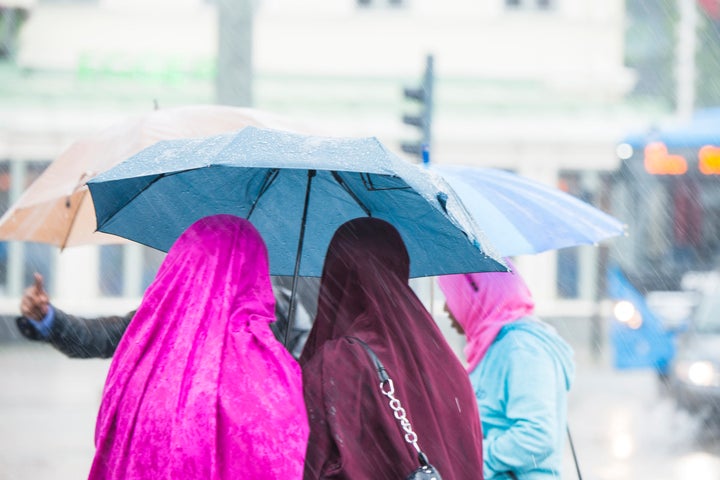 She said that there were two things she wanted people to keep in mind when dealing with Islamophobic abuse.
"1) Do not, in any way, interact with the attacker. You must absolutely ignore them and focus entirely on the person being attacked!
"2) Please make sure to always respect the wishes of the person you're helping: whether they want you to leave quickly afterwards, or not! If you're in a hurry escort them to a place where someone else can take over - call one of their friends, or one of yours, of if they want to, the police. It all depends on how they feel!"
The National Police Chiefs' Council reveals that hate crimes reported to the police has risen 57% in four days following the vote compared to the corresponding days four weeks previously.
The Citizens Advice Bureau defines a racist or religious hate incident as such if the victim or anyone else thinks it was carried out because of hostility or prejudice based on race or religion.
Such incidents can include verbal and physical abuse, bullying, threatening behaviour, online abuse or damage to property.
When such incidences become criminal offences, they are known as hate crimes.
Reporting Hate Crimes
Police
In an emergency (if the offender is still present, may return or anyone is hurt or in danger), dial 999.

For non-emergencies call 101. Alternatively contact Crimestoppers anonymously on 0800 555 111 or via email here.

Attend any police station or ask for an officer to visit you at home. You can ask someone (a friend, relative, community leader, solicitor) to speak on your behalf if you wish.

You can file an online incident reporting form here.
Tell MAMA
If you are still in danger, dial 999. Otherwise, you can use this online form to report anti-Muslim attacks. Once the information is received, a trained case worker will call to discuss the issue further.
Community Security Trust
The CST has an online form to report anti-Semitic hate crime here. It provides victim support while maintaining confidentiality. The CST will liaise with the police and other bodies to ensure the incident is dealt with properly.
Social media
Victim support