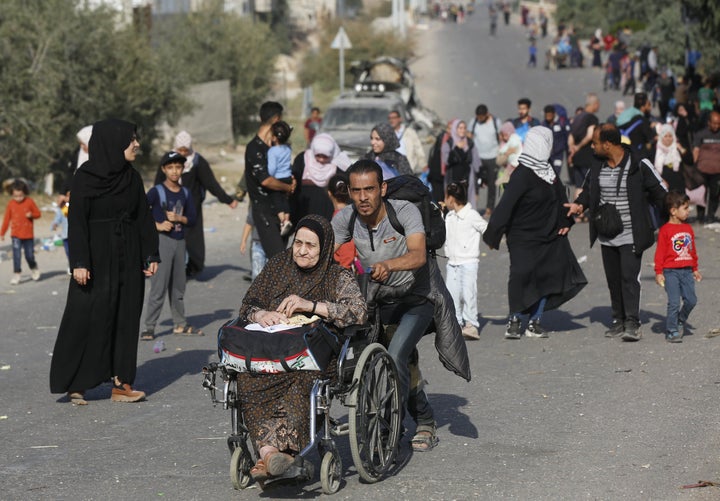 In a press conference this week, the US's top diplomat said the time is "now to start a conversation about the future", rather than after the war.
He said a "pathway to Israelis and Palestinians living side-by-side in states of their own" needs to be devised, so they can have "equal measures of security freedom, opportunity and dignity".
Blinken's comments come around a month after the Palestinian militants known as Hamas massacred 1,400 people on Israeli soil and took more than 200 others hostage, according to Tel Aviv.
So what this old diplomatic peace policy, and why has it not been implemented before?
What is the two-state solution?
This is an old idea which would carve up the disputed land into one state for Israelis and another for Palestinians.
In a (very condensed) nutshell, both Jews and Arabs have claimed the land – then known as Palestine – as their own since the fall of the Ottoman Empire in the early 20th Century.
In 1915-16, Britain promised to support Arab independence in exchange for Arab support against the Ottoman Empire, though the exact boundaries of this new Arab state were never outlined.
Then in 1917, Britain vowed to support a national home for Jewish people in Palestine – meaning more Jewish people migrated to the area.
Britain was granted a mandate for Palestine from 1920, and in that time suggested splitting the area into two states – a Jewish state and an Arab state. This was never implemented, though.
As Britain was planning to withdraw from the region in 1947, the UN briefly tried to revive the British partition plan, but it was rejected by the Arabs.
Once Britain left the region, Israel officially became a state in 1948 – then triggering a war with the nearby Arab states. Israel managed to push back all of the offensives, and secure even more land in the process – and so the chances of a two-state solution working started to seem even less likely.
Why was the two-state solution rejected?
There are several significant problems with the plan.
Firstly, the land boundaries around each state have caused major concern for both parties.
Many iterations have suggested there would have to be land swaps in the West Bank before a Palestinian state could form, because it is home to hundreds of Israeli settlements.
Some believe Israel would need to withdraw these settlements before any solution could be reached, but Tel Aviv has pointed out that would be a logistical and ideological challenge for those who live there.
Others have called for Israel to go back to the borders it had prior to the 1967 war.
That was the Six-Day War where Israel fought Egypt and Jordan.
Tel Aviv ended up taking out the whole of Egypt's air power, seizing the Gaza Strip, Sinai Peninsula, the West Bank, the Golan Heights and most of Palestinian East Jerusalem.
However, others still want Israel's borders to go back to the pre-1948 set-up, before it announced it was an independent state.
Jerusalem is another source of controversy, because Palestinians want East Jerusalem to be the capital of its state.
But, the US officially recognised it as Israel's capital in 2017, during Donald Trump's administration.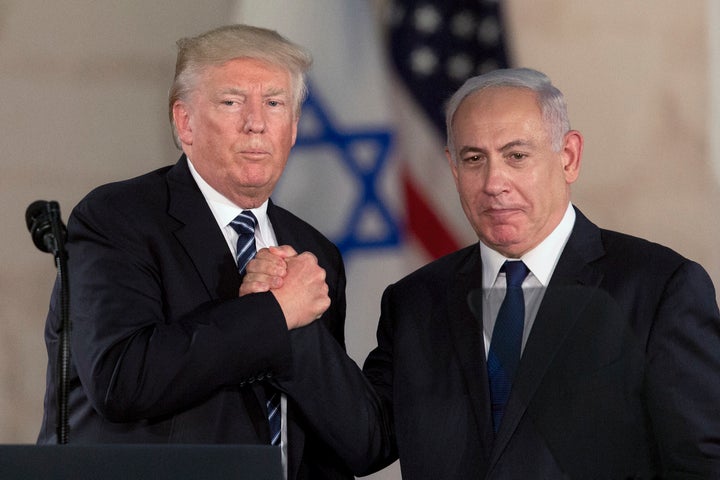 What about the Oslo Accords?
Managed by the US, these 1993 negotiations came close to resolving the crisis.
Israel accepted the Palestine Liberation Organisation as the official representatives of Palestinian population, and in turn, the PLO recognised Israel's right to exist.
The Palestinian Authority was then set up, to govern West Bank and Gaza.
After five-years, both sides would work together towards resolving the remaining issues such as what would happen to Jerusalem and if Israel would complete its withdrawal from the West Bank.
Then-US president Bill Clinton's 2000 attempt to negotiate between the two sides was fractured by an Israeli politician's trip to a Jerusalem site, triggering a Palestinian uprising.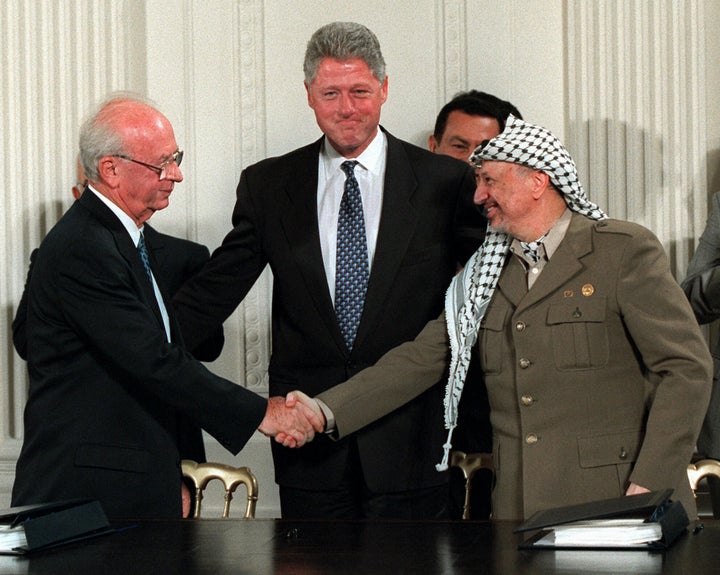 Further outbreaks of violence and political upheaval slowed down negotiations.
Once Hamas surprisingly won a general election among the Palestinians in 2006, Israel refused to negotiate with the group. Hamas were then kicked out of office in the West Bank, but remained in power in Gaza.
Negotiations effectively ground to a halt over the following decade, and worsened when Donald Trump's administration unveiled its own plan.
It suggested Israel could keep nearly all of its West Bank settlements, and impose sovereignty over the Jordan Valley, and keep the whole of Jerusalem as its capital.
Palestinians would then self-govern without the military and have a reduced West Bank and Gaza – and so it was rejected by the Palestinians.
Hamas' leader in 2017, Khaled Mashal, said the group would not recognise Israel or cede any rights although it would go back to pre-1967 Palestinian state.
What do leaders in Palestine and Israel think of the two-state solution these days?
The President of Palestinian Authority, Mahmoud Abbas, said Israel has "systemically destroying" the two-state solution back in September, before the war began.
Abbas is unpopular among Palestinians but has the support of the West, and still controls the West Bank.
Meanwhile, Israeli president Benjamin Netanyahu has made it clear he does not want there to be an independent Palestinian state.
Even prior to the war, he told CNN: "I'm certainly willing to have them [the Palestinians] have all the powers that they need to govern themselves, but none of the powers that can threaten us."
In September, Pew Research Centre survey found just 35% of Israelis believe "a way can be found for Israel and an independent Palestinian state to coexist peacefully". That's a drop of 15 percentage points since 2013.
Meanwhile a Gallup poll from October found just 24% of Palestinians living in West Bank, Gaza and East Jerusalem support the two-solution, a decline from 59% in 2012.