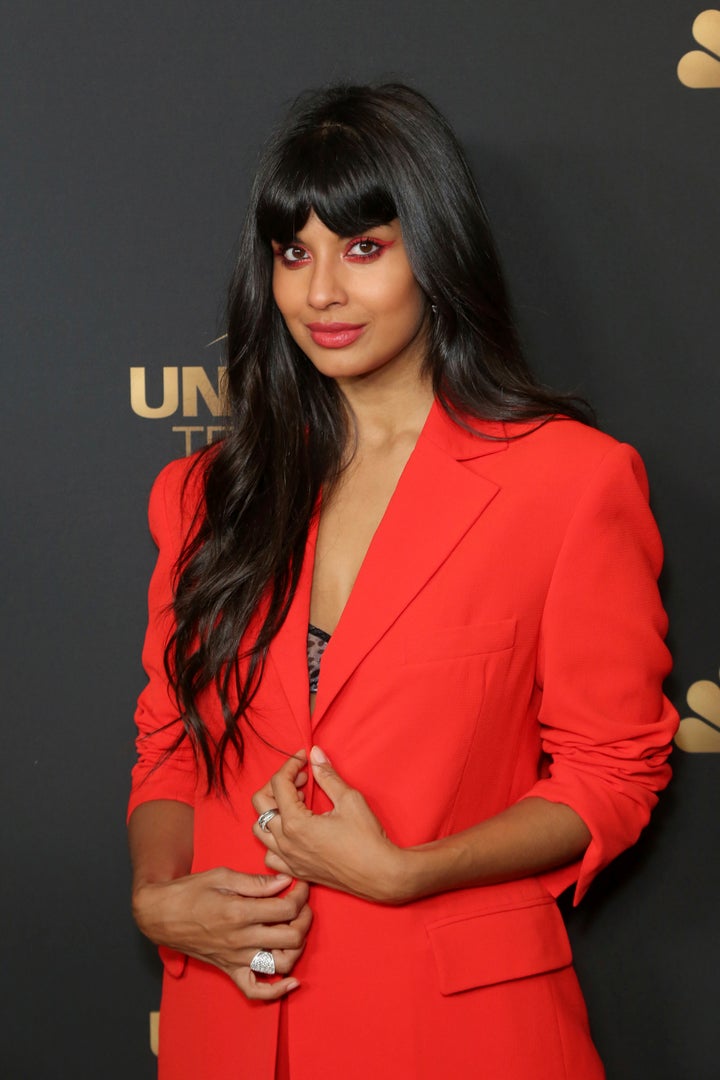 Plus-size women have criticised Jameela Jamil's guest editorship of Stylist magazine after her photoshoot featured brands that don't make clothes above a size 16.
The 33-year-old, who founded the iWeigh body acceptance movement, chose to focus the special issue, on the diet industry and societal pressure on women to be slim. The cover line describes Jamil as 'The Diet Destroyer'.
But shortly after the issue was released, women started questioning Jamil's involvement and the magazine's intentions as many of the brands worn in her photoshoot do not cater to women larger than a UK 16.
Reader Amy Bottrill took to Twitter to explain why she was "disappointed" and thought the issue was "tone deaf".
In the shoot Jamil wore seven different clothing brands – LF Market, Rag & Bone, Urban Outfitters, MC Overalls, Citizens of Humanity, Raey at Matches and French Connection – all of which either stop all of their clothing lines at an upper size 14/16 or don't sell the item worn in the shoot in a larger size.
The only brand out of the seven that sells larger than 14/16 is MC Overalls. Bottrill said: "[They] are the one brand that seems inclusive - they make unisex boiler suits so cater to big men as well as women I guess." Even then, the dungarees in question are £180.
Bottrill said in her tweet: "I want to laugh just because it's so predictable but honestly this is depressing, insulting and a prime example of mainstream women's media piggybacking on 'activism' when they don't actually mean it at all? She's been styled in pieces that stop at size 14."
Although Bottrill did say there were more inclusive brands elsewhere in the magazine, she was disappointed that plus-size women wouldn't actually be able to shop the clothes Jamil was wearing herself.
Jamil has responded to the criticism on Twitter, saying it was about tackling eating disorder culture rather than body positivity. Lisa Smosarski, Stylist's editor-in-chief, said they are "very proud of the great breadth of diversity" within the issue.
Other women told HuffPost just how hard it is to shop on the high street if you are above a size 16 (the average UK size for women).
Amy Mason, 37 from Bristol, is a size 20 and said she finds shopping "really tough". She has resorted to shopping exclusively online at places such as ASOS Curve.
″[But] most brands I like only go up for a size 16," she revealed. "Occasionally you can find larger styles in brands like Monki, but it can be humiliating and stressful asking staff to help you find specific items. Shopping online is way easier all round. It makes me really angry. I don't understand why [brands] exclude the majority of women in the UK?"
Mason said that she thinks Jamil "means well" but is missing the mark: "Having someone so thin and conventionally beautiful as the face of body positivity is actually really damaging and demoralising for a lot of people. She is objectively not 'ordinary or 'average' she was/is a model."
Kate Smith, 24 from Leeds, is between a size 20-24 depending on where she is shopping. She told HuffPost: "Shops are trying to be more inclusive (for example New Look and their new plus-size section) but they have a very limited section with designs that aren't usually as nice or trendy as the rest of the designs in smaller sizes. It feels more like an afterthought rather than an active inclusive choice."
Smith said when shopping in person (rather than online) it can also be intimidating and embarrassing to go to a specific section for larger people.
"Fashion should be inclusive, people should be able to express themselves no matter their size," she said. "It almost feels like we're being told that we're not worthy to wear the same fashion as everyone else."
She agrees with Mason that Jamil's decision was a mistake: "I think Jameela has good intentions but being styled by companies that only sell up to a certain size whilst saying the average size is 16 is quite short-sighted of her."
"It makes me feel like I am some sort of beast that doesn't deserve to be clothed by standard shops...""
Leah Rabinowitz, 33, from London, is a size 18 but is currently pregnant so also dressing for a growing bump. She says she doesn't go shopping with friends anymore because she finds it too embarrassing to shop in stores that don't have clothes for her.
"It makes me feel like I am some sort of beast that doesn't deserve to be clothed by standard shops," she says. "There are certain brands I just don't even walk into [the shop]."
Jamil has responded to the criticism on Twitter, saying it was about tackling eating disorder culture rather than body positivity. She said in a statement: "Most people have loved the issue and I'm thrilled, but a few have chosen to entirely disregard the good of the issue because the size of the clothes I wear in our comedy shoot only go up to a size 18.
"I understand your frustration, I hear it. And I can imagine that after waiting for so long to be remotely included you're done waiting for anything other than perfection. Part of my job involves wearing high fashion, that's how I manage to get into magazines to talk about the things I raise. So I'm gonna wear brands that fit me, that may not go all the way up to the size 32 that I wish all clothes went up to."
Lisa Smosarski, Stylist's editor-in-chief also responded to the complaints, defending Jamil, told HuffPost UK: "Anyone who sticks their neck out as much as Jameela does will inevitably be criticised by some – but it is only by a few brave women, like Jameela, speaking out can we create true, meaningful change.
"As part of her mission she regularly challenges the unhealthy end of the diet industry and she decided to use this theme in her cover and the fashion shoot. As part of this shoot she wore boiler suits and jumpsuits from various brands. Although Jameela is not sample size herself, one or two readers have been upset that some of the items she wore are not fully inclusive of all dress sizes.
"Unfortunately, it is not always possible to do this as many lines do not go up to a size 32. Where possible there were fully inclusive options – not just in the shoots but in the rest of Jameela's issue, where there are several shopping items that cater to all body sizes.
"We are together very proud of the great breadth of diversity that she represented within the issue."