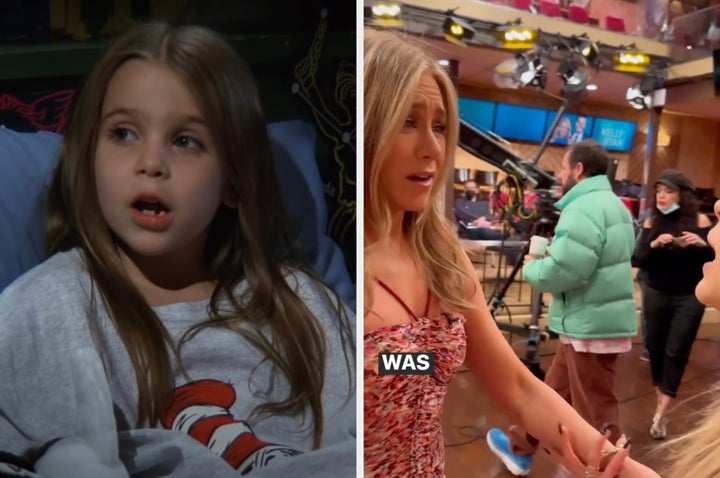 As a child actor, Mae appeared in the 1996 episode The One Where Rachel Quits as Sarah, a girl scout that Ross accidentally knocks down some stairs, breaking her arm.
While she and Jen never actually shared any scenes together in the episode, she revealed just how much the Morning Show star took her under her wing when they crossed paths again, backstage at Live With Kelly And Ryan on Wednesday.
In a behind-the-scenes clip posted on the show's Instagram account, Mae told a stunned Jen: "I just wanted to say hi because you were so kind to me. It was my favourite show, and you really made me feel like I was a part of the cast.
"And you were so kind and you hugged me. Thank you. It's always stayed with me."
"It's so nice to see you," Mae added, as they shared a hug. "You're amazing."
Since her one-off Friends appearance, Mae has become known for her roles in Arrested Development, Scott Pilgrim vs. The World and The Perks Of Being A Wallflower.
She also voiced Disney's iconic Tinkerbell character in a series of Peter Pan spin-offs.
Interviewed on Live With Kelly And Ryan, Mae was similarly full of praise for Jennifer Aniston.
"I [was] eight years old, I think, and I got a call that I was cast on Friends, and it was my favourite show at the time," she recalled.
"I remember Jen was so kind to me, she made me feel like I was part of the cast and she took such good care of me, and I wept hysterically when I wrapped. And I made her a Christmas ornament with her name on it."
Of their backstage encounter, Mae added: "That was the first time I've seen her. That was a big reunion. That felt amazing to see her. She's so cool. Such a cool person. The universe has its ways."
Jen played Rachel Green in all 10 seasons of Friends, which earned her five Emmy nominations and one win.
In 2021, she and her former castmates came together for a one-off reunion special that saw them reminiscing about the hit show.