A woman has shared a photo of her breast in the hope it'll educate others of the warning signs of inflammatory breast cancer.
Jennifer Cordts noticed a red rash on her left breast in 2015. After a mammogram came back all clear, she didn't think anything of it.
But when the rash didn't disappear, Cordts started Googling her symptoms and inflammatory breast cancer came up.
"It was late at night, everybody was asleep, and I was terrified. I just had a bad feeling," she recalled.
One year after she first noticed the rash, a biopsy confirmed the worst - Cordts had stage four inflammatory breast cancer.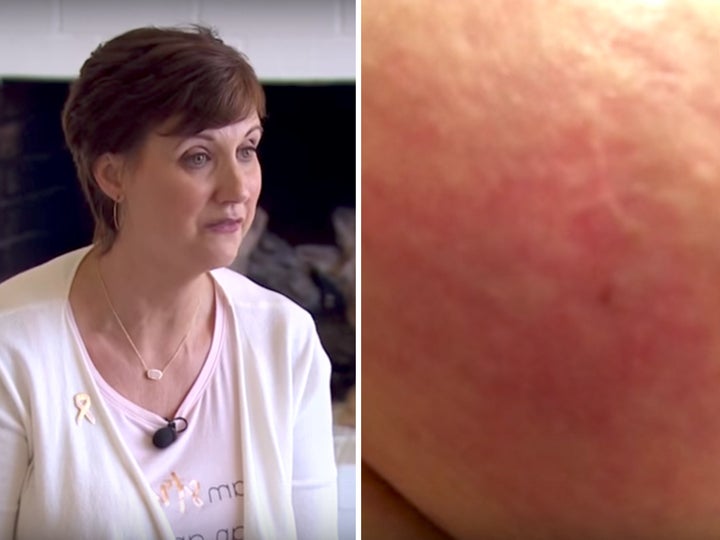 Inflammatory breast cancer is a rare type of breast cancer that grows along the lymph vessels in the skin of the breast, according to Macmillan Cancer Support.
Cancer cells may not form a lump, but they do block the vessels.
Symptoms of the disease include: redness, swelling or pain in the breast; the breast feeling hot to touch; skin of the breast looking pitted (like orange peel); ridges or raised marks on the skin of the breast and pain in, or discharge from, the nipple.
Discussing the day she was diagnosed, Cordts revealed: "I remember him [the doctor] saying 'inflammatory breast cancer' and all I could think about was what I'd Googled.
"Because what I'd Googled said that everybody dies, nobody survives.
"I knew my fate right then."
Cordts has been given three to five years to live. She is also receiving treatment to slow down the growth of her cancer.
The mum-of-two is now making as many memories as she can with her family.
She has spoken out about her diagnosis in the hope that it will prompt others to get a faster diagnosis if they spot any unusual symptoms.
She said: "I really want someone to go, 'oh my gosh I have redness in my breast, I better push past the mammogram and ask for more tests'."