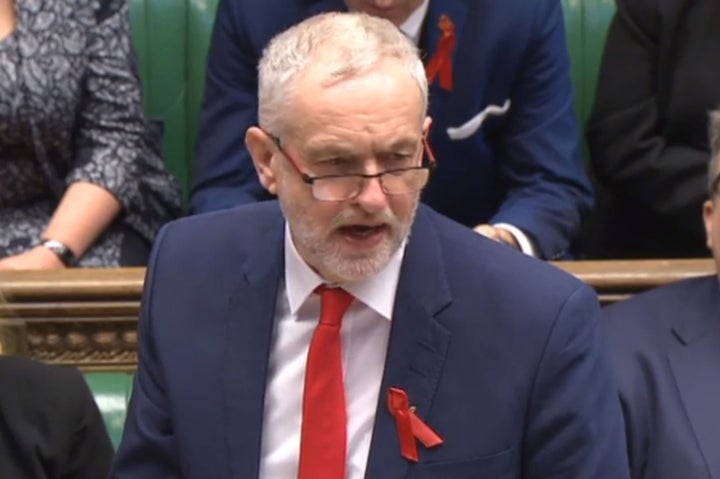 Jeremy Corbyn has accused Theresa May of sacrificing human rights "on the altar of the arms trade".
In a speech to mark International Human Rights Day tomorrow, the Labour leader will also challenge Boris Johnson to be "brave" and back his demand that the UK halt arms sales to Saudi Arabia.
Yesterday Downing Street slapped down the foreign secretary after he was revealed to have criticised Saudi Arabia for being behind "proxy wars".
There have been suggestions that the prime minister should move Johnson out of the Foreign Office to another cabinet job.
Corbyn will accused Saudi Arabia of "committing what have all the hallmarks of crimes against humanity in its war in Yemen".
"This week, the Prime Minister chose to travel to the Gulf to hold talks on security and negotiate arms sales to the dictatorial regimes of Saudi Arabia and Bahrain," he will say.
"Both countries are known for their abysmal human rights records: shutting down newspapers and TV stations that criticise the Government; using torture in response to protests; imposing the death penalty or prison sentences on gay people; and crushing the rights of women.
"Saudi-led coalition bombing backed by the British government and UK military advisers has left thousands dead, 21 million people in need of humanitarian assistance and three million refugees uprooted from their homes.
"This week in Bahrain, we have seen the Prime Minister sacrifice human rights on the altar of the arms trade."
Boris accuses Saudi Arabia of 'puppeteering':
May travelled to the region this week to meet with leaders in the Middle East.
Corbyn will add in his speech: "While Britain's chief diplomat Boris Johnson blurts out the reality of the Saudi role in fuelling Middle Eastern proxy wars before heading back to the Gulf once again to apologise.
"When the Foreign Secretary gets home will he at last be brave enough to back Labour's call to halt arms sales to Saudi Arabia weapons that are being used to bombard civilian areas and carry out gross violations of human rights in Yemen while a genuinely independent UN inquiry is held?"
Johnson will face a diplomatically testing tour of the Middle East this weekend following his comments.
Former Tory foreign secretary Sir Malcolm Rifkind said on Friday Johnson may not have the "temperament" to be in the Foreign Office and May should consider moving him.
The Guardian published footage of Johnson's comments to the Med2 conference in Rome last week, in which he lumped Saudi Arabia in with Iran when he raised concerns about "puppeteering" in the region.
May's official spokeswoman said the Prime Minister had "full confidence" in Johnson but told reporters that his comments at a conference in Italy were his own personal view and did not reflect government policy.
And she pointedly noted that Johnson will have the opportunity to set out official policy - of Britain's desire to strengthen its ties with Saudi Arabia and support for its controversial military involvement in Yemen - when he travels to the desert kingdom.
May spoke with Saudi King Salman during her visit to the Persian Gulf this week, when he was able to hear the PM assure him of "her commitment and that of her Government to enhancing and strengthening this relationship," said the spokeswoman.
Amnesty International UK's Head of Policy and Government Affairs Allan Hogarth said Johnson should "start telling the Saudi Arabia some home truths about its appalling human rights record.
"When he visits Saudi Arabia this weekend, Mr Johnson should politely inform his hosts that the UK is suspending arms sales to the country because of the risk that the weapons will be used to commit breaches of international humanitarian law in Yemen," he said.
"Mr Johnson should also call for sentences against the 15 men condemned to death this week to be quashed, and for prisoners of conscience like the blogger Raif Badawi to be released.
"The problem with the UK-Saudi relationship isn't that one speech from a foreign secretary has risked 'upsetting' the Saudis - it's that the UK continually sidelines human rights issues for fear of offending the Saudi royals."
Popular in the Community