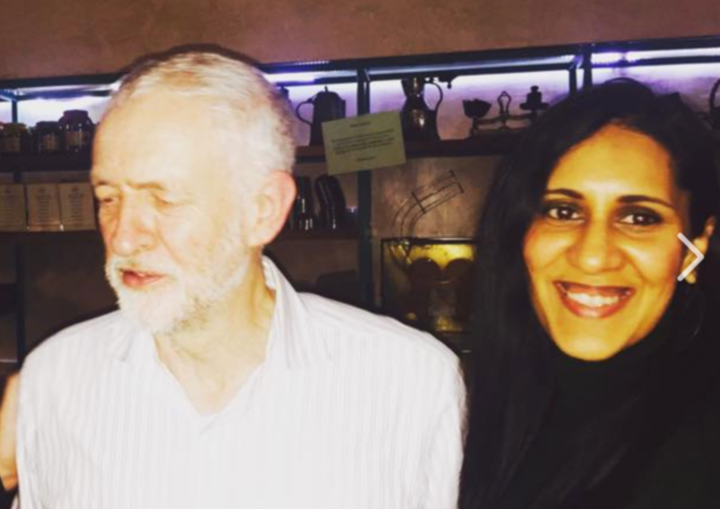 Iram Awan, the Private Secretary to the Labour leader, has been finally cleared for access by the House of Commons authorities, HuffPost UK has been told.
The Commons' authorities are continuing to investigate alleged security breaches by Corbyn's office, which routinely gave access to Awan on a visitor pass.
The fact that she has been suddenly cleared by security - just days HuffPost UK first reported on the situation - will however now raise questions about the original delays in the Commons security processes.
Awan, who is highly rated by Corbyn and offers him "strategic" advice, had been escorted into Parliament on a regular basis by members of the Leader's office since she was first appointed last year.
She had used a visitor's pass to do her job in the Opposition leader's office, based in the House of Commons. Strict rules usually forbid the use of visitor's passes for work, without an explicit exemption.
After the HuffPost report last week, members of Corbyn's office are understood to have made clear to the Commons that they were not given an explicit reason for the delay in security clearance.
Security officials will now have to explain why there was such a lengthy delay and why any questions about Awan's application for a pass were not resolved sooner.
A Labour source told HuffPost UK: "We are glad the pass has been granted. It is clearly wrong and damaging for there to have been such an unjustifiable delay."
A House of Commons spokesperson said: "An investigation into an alleged breach of Parliamentary rules is ongoing, and we will not be commenting further".
When asked if Awan had been now granted a pass, the spokesman added: "We do not comment on individual cases".
A total of 41 people working in Corbyn's office are listed on the Register of Interests of Members' Secretaries and Research Assistants, but Awan was not among them as of last week.
A spokesman for Corbyn said last week: "We don't comment on staffing matters".
But a Labour source said at the time that the Leader's office had not been told that any member of staff had been refused a pass "or any reasons for why any pass may not have yet been granted".
Awan's duties are understood to involve her working with Corbyn both inside and outside Parliament.
Commons authorities launched an investigation into the issue last week after Tory MP Leo Doherty wrote to the Serjeant at Arms, Kamal El-Hajji – the Commons' senior security official – to demand a probe.
"It is incumbent upon all of us who work on the Parliamentary estate, whatever role it is in or party we represent, to ensure the proper procedure is followed always," Doherty wrote.
"I would therefore request you investigate this matter with urgency it deserves, so we can all be sure that security around the Parliamentary estate is as strong as it can be."
Last Thursday, when the issue was raised by Tory MP David Morris, Commons Speaker John Bercow said: "My very clear understanding is that the matter has been resolved.
"I know that most Members would not expect me to discuss an individual case on the Floor of the House, but I am satisfied that the issue has been resolved."
His office later said the Speaker had misspoken and that he had meant to say the issue 'was being resolved'.
The role of Private Secretary is one of the most important in the Leader of the Opposition's office. Awan's predecessor in the job was Laura Parker, who left to become National Coordinator of Momentum.
When the party advertised the post it said the successful candidate would be responsible for "ensuring that the political actions and requirements of the Labour Party Leader's Office are delivered effectively and efficiently"
The Private Secretary "will provide advice to the Labour Party Leader as and when required, coordinating with the work of the teams within the Leader's Office" and show "the ability to provide strategic advice".
The FT reported on Wednesday that another key aide to Corbyn, Unite official Andrew Murray, has been working on an occasional basis in the Labour leader's office without required security clearance.
Murray, a former Communist party member and longstanding ally of Corbyn, is understood to have been given a Parliamentary Lobby pass when he worked for the Morning Star newspaper in the 1980s.