Jeremy Corbyn's failure to nod as his shadow Brexit secretary spoke in parliament raises questions over where he stands on the EU, Jon Snow has suggested.
The Labour leader has been accused of not really favouring Britain's EU membership due to his lackluster campaigning during the referendum fight.
But Ed Miliband told Snow it was "Kremlinology" to try to read so much into Corbyn's body language in the Commons while sitting behind Sir Keir Starmer.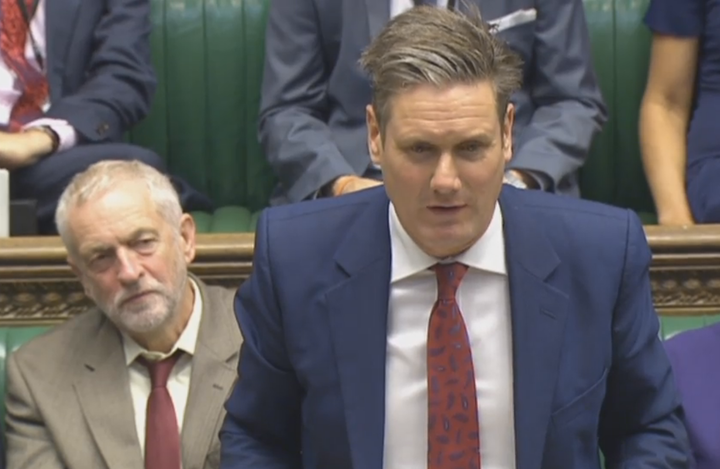 The former Labour leader appeared on Channel 4 News on Monday, when Snow asked him: "Do you have confidence in Jeremy Corbyn and his leadership in this specific area of Europe? We don't really know where he stands."
Miliband said he had confidence in Corbyn's leadership on Europe and added Starmer made "an excellent start" as shadow Brexit secretary, having called on MPs to have a vote on the negotiation terms for leaving the EU.
But Snow said: "I saw no nods from Mr Corbyn. I was watching carefully, I saw no nods."
Snow laughed when Miliband responded: "I think that is Kremlinology of the most extreme kind, when we have big questions to discuss about the future of our economy and our place in the world."
Miliband appeared alongside fellow former party leader Iain Duncan Smith.
During the debate, he said to Brexit Secretary David Davis: "May I urge him to resist the temptation to take advice from a second-rate lawyer who doesn't even understand the parliamentary process."
The ex-DWP Secretary told Snow he was referring to Starmer's legal advice as "second rate", prompting Snow to say: "No, you called him a second rate lawyer".
Duncan Smith persisted: "Hang on Jon. The second rate advice is about whether parliament has the right to vote and whether they can declare the..."
Snow spoke over him, saying: "Well the record will show you called him a 'second rate lawyer'."
Related