Jeremy Corbyn has vowed to veto a controversial trade deal between the EU and the US.
Corbyn said that the proposed deal would allow American firms to privatise key British public services and put in jeopardy workers' and consumers' rights, as well as environmental protections.
When asked if he would vote for 'Brexit' if the TTIP programme was put in place before the June 23 referendum, he even suggested it could affect his stance on the issue, stating "that's a hypothetical question".
His tougher stance against the free-trade plan - revealed earlier by HuffPostUK - came as Corbyn stressed that overall Labour supporters should vote to stay in the European Union, because it offered key protections on wages and other rights.
But in bid to put clear distance between himself and the Tories, he also hit out at George Osborne's "fear agenda" in suggesting that the UK would be plunged into a year-long recession if it voted to quit the EU.
In his speech, Corbyn said: "Today we give this pledge: as it stands, we too would reject TTIP – and veto it in Government."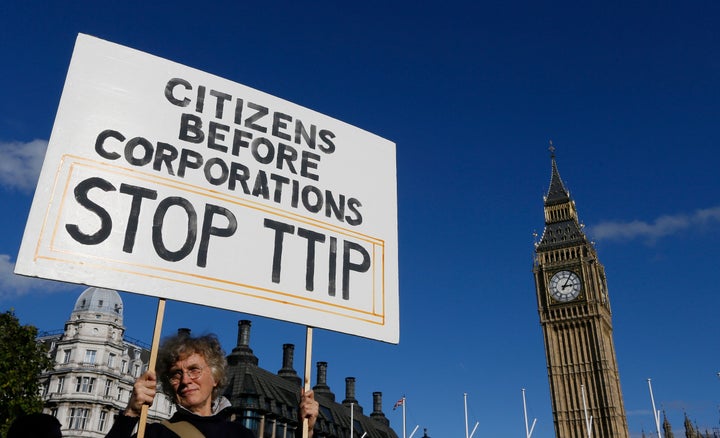 Corbyn said "many thousands of people have written to me" with their concerns about the free trade deal being negotiated, "largely in secret" between the US and the EU.
"Many people are concerned rightly, that it could open up public services to further privatisation – and make privatisation effectively irreversible," he said.
"Others are concerned about any potential watering down of consumer rights, food safety standards, rights at work or environmental protections and the facility for corporations to sue national governments if regulations impinged on their profits.
"I share those concerns. A few weeks ago the French President, Francois Hollande, said he would veto the deal as it stands and to become law any deal would have to be ratified by each member state."
His stance echoes growing scepticism across the globe about free-trade deals, with Bernie Sanders' strong opposition to the Trans-Pacific Partnership (TPP) a key plank of his US Presidential bid.
Sanders' criticisms, which follow worries that the NAFTA free trade deal with Mexico and Canada led to US job losses - have forced Hillary Clinton into also calling for reforms.
Today, Corbyn added that Cameron should also veto the TTIP deal because of its lack of protections for UK workers.
He said that if Britain votes 'Remain' in the referendum, the PM should block any trade treaty that "hands over power to giant corporations to override democratically elected governments".
"There is a challenge to the Prime Minister, if it's not good enough for France; it's not good enough for Britain either."
But Brexit campaigner and Labour MP Kate Hoey was scathing, pointing out that a veto was not possible under EU rules.
"Jeremy Corbyn's commitment to veto any deal isn't worth the paper it's written on. As trade deals are decided by Qualified Majority Voting in the European Council, this isn't something he can truly promise," she said.
"Thousands of hours and many millions of pounds have been poured into this deal. They aren't going to walk away because Jeremy says so, and he can't make them. That's the reality."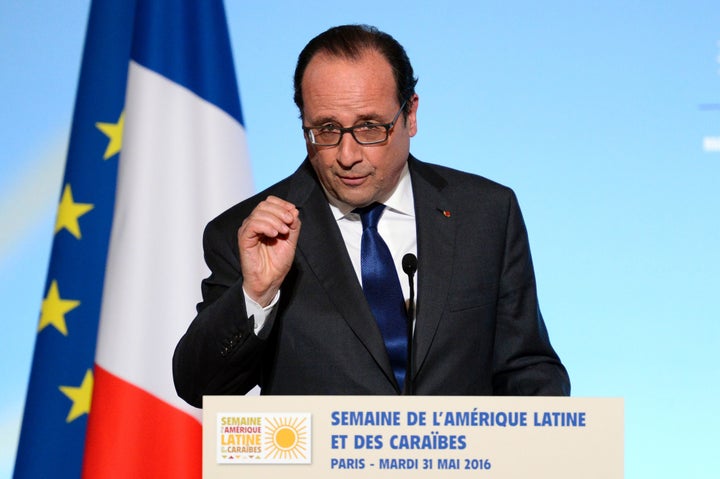 Speaking at the Institute of Engineering Technology on Thursday, Corbyn praised the EU for securing paid holidays, part-time work protection and maternity rights – and predicted that Brexit would result in Tory ministers further weakening workers' rights.
But he struck a markedly different tone from previous Labour leaders who have in the past been broadly in favour of the EU-US trade deal that Cameron has made a centrepiece of his case to stay in the European Union.
Anti-TTIP protests have been staged in recent years in the UK, Germany, France, Italy and Spain.
Official party policy is to support "the principles" behind the deal - as long as it includes protections for the NHS, the environment and workers' rights, as well as the scrapping of plans to allow firms to sue governments for lost profits.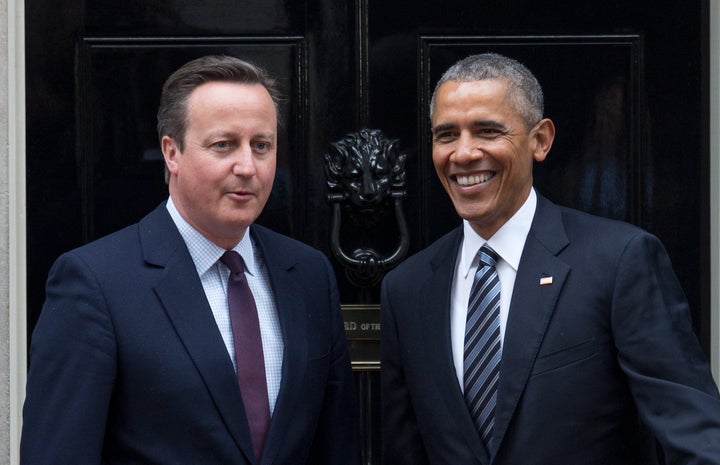 David Cameron and Barack Obama have both repeatedly cited TTIP as one of the main reasons for the UK to remain in the EU, pointing to the benefits it could bring to jobs and growth.
But the Prime Minister last month had to fend off a rebellion among his own Eurosceptic MPs, who claimed the trade deal failed to protect the NHS from American companies who want to take over key services.
Labour MPs teamed up with Tory rebels and SNP and other MPs to force Cameron into amending his own Queen's Speech on the issue. And a similar Parliamentary alliance could be used to defeat any TTIP proposal that is put before the Commons before the 2020 general election.
Corbyn today suggested that not only the NHS but other public services face a threat from the free trade deal.
Former Chancellor Alistair Darling joined Osborne today in warning that the Brexit camp were 'making it up as they go along'.
But Corbyn was scathing about the Treasury's warnings of the economic costs of the UK quitting the EU.
"Just over a week ago, George Osborne claimed that the British economy would enter a year-long recession if we voted to leave," he said.
"This is the same George Osborne who predicted his austerity policies would close the deficit by 2015. That's now scheduled for 2021."
Related