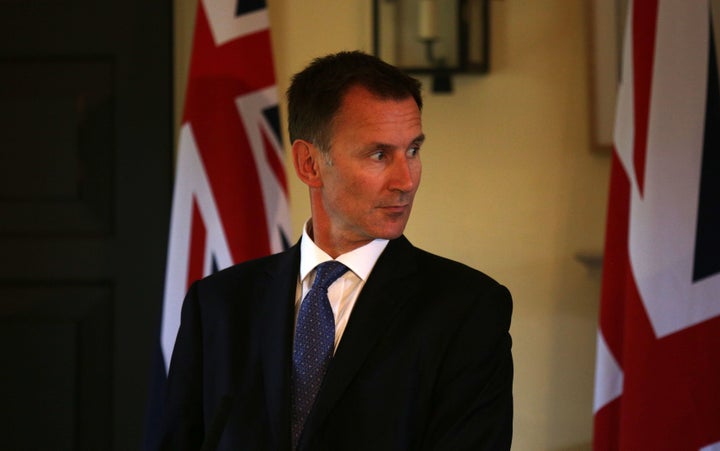 Jeremy Hunt has rowed back on his suggestion a 'no deal' Brexit would be a "mistake we would regret for generations", after a backlash from anti-EU MPs.
The Foreign Secretary made the initial comments during a trip to the Netherlands on Thursday after being asked about negotiations.
Hunt said leaving the EU without a trade deal would be akin to a "messy ugly divorce", adding: "That's what we all want to avoid."
He also suggested the government's negotiating position could be watered down in order to secure an agreement.
On Friday morning Hunt sought to dampen down his comments by tweeting that Britain would "survive and prosper" without a deal with the EU.
Hunt made the comments to ITV News after a meeting with the Dutch foreign minister as part of a three-day tour of Northern Europe.
Asked about the possibility of 'no deal', the former health secretary said: "It would be a mistake we would regret for generations, if we had a messy, ugly divorce and would inevitably change British attitudes towards Europe."
He also refused to accept the government's negotiating position agreed at Chequers was a "take it or leave it" offer to Brussels.
Hunt said: "It is a framework on which I believe the ultimate deal will be based and I've been to several countries and met seven foreign ministers and am meeting more in the weeks ahead, and I'm getting a strong sense that not just in Holland, but in many of the places I've visited, that they do want to engage seriously to try and find a way through to try and get a pragmatic outcome."
His comments drew criticism from Brexit-backing Tory Conor Burns, who described the apparent drive to reach a deal with the EU at all costs as "barmy".
He said: "The thing that we want to avoid for 'generations to come' is being locked into a permanent orbit around the EU where we end up with a deal but don't have a seat around the table.
"Many of us still believe what we have been defending for the last two years, which is the Prime Minister's line that no deal is better than a bad deal. It's nothing to be afraid of.
"They seem to be prepared to sell the reservation in the long-term to avoid disruption in the short term. It's barmy."
Negotiations between the UK and Brussels recommenced this week, although Brexit Secretary Dominic Raab and the EU's chief negotiator Michel Barnier are not involved in the latest round of discussions.
Officials are focusing on the Irish border issue and future relations between the UK and the EU.

Related