The Jeremy Kyle Show guest who died after appearing on the show told his son that the host "really laid into" him.
Steve Dymond died after filming an appearance on the show, where it was reported he took a lie-detector test to convince fiancee Jane Callaghan he had not been unfaithful, but was told he had failed the test.
His son Carl Woolley said his father had been "distraught" over the breakdown of his relationship and hoped the show would help him "clear his name".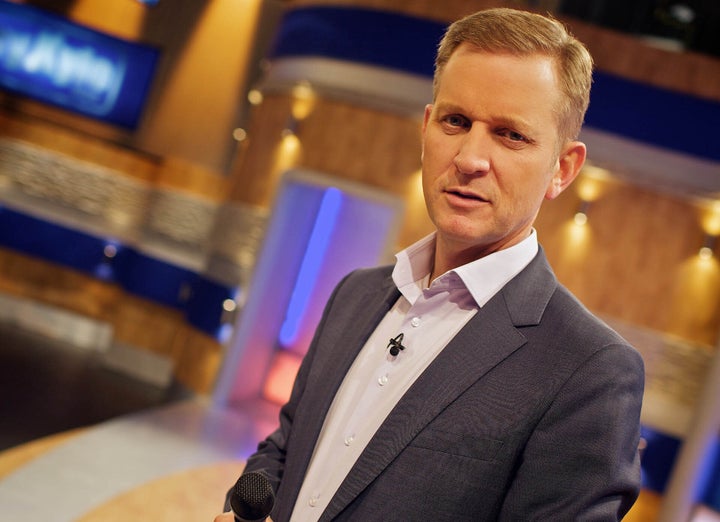 Revealing his father was left in "a highly emotional state following the recording" earlier this month, Mr Wooley told the Daily Mail: "I called after he got home from filming the episode.
"He was distraught over the break-up of the relationship. He had gone on the show solely to clear his name (about allegedly cheating on Ms Callaghan) but he said it had gone wrong because of the lie detector test."
Referring to his father by his first name, Mr Woolley continued: "Steve told me 'Kyle really laid into me'. Presumably that was at the point when they announced the lie detector result."
Prior to the phone call, the father and son are said to have not spoken for seven years and had not seen each other in person for 36 years.
Ms Callaghan had previously told The Sun that Mr Dymond had been "quietly struggling", but praised the show's team for their after-care efforts.
A spokesperson has insisted all guests were put through a "comprehensive assessment" prior to their appearance, while the production team regularly check-in with them to find "appropriate solutions" to any issues they discussed.
They said: "In the case of The Jeremy Kyle Show, the programme has significant and detailed duty of care processes in place for contributors pre, during and post show which have been built up over 14 years, and there have been numerous positive outcomes from this, including people who have resolved complex and long-standing personal problems."
ITV's CEO Carolyn McCall said on Wednesday that "now is the right time for the show to end" as she announced its cancellation after 14 years on air.
"Given the gravity of recent events we have decided to end production of The Jeremy Kyle Show," she said.
"Everyone at ITV's thoughts and sympathies are with the family and friends of Steve Dymond."
ITV has also confirmed the previously announced review into the episode will still go ahead following the show's cancellation.
Useful websites and helplines:
Mind, open Monday to Friday, 9am-6pm on 0300 123 3393
Samaritans offers a listening service which is open 24 hours a day, on 116 123 (UK and ROI - this number is FREE to call and will not appear on your phone bill.)
The Mix is a free support service for people under 25. Call 0808 808 4994 or email: help@themix.org.uk
Rethink Mental Illness offers practical help through its advice line which can be reached on 0300 5000 927 (open Monday to Friday 10am-4pm). More info can be found on www.rethink.org.