Jeremy Kyle has been blamed for the breakdown of the marriage of a guest on his TV show.
Viewers watched the audience applaud as Jeremy told Fergus Kenny, "Don't even take me on right now. Look at your daughter. You failed her. You failed her."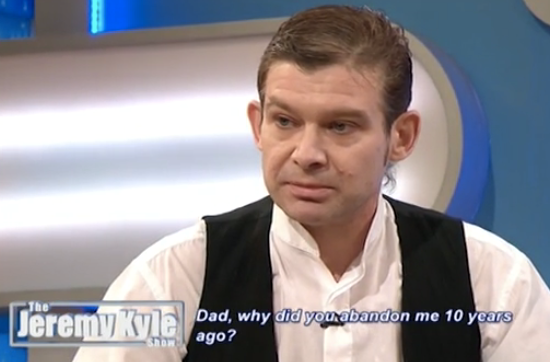 Crissy claims her estranged husband went on the show to be reunited with his daughter, but was humiliated on the show, "came home a different man, and just a day later walked out on her".
She says now: "We used to watch Jeremy Kyle every day, and we'd sit here in amazement at the way he talks to people - it's absolutely abysmal."
She adds that her husband of nine years had always said he'd never go on it himself, but was persuaded by the prospect of a reunion with his children.
She adds: "Now my life has been left in tatters - they crucified him on that stage, and he came home a completely different man."
And Fergus, who is now living apart from Crissy, says himself: "Crissy told me not to go on it, but I just thought it would be a nice family reunion.
"But Jeremy Kyle made me look like a monster - they turned the facts upside down and got everything completely wrong, and made me look the the worst dad ever. The whole show was completely one-sided - Jeremy Kyle ripped me to shreds."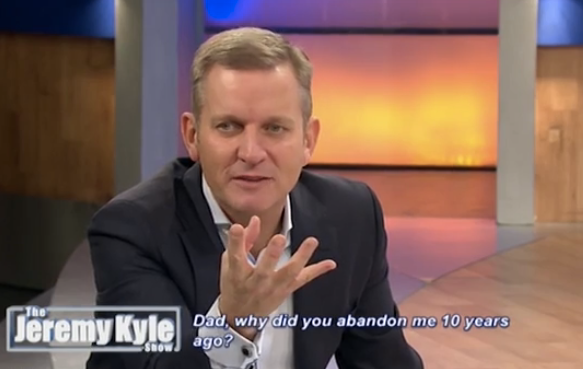 To add to Crissy's woes, she claims the only contact she has had with her estranged husband in the month since has been a request from him to keep their holiday caravan in Skegness.
A spokesman for the show told the Daily Mail that all guests are made aware of the host's presenting style. Jeremy Kyle's show, famous for its lie detector tests and disputes over suspicions of infidelity and family breakdown, has been running since 2005.
The host found himself at the centre of his own controversies on several occasions, including one episode in Magaluf, when he was sprayed with pepper spray while filming. A club bouncer claimed at the time to have done it because Jeremy's filming choices were portraying Magaluf in a negative light.
Related