The Jewish Labour Movement will not campaign for Jeremy Corbyn in the coming election and will support only a handful of MPs who have battled against anti-Semitism in the party.
Labour's oldest affiliate organisation announced that for the first time in its 100-year history it would not be backing the party nationally because of the culture of anti-Jewish hate that had been "allowed to fester at all levels" since Corbyn became leader.
JLM, which played a key role in 2015 and 2017 in getting candidates elected in seats with large Jewish votes, will only support "exceptional candidates" such as its parliamentary chair, Ruth Smeeth, MP for Stoke on Trent North (pictured above).
HuffPost UK can reveal that Smeeth claimed to a meeting of the Parliamentary Labour Party (PLP) that she had been told in some seats where shortlisting was taking place for the coming election, candidates were having to be ranked "on the basis of who was least anti-Semitic".
Earlier this year, JLM voted to stay affiliated to Labour but passed a motion of no confidence in Corbyn's leadership over his handling of a crisis that has seen the party investigated by the Equalities and Human Rights Commission for allegations of institutional anti-Semitism.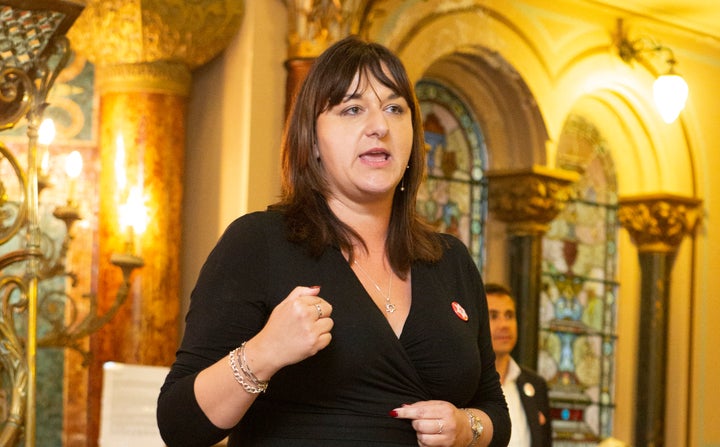 Corbyn has vowed to root out any anti-Jewish hatred and says that he and general secretary Jennie Formby have made a priority of changing its disciplinary processes to handle cases more effectively. The party conference agreed new rules to fast-track expulsion of those guilty of abuse.
But in a statement, JLM said: "We will not be campaigning unless in exceptional circumstances and for exceptional candidates, like our Parliamentary Chair Ruth Smeeth, and members of the Parliamentary Labour Party who've been unwavering in their support of us.
"We will not be giving endorsements to candidates in non-Labour held seats. This does not mean that we no longer support the Labour party's policies and its historic values, nor do we wish to see Boris Johnson or Jo Swinson in Downing Street."
The organisation's honorary president, Dame Louise Ellman, and its former parliamentary chair, Luciana Berger, have both left the party citing anti-Semitic abuse and bullying.
"When two accomplished and dedicated Jewish Labour MPs no longer see a place for themselves in the Labour party, it's clear that the party has lost its way," JLM said.
The group, which has more than 2,500 members, says it organised more than 50 campaign events across six electoral regions and in marginal seats in 2017.
But in the coming election, no JLM officers will be standing for parliament. It is understood that it will also seek to highlight Labour candidates' shortcomings or failings in the fight against antisemitism.
A Labour party spokesperson said: "The Labour party is fully committed to the support, defence and celebration of the Jewish community and continues to take robust action to root out anti-Semitism in the party and wider society.
"We have imposed swift suspensions and the rate at which cases have been dealt with has increased more than four-fold.
"Jeremy Corbyn has made clear that anti-semitism has no place in the party, has brought forward reforms to fast-track expulsions, and launched an education programme to deepen understanding of anti-Semitism within our movement."