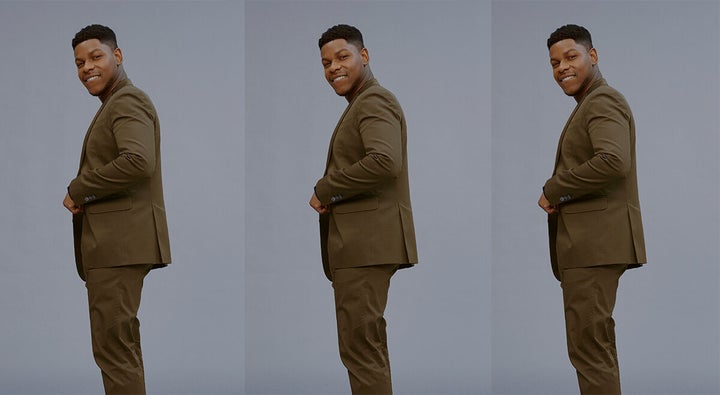 To millions of fans across the galaxy, John Boyega is Stormtrooper-turned-resistance fighter Finn in the Star Wars franchise – but his latest exploration is far, far closer to home.
The Peckham-born star, 27 – who got his career break in the south-London-set Attack the Block – has been announced as the first male ambassador, the Jo Malone London Gent, of British fragrance brand Jo Malone London.
We caught up with him for our Must Haves series to find out the things he wouldn't leave home (or planet earth) without.
His PS4
Between running his production company, shooting the next Star Wars blockbuster and travelling the globe promoting his latest work, Boyega tells HuffPost he's often living out of a hotel.
His PS4 provides his entertainment when he's on the road and able to squeeze in some downtime. "It has my Netflix, blue ray player and normal gaming for when I get free time during the day," he says.
A notepad and pen
Boyega likes to keep it old school, ditching his phone, keeping a notepad and pen close by for when inspiration calls.
"I write quotes from people, parts of conversations that relate to the projects I'm developing or any random ideas that pop up in my head," he tells HuffPost, adding: "I can't stand using a phone when it comes to getting ideas out of your head."
His gym wear
Boyega has made no secrets about the physical demands of starring in Star Wars and regularly updates fans on his workouts through his Twitter and Instagram.
It's no easy feat either, so you'll always find his with his favourite Nike gym-wear packed nearby. "I love working out, and I do interval sprints, power lifting, boxing and hiking and I have a personal trainer who helps get me ready for upcoming film roles," he tells HuffPost.
A good book
Boyega believes a good book is a must have. Though his jam-packed schedule offers little respite, just like his PS4, an interesting read provides relief when he's not on set or travelling the globe.
Currently on the go, he has Children of Blood and Bone by Tomi Adeyemi, a fantasy novel that explores a world of dark magic and war with themes of oppression and racism running throughout. But his love of reading doesn't just end with fiction. "I love self-help books and historical books too," he tells us.
His favourite cologne
When it comes to Jo Malone London scents, Wood, Sage & Sea Salt is Boyega's absolute favourite – so he always keeps a bottle near. "I like smelling good at all times," he says. Don't we all, John, don't we all.
We all work hard to earn our money – so it shouldn't feel like hard work to spend it well. At HuffPost Finds we'll help you find the best stuff that deserves your cash, from the ultimate lipstick to a durable iron to replace the one that broke (RIP). All our choices are completely independent but we may earn a small commission if you click a link and make a purchase.