The Sun is now reporting McDonnell shouted the words at Campbell during the bust-up in Salisbury on Thursday night, citing multiple witnesses.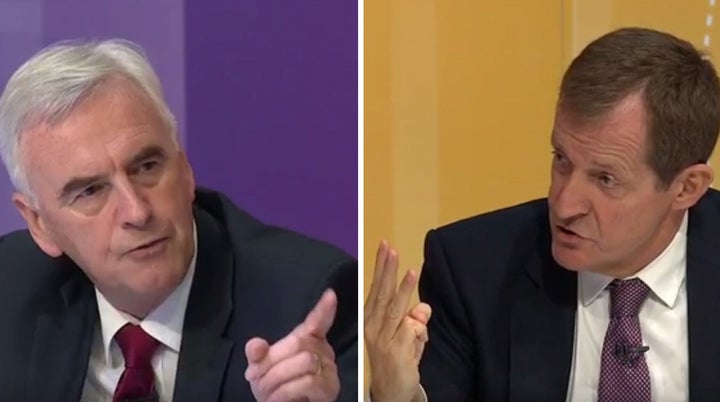 McDonnell was reportedly hitting back after Campbell told him: "You and your lot are going to ruin the Labour Party."
Campbell's daughter, Grace, had to intervene to calm things down, according to The Sun.
One source told the paper: "It was very, very heated, nobody knew where to look."
As details of the alleged run-in emerged, a spokesperson for McDonnell denied the claims that there was a further altercation after the programme.
The argument followed a confrontational edition of the show in which Tory MP Anna Soubry called McDonnell a "nasty piece of work".
During the show, McDonnell called Campbell "nauseating" as he described the rise of Corbyn as a "disaster" for Labour.
Interrupting, McDonnell said: "It's nauseating because you are the one, above all else, who actually created the environment where no one believed a word a politician said.
Campbell shook his head in disbelief and said: "Look John, I've come on here tonight to be as nice to you as I possibly can."
McDonnell said "the feeling's mutual" while Campbell continued: "I care about the Labour Party. I worry that you and yours are destroying it. I actually think you don't even care."
After the show on Thursday, Campbell later tweeted he hoped Corbyn was "more sincere" about re-uniting a divided Labour party than McDonnell was.
"This is a man who hates anyone who helped Labour win," Campbell said.
Related