John Oliver has laid out a case for Britain to vote stay in the EU in the referendum on Thursday, saying that Brexit sounds like a "shitty granola bar".
The comedian compared the EU to French actor Gérard Depardieu, as he argued Britain leaving the union would be a "huge destabilising decision".
Speaking on his US show Last Week Tonight, he admitted that the EU did have its flaws, despite saying it would be "crazy" to leave.
"The EU is not perfect," Oliver said. "It's large, confounding and relentlessly bureaucratic. Think of it like Gerard Depardieu. It's an unwieldy European body that's a source of great bewilderment. But Britain leaving it would be a huge destabilising decision."
Oliver introduced a series showing journalists using the word Brexit, including one commentator who said "I think the scariest thing about Brexit is the word Brexit, because it's unknown".
"Brexit doesn't sound scary, it just sounds like a shitty granola bar you buy at the airport," Oliver quipped.
After using a clip of Nigel Farage insulting an EU politician to take a dig at the Ukip leader, Oliver said the EU was "a bureaucratic, complicated, ambitious, overbearing, inspirational, and consistently irritating institution", but added "Britain would be crazy to leave".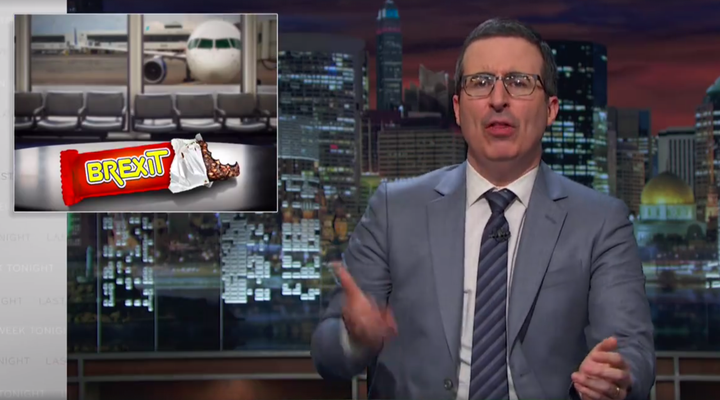 The video has been viewed more than half a million times online.
Oliver told US viewers they may well not have heard of the referendum or feel interested in the UK as long as the royal family keeps "shooting out royal babies", but argued that the effects of a Brexit would be felt around the world.
His 15-minute analysis showed a clip of Nigel Farage telling an EU he has the "you have the charisma of a damp rag and the appearance of a low grade bank clerk."
Oliver's segment also took down several claims by pro-Brexit supporters, such as the suggestions that Britain gives £350 million a week to the EU.
Watch the whole video above.