He is also The Greatest Celebrity On Earth. Again, this is a stone cold fact.
Think Gemma Collins is ridiculous? Pah. The JT has taught The GC everything she knows. Maybe.
Sure, John still lights up the silver screen from time to time. But what we really live for these days is when John is playing himself because, well, as characters go, he's more brilliant than anyone he's ever played on the big screen (and yes, we have seen Pulp Fiction).
Don't believe us? Allow us to present the evidence…
Exhibit A: His iconic mispronunciation of Idina Menzel's name
For a star so entrenched in musical theatre, you'd think the JT would know how to pronounce the name of one of its biggest stars, but no. Why introduce the "wickedly talented" (and very famous) Idina Menzel when you can introduce the "wickedly talented" (and completely made up) Adele Dazeem? Well, at least it was only the 2014 Oscars so no one was watching.
Could he not see the autocue? Had he had one too many shandies? Was it nerves? No, no and no. It was all Goldie Hawn's fault. Well, isn't it always?
John explained (except not really): "The truth is, I was expected backstage and it was getting very close to the time I was supposed to go on. And suddenly a page grabbed me out of my seat and said, 'you're on in a minute'. I said 'really… what happened to 15 minutes?!' But as I ran backstage, I ran into Goldie Hawn. Now, Goldie Hawn is charismatic, sexy, beautiful… and I was starstruck! And they said, 'You're on'."
So there you have it, It was all Goldie Hawn's fault, for being so charismatic and sexy and beautiful.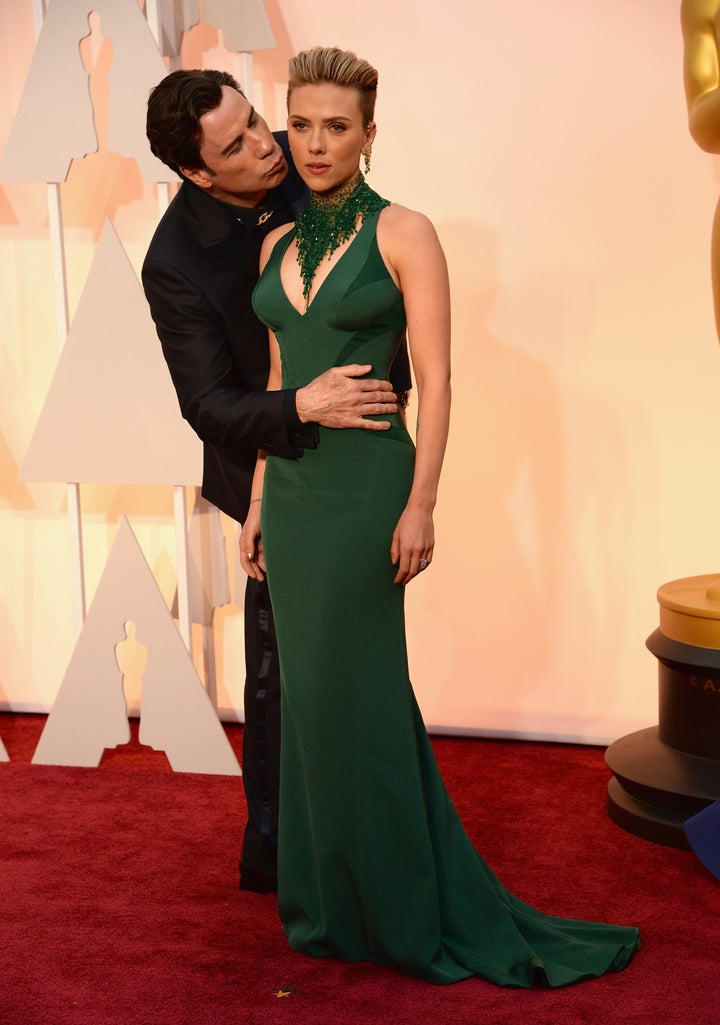 The camera never lies unless you're Scarlett Johansson, who issued a statement defending John after he was snapped puckering up to the actress on the red carpet of the 2015 Oscars.
"There is nothing strange, creepy or inappropriate about John Travolta," Johansson told the Associated Press. "The image that is circulating is an unfortunate still-frame from a live-action encounter that was very sweet and totally welcome. That still photo does not reflect what preceded and followed if you see the moment live." That's us told.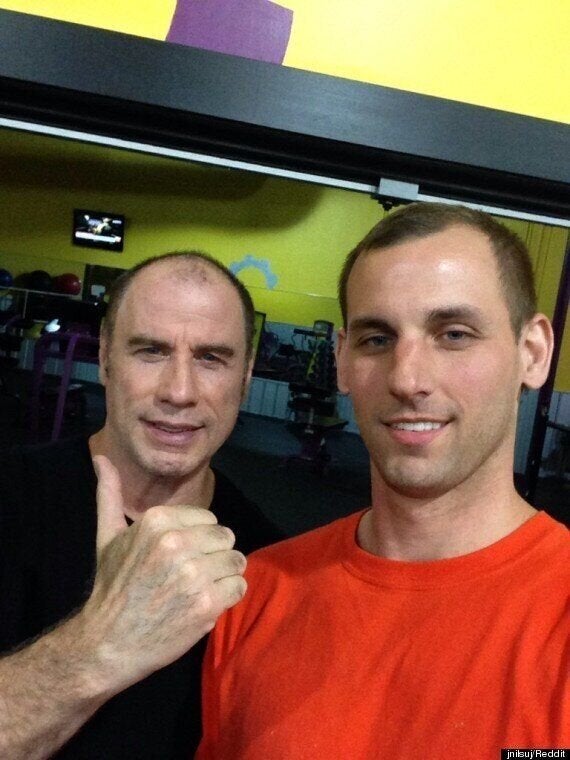 These days, John has embraced his baldness, but you don't have to be Sherlock to work out that what we used to see on top of his bonce was perhaps not harvested by the actor himself.
However, before coming out as a baldy, John posed au naturel with a fan during a late night trip to the gym. The fan in question said at the time: "I was really confused at first and got really choked up. It was surreal for a moment". It's unclear if he meant it was surreal seeing John Travolta working out at 3am or the fact that his hair was missing. Or possibly both.
Exhibit E: That toe-curlingly brilliant Olivia Newton-John reunion
Thirty-four years after playing Danny Zuko and Sandy Olsen in Grease, John and Olivia Newton-John reunited to record a Christmas single. What could possibly go wrong? We'll let the video above do the talking (WARNING: you cannot unsee this clip).
Exhibit F: The fact he has a fully operational runway at the bottom of his garden
John is a certified pilot. He owns five aircraft, including his very own Qantas Boeing 707, which he keeps in the backyard of his Florida home. Well, we say backyard, it's basically a mini airport, complete with a 7,500-foot runway.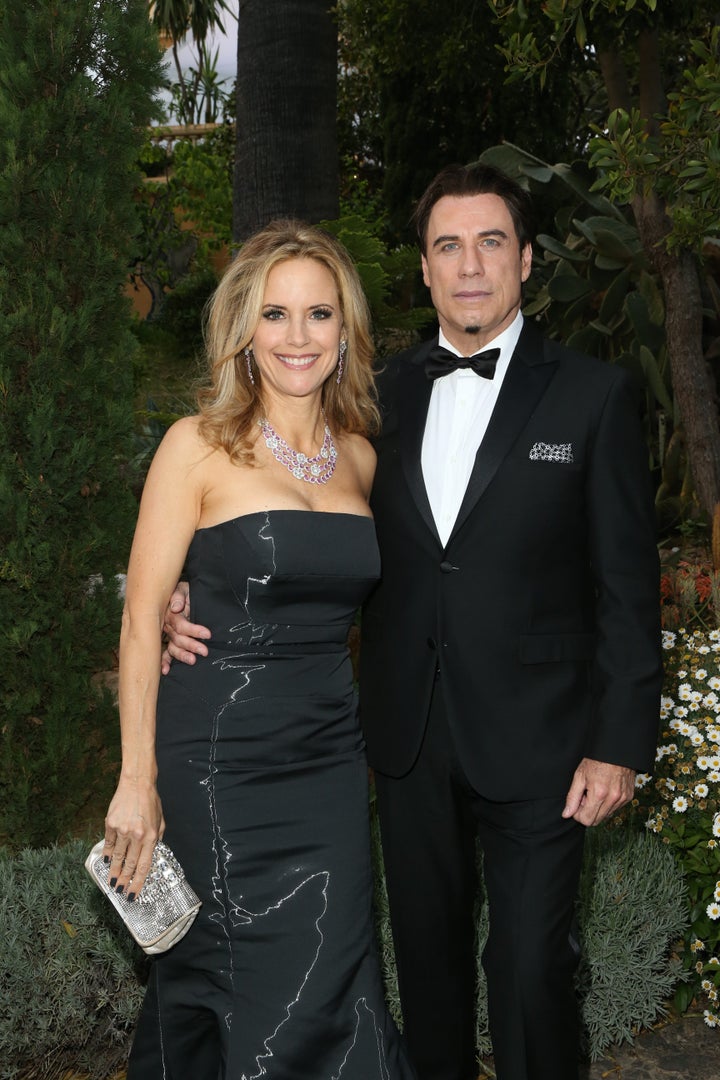 For reasons only known to himself, John decided to attend a party in Cannes in 2014 after shaving his entire face, save for a tiny little tuft of hair on his chinny-chin-chin. Did he run out of shaving foam? Had he entered the 'smallest beard in the world' competition? Or did he simply think it would distract the world from his fuller-than-it-used-to-be barnet? (It did, well done).
So. Many. Questions. And here's another: why the heck didn't his wife, Kelly Preston, have a word before he left the house? Surely there can't be two people in the world who actually thought this was a good look?
Exhibit H: That time he got down with 50 Cent on stage
Anyone who has seen Saturday Night Fever, Grease or Pulp Fiction knows that John has the moves. We just never expected to see them being busted out next to 50 Cent on stage in Cannes. Truly surreal.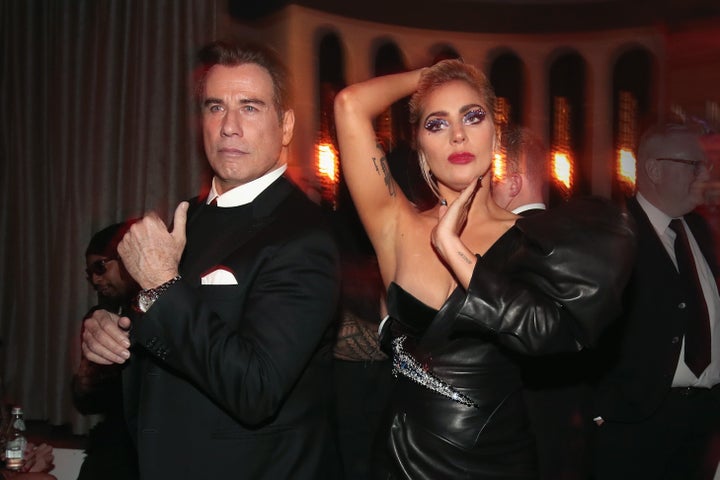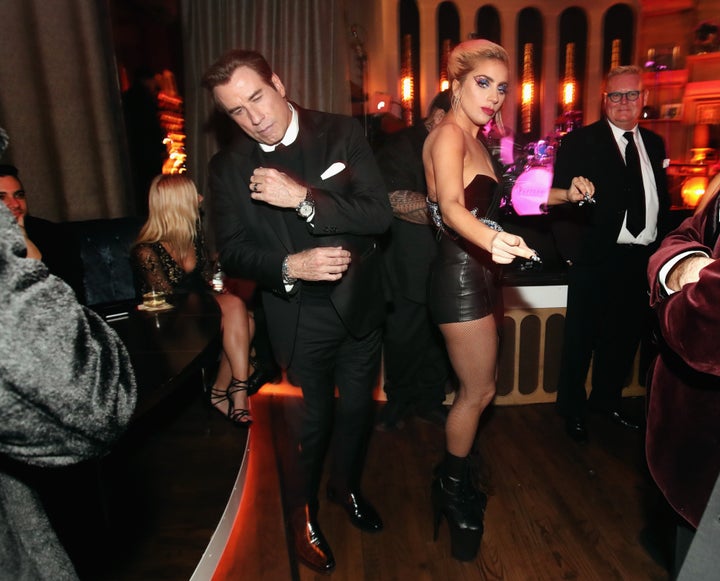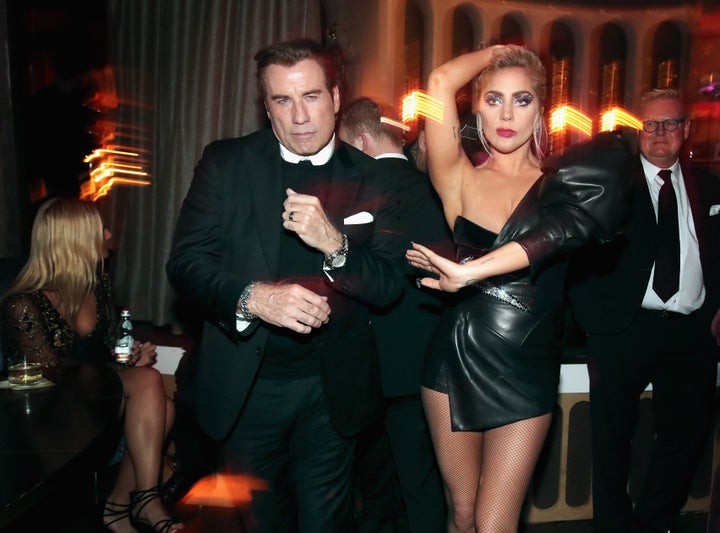 John and Lady Gaga throwing some serious shapes (with the emphasis on serious) on the dance floor at the 2017 Grammys afterparty are images we will never get out of our heads. Have two people ever taken the medium of dance so seriously? Let us just check with Shirley Ballas…. We can confirm that no dear reader, they have not.
Which brings us right up to the current day, when John attempted to present the Video of the Year award at this year's MTV VMAs to RuPaul's Drag Race star Jade Jolie instead of, you know, the actual winner, Taylor Swift.
To be fair, Jodie is a Taylor Swift impersonator and she was on the same stage, but Taylor Swift is one of the most famous people on the planet and looks a lot more like Taylor Swift than Jade.
We just hope John keeps being asked to present awards because let's face it, he needs the practice.