You're reading The Waugh Zone, our daily politics briefing. Sign up now to get it by email in the evening.
The Levellers?
Remember David Cameron's Tory election poster in the 2010 general election? The huge one with a lovely new-born baby and the caption: "Dad's nose. Mum's eyes. Gordon Brown's debt"?
Remember the Tory ridicule when Ed Miliband forgot to mention the word 'deficit' in his 2014 conference speech?
Remember Theresa May's 'magic money tree' attack on Jeremy Corbyn in 2017?
Well, Boris Johnson clearly doesn't remember. Or, more accurately, pretends not to. This is a man who won the 2019 election by successfully presenting his government as a brand new administration, its members somehow unconnected with the past decade of austerity. When critics pointed out his plan to recruit 20,000 more police officers would simply mean replacing the 20,000 cops cut since 2010, the PM's general response was a generic 'ah, fuggedaboutit'.
Serial political amnesia is, after all, Johnson's defining modus operandi. He conveniently forgets plenty of things: offensive Spectator columns, his tenure as foreign secretary, his past attacks on Donald Trump, the number of children he has. So we shouldn't be surprised that his 2020 spring Budget (and it felt very much like his Budget) has no remembrance of things past. This was the 'levelling up' Budget that assumed the voters will forget why spending was 'down' in the first place.
Nevertheless, the sheer abandon with which Rishi Sunak today let borrowing rip was remarkable. Deficit hawks on the Tory benches, particularly those with long memories, kept largely quiet as their own orthodoxy went up in smoke before their very eyes. Yes, there was an emergency in the form of the coronavirus threat, but the sheer scale of the spending splurge went way beyond a short-term vaccination for the economy.
Sunak himself was clearly aware of how the new borrowing would look. He claimed, somewhat implausibly, that borrowing would "increase slightly" from 2.1% of GDP in 2019-20 to 2.4% in 2020-21 and 2.8% in 2021-22. I remember how Gordon Brown used to rattle through bad news in his Budgets by swiftly spitting out statistics before getting onto his big announcements. But today, Sunak didn't even do that. For the first time in living memory, this was a Chancellor who failed to give a cash figure for borrowing for future years.
A look at the small print revealed just why. When you translate those percentages into pounds and pence, borrowing goes up to a whopping £66.7bn next year. Compared to figures issued by the Office for Budget Responsibility just a few weeks ago in December, borrowing will shoot up by £97bn over the next four years. Yes, £97bn. This is not a one year-blip, it's a massive change in direction for the Tory party.
And it's not just the new borrowing that shocked. After years of the Conservatives deriding Labour's plans for a 'fiscal stimulus' to the economy, Sunak injected a £30bn stimulus bigger than anything Gordon Brown, Ed Balls and John McDonnell could have dreamed of.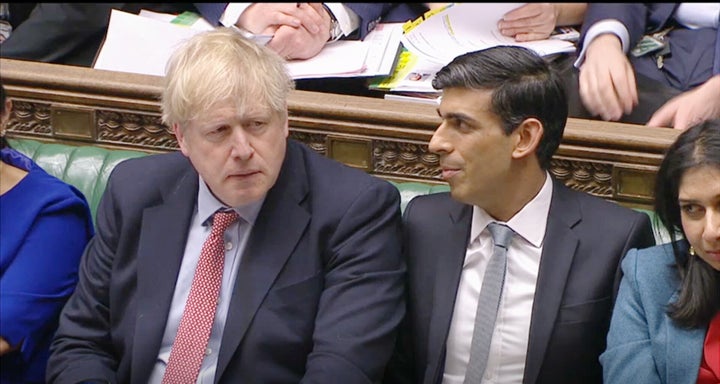 Given the anaemic growth forecasts today (as well as the pre-coronavirus zero growth figures posted before the Budget), the need for that stimulus looked obvious. But for many there will also be a sneaking suspicion that this was all about anticipating a possible Brexit downturn. The OBR forecast today was ominous on that score: trade with EU some 15% lower and economic growth 4% lower over 15 years.
The other big Budget black hole was social care, with Sunak saying "over the next few months we'll tackle the big issues head on". It wasn't just repaying the national debt that is being put off to tomorrow and tomorrow and tomorrow. The fiscal rules will be reviewed, so will devolution, and - another huge missing policy areas - how to get to 'net zero' climate emissions.
Ultimately however this was a supremely political Budget. The £4.2bn 'transforming cities fund' looks like pork barrel politics with a lot of pork in a big old barrel. That includes £198m for the North East (key bricks in the Blue Wall), £161m for Derby (which has a new Tory MP) and Nottingham, £57m for Southampton (with a former Labour marginal now firmly Tory) £79m for true blue Bournemouth, Christchurch and Poole, £317m for West Yorkshire (where the Tories took four seats from Labour last December).
The spending splurge and the borrowing binge are aimed at further ensuring Johnson gets a full 10 years in power. His mission relies on the public forgetting the Tories' past. But it also relies on his own party forgetting its core principle of 'sound money'. If the government can navigate its way through the coronavirus and Brexit challenges over the next year (still big 'ifs'), its new strategy may well work.‌
A new opinion poll today put the Tories on a massive 50% and Labour down on 29%. With a new leader due soon, many Labour MPs will be humming grimly to themselves that famous Tony Blair anthem 'things can only get better'. Remember that Blair followed his first landslide with a second one. It's not inconceivable that Johnson will do too.
And that's the other amnesia affecting our politics right now too: Labour has simply forgotten how to win elections. Johnson and Sunak today proved they want it to stay that way.
Quote Of The Day
"I trust in the discussions that were held prior to the delivery of the Budget that there was the necessary tension between No 10 and the Treasury. Generally speaking, prime ministers want to spend money and chancellors want to manage the public finances prudently…"
Theresa May reminds everyone of the former Tory orthodoxy
Wednesday Cheat Sheet
The UK will move formally from the 'contain' phase to the 'delay' phase on coronavirus tomorrow. This came on the day the World Health Organisation officially declared Covid-19 a 'pandemic'.
As the number of UK coronavirus deaths rose to eight, an unnamed cabinet minister has gone into self-isolation after being in contact with health minister Nadine Dorries. Junior minister Edward Argar has also gone into quarantine.
Asked why Britain was not following draconian measures imposed by other nations, Matt Hancock told MPs that "there are some countries that aren't fully following the science". He said the peak will be in "a couple of months" time. "This is a marathon not a sprint".
A senior Scottish government official has told the Alex Salmond trial that he gave her "very sloppy" kisses on the mouth and touched her bottom, leaving her feeling "disgusted". Salmond denies a total of 14 sexual assault charges against 10 women.
What I'm Reading
Got A Tip?
Send tips, stories, quotes, pics, plugs or gossip to waugh.zone@huffpost.com.
Subscribe To Commons People
Each week, the HuffPost UK Politics team unpack the biggest stories from Westminster and beyond. Search for Commons People wherever you listen to podcasts and subscribe.