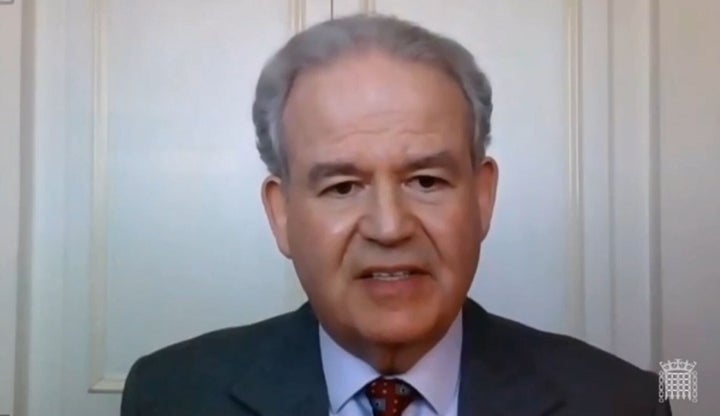 Boris Johnson behaved in an "improper" way when he tried to tell members of the Intelligence and Security Committee (ISC) who to choose as its chair, the MP who snatched the job from No.10′s preferred candidate has said.
MP Julian Lewis secured the role despite widespread expectation that former cabinet minister Chris Grayling would receive the backing of the Conservative-dominated committee which oversees the work of MI5, MI6 and GCHQ.
Lewis, a veteran MP and former chair of the Commons defence committee, said it had been an "improper request" for No.10 to ask ISC members to vote for Grayling.
"The 2013 Justice and Security Act explicitly removed the right of the prime minister to choose the ISC chairman and gave it to the committee members," he said in a statement on Thursday.
"I remember this well, as I served on the committee from 2010 to 2015 and took part of the legislation through the Commons myself on behalf of the committee.
"There is no other Conservative MP in the House of Commons with any past experience of working on the ISC.
"It was only yesterday afternoon that I received a text asking me to confirm that I would be voting for the prime minister's preferred candidate for the ISC chair. I did not reply as I considered it an improper request. At no earlier stage did I give any undertaking to vote for any particular candidate.
"In recent days, the official No.10 spokesman explicitly denied that the government was seeking to 'parachute' a preferred candidate in to the chair, stating that it was a matter for the senior parliamentarians on the committee to decide.
"It is therefore strange to have the whip removed for failing to vote for the government's preferred candidate."
Grayling's suitability for the role had been questioned by many in Westminster.
Former national security adviser Lord Ricketts warned that Grayling – who earned the nickname "Failing Grayling" during a chequered ministerial career – did not "match up" to the authority and reputation of former chairs.
As well as Grayling and Lewis, the members of the ISC are Tory MPs Theresa Villiers, Sir John Hayes and Mark Pritchard, Labour MPs Dame Diana Johnson and Kevan Jones, the Labour peer Admiral Lord West and the SNP MP Stewart Hosie.
Johnson has faced criticism over the delay in appointing the committee which has not met since the last parliament was dissolved in November last year.
The committee has yet to publish its long-awaited report into Russian interference in UK politics after Johnson refused to clear it for release before last year's general election.