But now increasingly strong language is also being used by much of the press after medics announced a fresh wave of strikes.
The British Medical Association announced three further five-day strikes for junior doctors - in addition to one already planned in less than two weeks time.
Here are some of the ways the national press has chosen to describe striking medics...
'Reckless'
Both the Daily Telegraph and The Times went for this in their leaders...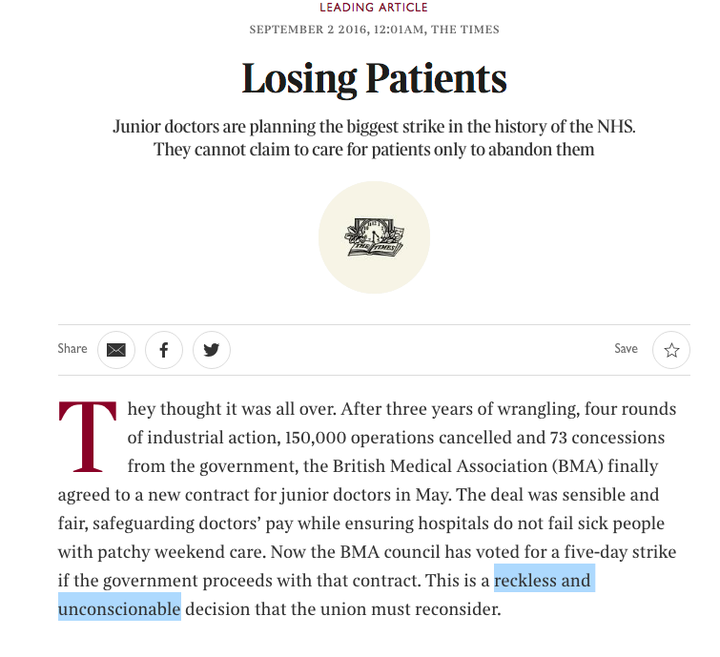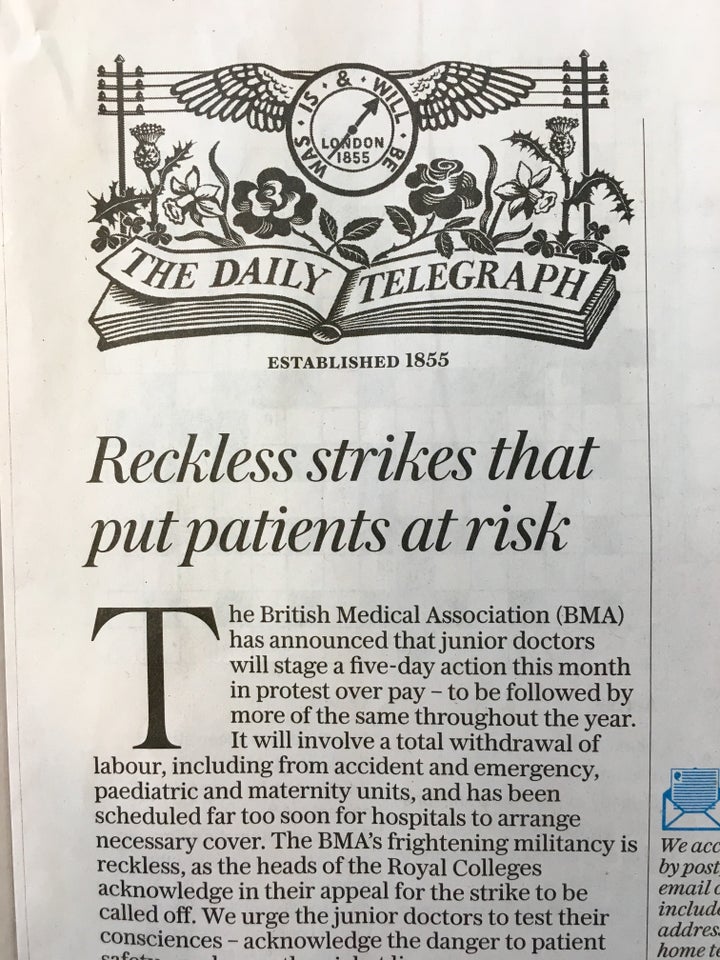 'Arrogant'
The Sun went for "arrogant" in its comment...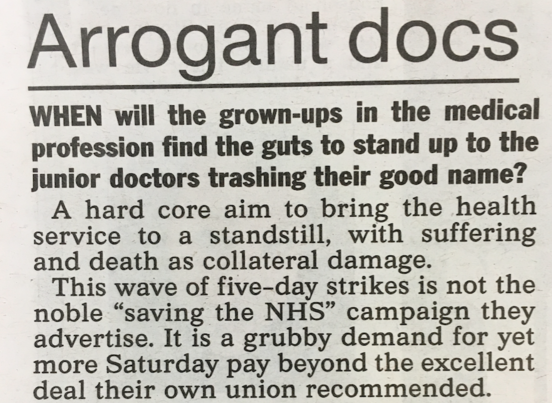 'Militant'
The Mail reported that one doctor told them they should try to "break" Theresa May and "pick up where the coal miners left off".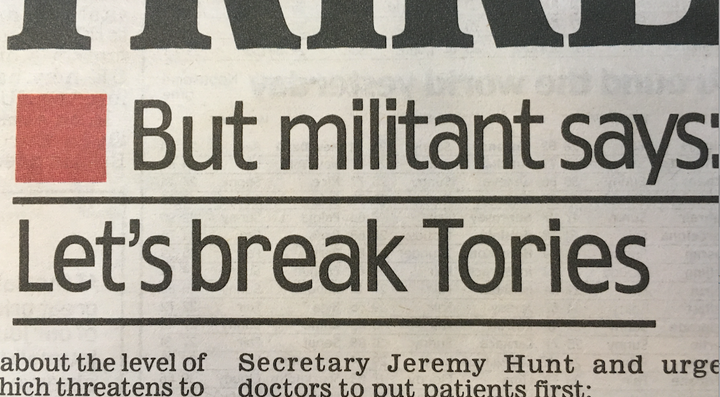 While the Sun also went for "militants"...

Claims they have lied
In its leader, the Mail also said that junior doctors' claims that they were motivated by patient safety "was proved beyond doubt to be a lie".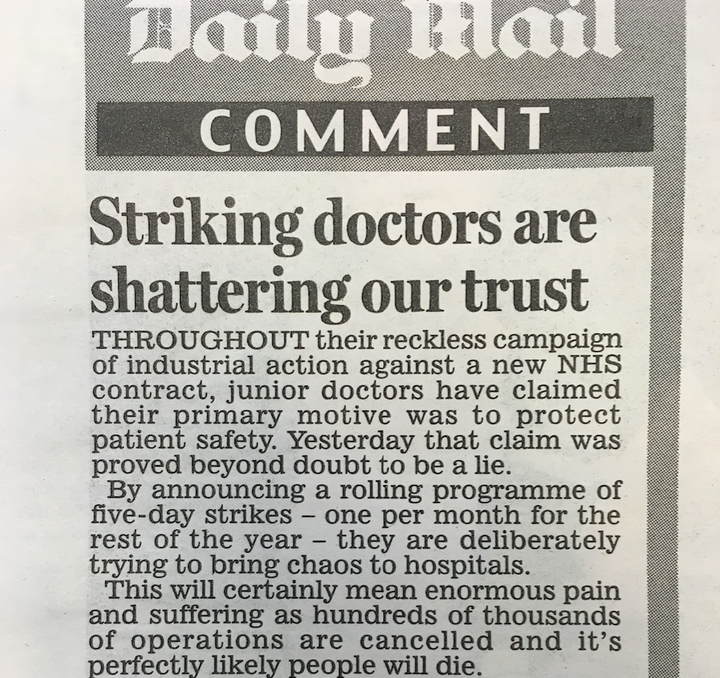 She said: "The government is attempting to portray this entirely as a result of unreasonable, militant or even out-of-touch and overpaid junior doctors flexing their muscles.
"Nothing could be further from the truth."
GP Dr Zoe Norris also spoke out against such rhetoric.
"When you read the headlines and look at Jeremy Hunt talking about the impact of further junior doctor strikes, try to think of it from the other side. What would you be doing if you were a junior doctor?
"I would be devastated. I would feel sick to my stomach at every piece of news coverage. I would wonder why years of training and dedicating myself to caring for patients had led me to be vilified in the national press. I would be angry at the politicians who had led me to this place. The place where leaving my patients for 5 days in a row, standing on a picket line, losing public support, and losing a quarter of my pay for the rest of the year seems like the only option I have."
Dr Norris went on to reinforce that the decision to strike was because of fears over patient safety.
She said: "This is not a decision that has been taken lightly. It has never been about pay; it has been about fairness. It has never been about wanting weekends off; it has been about patient safety. It has never been about 7/7 working; it has been about a failing, underfunded NHS that no-one in the government is willing to acknowledge."
The Daily Express has not criticised doctors and in fact has previously run a "crusade" to support them.
Green Party joint-leader Caroline Lucas has also tweeted in support of the junior doctors:
While the British Medical Association (BMA) says it is "absolutely behind" the decision for further action, the news of new strikes has not been welcomed by others in the profession.
A spokesman for the Academy of Medical Royal Colleges said the organisation was "disappointed" at the prospect of further sustained industrial action.
According to the Press Association, he said: "We are acutely aware that the NHS is under extreme pressure at the moment. Patient safety and quality of care must be the priority.
"We know there are genuine concerns about the contract and working arrangements, but we do not consider the proposed strikes are proportionate.
"Five days of strike action, particularly at such short notice, will cause real problems for patients, the service and the profession."
While the Academy has previously expressed disappointment that an agreement could not be reached, this is the first time it has clearly spoken out against a strike.
Dr Ellen McCourt, who chairs the BMA junior doctors' committee, said: "We want to resolve this dispute through talks, but in forcing through a contract that junior doctors have rejected and which they don't believe is good for their patients or themselves, the Government has left them with no other choice."
Popular in the Community