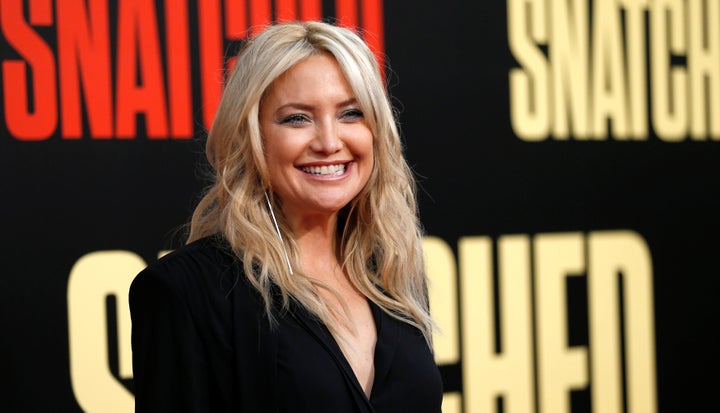 The actress, who appears on the October cover, filled out a questionnaire as part of her feature.
The prompts included "the last photo I took on my phone," "my me-time rituals," and "my biggest source of anxiety."
Hudson's answers were pretty innocuous for the most part, but her response to "the laziest thing I've ever done" rubbed many people the wrong way. Her response? "Have a C-section."
Hudson has two sons, 13-year-old Ryder and 6-year-old Bingham. Ryder was born via C-section, and she had a VBAC for Bingham's birth.
The actress' C-section comment provoked the ire of her fellow C-section moms, who expressed their discontent on Twitter and in the comments section of her Instagram post about the magazine cover.
"I've been a fan for a long time, but I was incredibly disappointed to read your comment regarding your C-section. How very inappropriate and insensitive," wrote one commenter.
"Maybe if us c section moms weren't made to feel like shit and less than moms for not giving birth vaginally, we could all just laugh this off as a bad joke," added another. "Buuut here we are, with the 'natural birth' community shaming us, and comments like this hurt those of us who had no choice."
Still, many people also defended Hudson by noting that she was referring to her personal decision to have a C-section.
Describing Ryder's birth in a previous interview, she's said, "I was going to get induced because the baby was so big. Then my hips weren't opening, and I wasn't dilating. I was in labour. My contractions were two to five minutes apart and I couldn't feel anything."
She added, "The doctor said I could go home, but it was such a pain in the butt to get to hospital because we were being stalked by photographers. We went in at midnight and I was like: 'I am not going home. I just don't want to do this again. Let's just have a C-section.' And so I got drugged up."
Many have pointed out that Hudson's quick quip was likely a joke.
Still, as one Instagram commenter noted, "I hope you were joking. And if you were, it wasn't a funny joke to put out there."
Related