Katherine Jenkins and Giovanna Fletcher sit down to share their experiences as mothers in the first of a series of InSync Stories produced in conjunction with Activia.
The series brings together inspirational women who share their experiences of how they balance the demands of family life with their successful careers. We also discover how they step away and recognise their InSync moments – when they feel confident, in control, and like they're reaching their full potential.
Katherine Jenkins, OBE, was raised in Wales and has become one of the country's most recognised classical-crossover singers. Now married to American artist and film actor-director Andrew Levitas, Katherine became a mum to daughter Aaliyah in 2015.
Giovanna Fletcher has become a poster girl for 'real motherhood' since the magical time-lapse video she and her husband Tom Fletcher, McFly lead singer and songwriter, uploaded of her pregnancy and the arrival of their first son Buzz in March 2014. Bump To Buzz has since garnered over 13 million views and spawned a host of Youtube copycat versions. In February this year the childhood sweethearts' second son Buddy was born, marked by the equally heart-warming Bump To Buddy.
This year Giovanna, 31, was voted Celebrity Mum of the Year by the British public. At the time, the former actress said she wanted to give a big shout out "to mums out there plodding their way through the highs and lows of motherhood... I never think I'm doing anything right as a mum, but I don't think any of us do."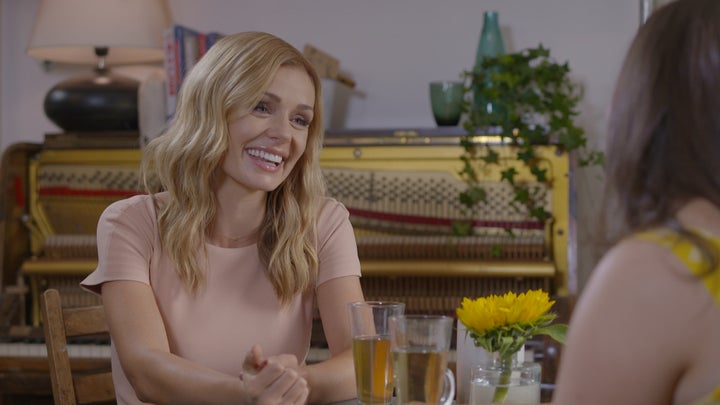 What really matters is family
Giovanna says: "Moments happen in your life that give you more confidence. For me… having Buzz changed my confidence and perspective on everything."
Opera singer Katherine, 36, has also experienced huge changes in her life in a short space of time: she married American artist and director Andrew Levitas, 39, just seven months after they first met and their daughter Aaliyah was born exactly a year later in September 2015.
Talking about being a mum to her 12-month-old daughter, Katherine admits to Giovanna in the video: "I find I worry so much, but it's the best thing I ever did. I feel like I'm still learning to juggle everything and I'm never sure I'm going to master it. I think we're too hard on ourselves."
"It's tricky, isn't it?" says Giovanna, with equally admirable honesty. "It's difficult to find a balance and that's OK." She talks about the demands of her young family, working from home and trying to be disciplined with deadlines while keeping a sense of perspective. "There's so much going on but for me what really matters is family."
Katherine recounts how she was recently cuddling Aaliyah, giving her a bottle and reading a story "and I thought, oh my gosh, I have to remember this the next time I'm stressed. This is just the perfect moment. This is me being happy with what I have."
Giovanna is the first to admit that first-time motherhood was a springboard to a new career direction, one that she nevertheless works at very hard. ""I just hope I keep going and managing to sometimes find a balance and occasionally feel InSync, then I would be happy. I just want my family to be happy."
Katherine hopes to be a role model for her child. "I want my daughter to see that I'm dedicated and disciplined and do something I'm passionate about.
"I feel that work and my personal life have come together."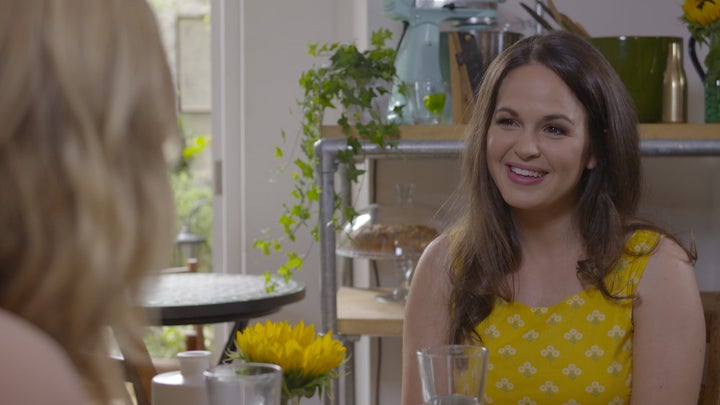 Motherhood: a constantly evolving challenge
Hilda Burke, integrative psychotherapist and couples counsellor, says: "It's easy for mothers to beat themselves up; to think they're not doing enough for their children or for themselves. It is tricky to find a balance and being a mother is a constantly evolving challenge as children's needs change.
"It's important we remember that the smaller snapshot moments all add up to create a bigger picture. Slow down, take stock of the positive achievements every day of your life, not just the headline results, and guard against being so goal-orientated that you don't take the time to celebrate the moments that make you most happy."
The InSync Stories video series, produced in conjunction with Activia, sees inspiring women reflect on their lives and the ways they stay InSync - balancing career success, family life and finding personal fulfillment. The series is hosted by prolific classical-crossover singer and songwriter Katherine Jenkins, OBE, and Victoria Pendleton, women whose work and family life exemplify what it means to be InSync.
Activia believes that women can achieve their best when they feel InSync - with a sense of harmony, order and control. For more InSync inspiration, go to danoneactivia.co.uk.
Related