Katie Hopkins has been forced to apologise for a string of mistruths and defamatory claims about a British Muslim family barred from travelling to the United States.
The columnist wrote in the Mail Online last year about Britain's "Mickey Mouse" border security, and how the US' decision to deny the family access proved it was "protecting its own people".
In one of the pieces, Hopkins had quipped: "You can't prosecute the truth".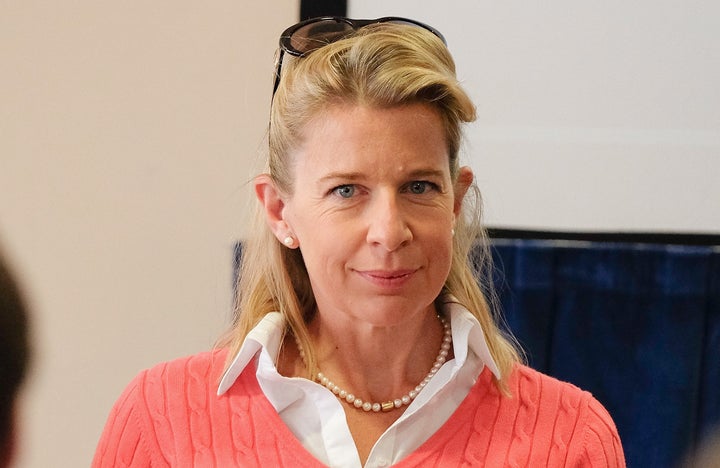 But now two articles featuring claims about the Mahmood family of Walthamstow, North London, have been taken down.
An article published in Katie Hopkins' column on 23 December 2015 ('Just because Britain's border security is a Mickey Mouse operation you can't blame America for not letting this lot travel to Disneyland – I wouldn't either') suggested that Mohammed Tariq Mahmood and his brother, Mohammed Zahid Mahmood, are extremists with links to Al Qaeda; that their purported reason for visiting the USA – namely to visit Disneyland – was a lie; and that US Homeland Security were right to prevent them from boarding their flight. We are happy to make clear that Tariq Mahmood and Zahid Mahmood are not extremists, nor do they have links to Al Qaeda. They were travelling to the USA with their families to see one of their brothers for a holiday in California and they had indeed planned to visit Disneyland as part of their trip.

In addition a further article in Katie's column on 29 December ('A brave Muslim tried to warn us their week about the extremists taking over his community. What a tragedy it is that our PC politicians would rather not know') suggested that Hamza Mahmood (Mohammed Tariq Mahmood's son) was responsible for a Facebook page which allegedly contained extremist material. Our article included a photo of the family home. Hamza Mahmood has pointed out that he is not responsible for the Facebook page, which was linked to him as a result of an error involving his email address. We are happy to make clear that there is no suggestion that either Hamza nor Taeeba or Hafsa Mahmood (Hamza's mother and sister) have any links to extremism.

We and Katie Hopkins apologise to the Mahmood family for the distress and embarrassment caused and have agreed to pay them substantial damages and their legal costs.
The two articles were published just four weeks after Hopkins began working at Mail Online.
The apology was tweeted by Hopkins at two o'clock on Monday morning, and by 11am became her most re-tweeted message ever - at over 3,500 shares and counting.
The Mahmood family said that "a great deal of dragging of their heels" the Mail Online and Hopkins had accepted the allegations were false.
In a statement issued through their lawyers, they said: "Even to this day, the US authorities have not explained the reason why we were not permitted to travel; we assume it was an error or even a case of mistaken identity.
"However, matters are not helped when sensationalist and, frankly, Islamophobic articles such as this are published, and which caused us all a great deal of distress and anxiety. We are very pleased that the record has been set straight."
Walthamstow MP Stella Creasy shared Hopkins' tweet, and wrote: "Don't often share Katie Hopkins messages but do feel this late night tucked away one should be given more prominence..."
Creasy's Labour colleague Jess Phillips also shared Hopkins' tweet.
Others said the early morning message was an apparent attempt to hide the retraction.
Others pointed out the sheer hypocrisy in Hopkins previous assertion that she would "never apologise".
In 2015, two months before the first of the two columns were published, Hopkins tweeted: "You want me to apologise for my views? Never. I am not sorry."
"We and Katie Hopkins apologise to the Mahmood family for the distress and embarrassment caused and have agreed to pay them substantial damages and their legal costs."
Hopkins was previously a columnist at The Sun newspaper. During her time there she published a heavily criticised column, since removed from the publication's website, which likened migrants to cockroaches and advocated the use of gunships in the Mediterranean.
The piece also invited the media to show her "bodies floating in the water", as she maintained: "I still don't care." The column was later cleared of 'inaccuracy' after an investigation by press watchdog IPSO.