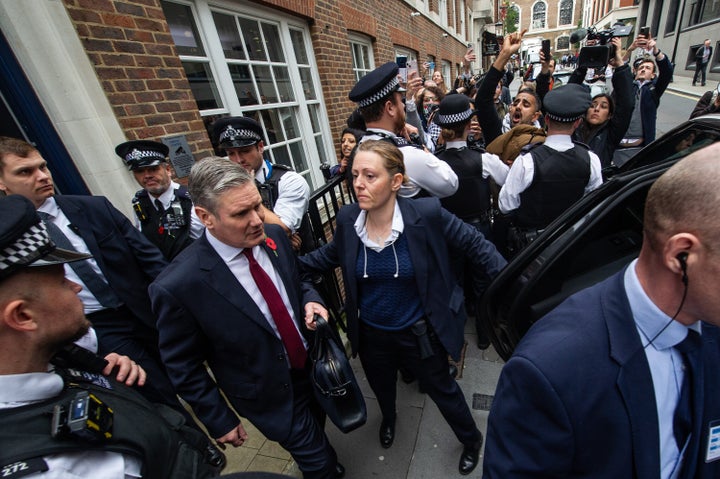 The Bradford East MP became the first member of the party's top team to stand down last night.
More than a dozen Labour frontbenchers have so far broken ranks with Starmer to publicly call for a ceasefire in the conflict.
The Labour leader has been under mounting pressure over his response to the conflict, which began on October 7 when Hamas fighters entered Israel, killing 1,400 people and taking more than 200 hostage.
Hussain, who was shadow minister for the new deal for working people, said he was "deeply troubled" by Starmer's refusal to back a ceasefire.
The Labour leader has said he backs "humanitarian pauses" to allow aid to get into Gaza, rather than a complete end to hostilities.
He says a ceasefire while Hamas holds around 200 Israeli hostages would simply allow the militant group to re-arm and mount more attacks on Israel.
In his resignation letter, Hussain said: "Over recent weeks, it has become clear that my view on the ongoing humanitarian catastrophe in Gaza differs substantially from the position you have adopted.
"A ceasefire is essential to ending the bloodshed, to ensuring that enough aid can pass into Gaza and reach those most in need, and to help ensure the safe return of the Israeli hostages."
A senior Labour source told HuffPost UK that the MP had informed party whips about his intention to resign and there were "no hard feelings" over his departure.
But he added: "We get that it's tough, but the party's position isn't changing until the circumstances on the ground change."
One shadow cabinet member said further resignations "are definitely possible" following Hussain's departure.
A Starmer ally added: "The pressure on some colleagues is very big."
But another shadow minister told HuffPost UK: "This is obviously timed for maximum damage. He should resign his seat.
"The most frustrating thing is that Imran was able to articulate for a ceasefire and stay in his job so he's obviously done this for other reasons."
As many as 100 of the party's MPs - around half the total - are believed to disagree with the party's position on the conflict.
But Starmer has so far refused to sack any shadow ministers deviating from the official Labour policy, while insisting that collective responsibility in the party remains intact.
Speaking last week, he said: "Of course we have collective responsibility, it's my job to make sure we have collective responsibility. It needs to be done with an eye on the context and what we are facing."