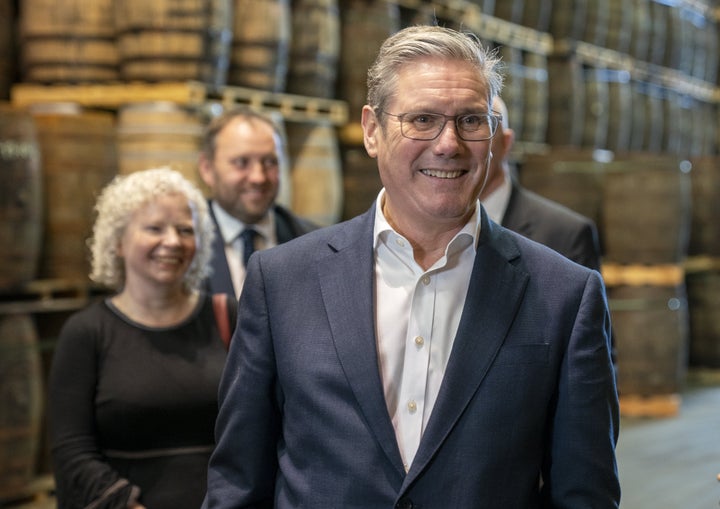 Keir Starmer has insisted Labour is "united" over the Israel-Hamas war - despite a massive rebellion by his MPs last night.
Dozens of backbenchers, plus eight shadow ministers, defied their leader to back SNP calls for a ceasefire in the conflict.
But despite the biggest challenge to his authority since he became Labour leader in 2020, Starmer insisted his party was not split on the issue.
He told ITV News: "I think there is absolute unity about what we're trying to achieve.
"This is not like some of the disagreements you see in politics. This is about many, many people, not actually just in politics, many people watching this who are watching their screens saying 'what could we do to alleviate what is an awful situation?'
"Those hostages are still being held. There's a terrible humanitarian crisis in Gaza. We have to make, working with our allies to make a material difference to that. So in terms of what people are trying to achieve, there is unity about what we're trying to achieve."
Starmer repeated his calls for "humanitarian pauses" to take place to allow aid to get into Gaza.
Among the Labour rebels was former leadership contender Jess Phillips, who quit her job as shadow domestic violence minister after voting for a ceasefire.
Asked if he regretted losing her from his frontbench, Starmer said: "Of course, I want us to move forward as united as we can as a party, but you wouldn't expect me to stand here today and say my concern is the Labour party management rather than the hostages and the innocent civilians and children that are dying in Gaza.
"My focus and attention is there, and that's where it is where it will always be."
However, he did leave the door open to the possibility of Labour backing a ceasefire at some point in the future.
He said: "My focus has always been on what will make a material difference on the ground. Now, as events change, then of course we have to see what the circumstances are that we are confronted with.
"At the moment we have hostages being held, over 200 hostages. We have an awful humanitarian crisis in Gaza. My immediate concern is how do we alleviate that?
"A humanitarian pause was something which we suggested a number of weeks ago. They are now happening. So that's a step in the right direction. They're not long enough. They need to be more effective. They need to be a stepping stone to the cessation of fighting, which itself should be a stepping stone to the political settlement and the two state solution that is desperately needed."
She said: "There are two issues with a ceasefire. The first is that currently there's no prospect whatsoever of a breakthrough with Hamas.
"There may be a breakthrough on hostages, but all there's been in the last few weeks is a hardening of rhetoric from Hamas. The message that sends to Israel is very much the wrong one and is counter-productive.
"The second is at the current time, humanitarian pauses are the only viable prospect and because the situation is so extreme, it's not hard to comprehend why at the moment dialogue seems impossible and a ceasefire seems like a very, very distant prospect."