A radio competition that encouraged callers to 'steal' money from people in desperate need has been called "disgusting" after a mother who needed £2,000 to keep a roof over her children's heads had it taken by a woman who wanted a holiday.
The 'Heartless Hotline' feature on Manchester station Key 103 let listeners call in to ask for a life-changing sum of money, which could then be "stolen" by another caller if they felt they were more deserving.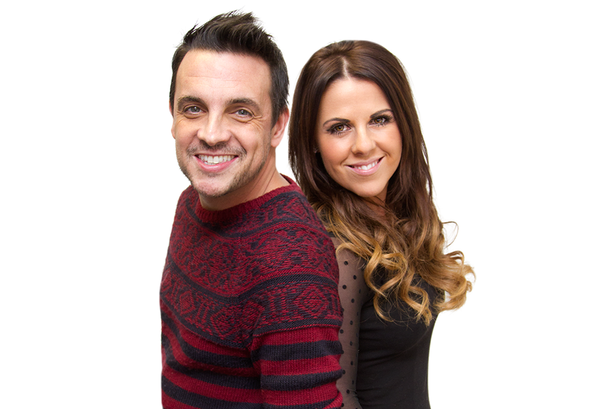 A woman referred to as Sarah made an emotional plea for £2,000 on the show, after her husband cheated on her and her father died unexpectedly.
"Please Manchester. I need this more than anything," Sarah told listeners, explaining that after separating from her husband she didn't have enough money to keep her kids in their home. She wanted the radio prize to pay for a divorce and a court order to increase her husband's maintenance payments, in order for them to keep the family home.
Sarah tearfully told the presenters that she had endured an "awful" two years and that she didn't think her kids could cope with moving house after the trauma.
Broadcasting watchdog Ofcom shared a transcript of the call with presenters Brooke Vincent (BV) and Mike Toolan (MT) after receiving a complaint calling it "disgusting".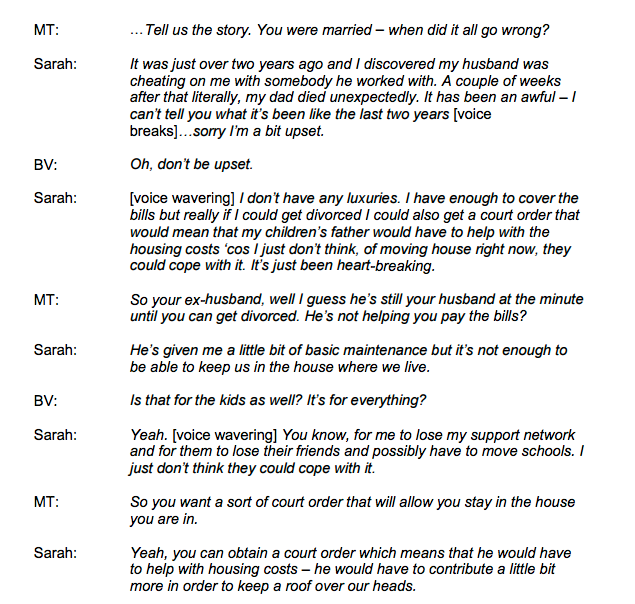 The presenters opened the hotline saying to listeners for 30 seconds, saying: "It's up to you if you want to call and steal this cash. It's on your conscience."
Almost immediately, a second caller called Leigh phoned in and said she wanted to 'steal' the money for a holiday, leaving the presenters in disbelief.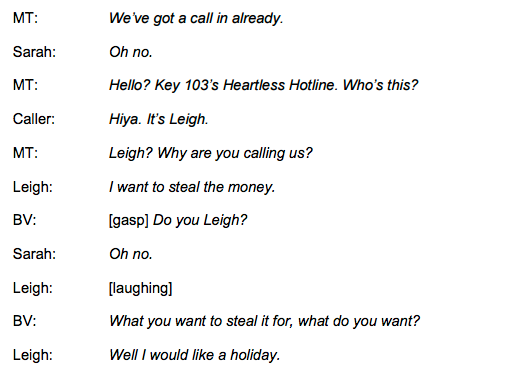 Sarah and Leigh, whose names have been changed in the Ofcom ruling, then had an on-air conversation about who deserved the money more, with Sarah sounding close to tears. "This is my children's future," she implored, while Leigh said "I know but I've got children of my own and I could do with a holiday for us."
The presenters had no choice but to hand over the prize.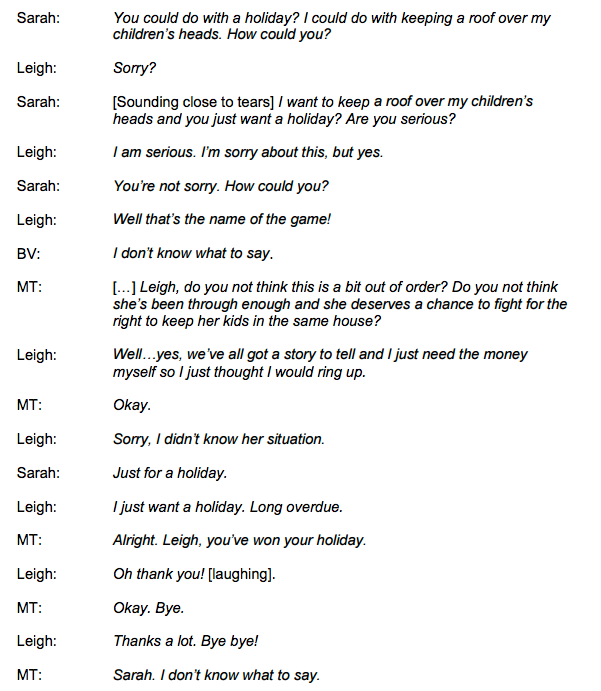 A listener described Sarah's treatment in the competition on 27 April as "disgusting", and complained.
After the segment, listeners texted in to express their disapproval, with one saying "Words fail me. What a cow!" according to the Ofcom report.
Another tweeted: "What a vindictive, disgusting woman. Sickening" while a third said they were "nearly in tears at Key 103 Heartless Hotline".
One commenter said: "You need to stop this evil game now. I'm at the point where I'm going to be switching stations".
Ofcom said Key 103 had breached part of its broadcasting code, which forbids programmes from causing "unjustifiable offence", including through the 'violation of human dignity'.
Ofcom said: "Sarah and Leigh were allowed to confront one another on air and argue about the extent to which each deserved the prize. At one point, this confrontation continued for over 30 seconds without any form of intervention from the presenters. We considered that it was likely that this would have increased the level of offence caused to listeners, because the station allowed this confrontation to occur in the first place and then let it continue uninterrupted."
It received two more complaints about a 29 April 'Heartless Hotline' segment, when presenter Mike Toolan decided to block the phonelines to stop anyone calling in.
After a caller named Carly asked for £1,000 to help her get access to her mother's ashes, no-one appeared to phone in. After the allotted 30 seconds, Toolan admitted he had felt Carly was so deserving that he had preventing anyone from taking the money.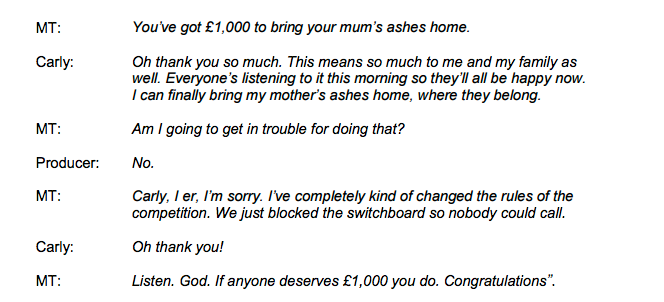 Ofcom judged that the show had again broken the broadcasting code, by not conducting the competition fairly.
It will hold a meeting with Bauer Media, Key 103's owner, to discuss how it handles live radio competitions.
Bauer admitted it had exercised "poor judgement" by blocking the phone lines.