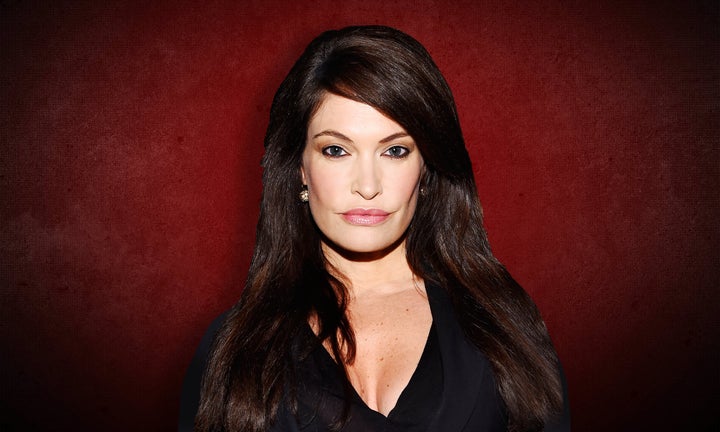 When it was revealed last week that longtime Fox News host Kimberly Guilfoyle would be leaving the network, some Fox News and White House insiders were surprised that she was choosing to move on from the cable news channel and head to a pro-Donald Trump super PAC. For nearly two years — even once rumors eventually kicked up that she might join the Trump administration — Guilfoyle said that, as a single mother, she had to think of her son's financial future and couldn't afford to leave the high-paying gig, multiple sources told HuffPost.
Guilfoyle's departure was initially billed as her decision. However, as HuffPost first reported last week, multiple sources said she did not leave the network voluntarily. They said Guilfoyle was informed her time at Fox News was up following a human resources investigation into allegations of inappropriate behavior including sexual misconduct, and that her lawyers had been involved since the spring. Sources also said that despite being told she would have to leave by July, Guilfoyle repeatedly attempted to delay her exit and tried to have her allies appeal to Rupert Murdoch, the executive chairman of 21st Century Fox, the parent company of Fox News, to let her stay at the network.
This story is based on interviews conducted over the past year with 21 sources inside and outside Fox News and 21st Century Fox. All sources spoke to HuffPost on the condition of anonymity because they aren't authorized to speak to the press, did not want to raise Guilfoyle's ire or have signed nondisclosure agreements that prevent them from speaking to others about their experiences.
Guilfoyle announced Tuesday that she had left Fox News.
In response to an email with a list of 19 detailed questions, Guilfoyle's attorney John Singer wrote the following statement:
"Any accusations of Kimberly engaging in inappropriate work-place conduct are unequivocally baseless and have been viciously made by disgruntled and self-interested employees. During her lengthy and decorated tenure with the company, Kimberly was beloved, well-respected, and supportive of anyone she ever met. It's utterly preposterous that there are those who are nefariously and greedily twisting innocent conversations amongst close friends into much more than what it actually was for financial gain. Kimberly has happily moved onto the next chapter of her life and hopes others will do the same."
Multiple sources told HuffPost that Guilfoyle's exit from Fox News, where she had worked since 2006, came after her alleged inappropriate workplace behavior could no longer be tolerated by the network. Vanity Fair, which broke the story about Guilfoyle leaving the network, and The Daily Beast, which reported that Fox News staff allegedly waged a "hostile whisper campaign" against Guilfoyle, have said she crossed the line by using network makeup artists for personal outings, but the accusations Guilfoyle faced were much more serious.
Six sources said Guilfoyle's behavior included showing personal photographs of male genitalia to colleagues (and identifying whose genitals they were), regularly discussing sexual matters at work and engaging in emotionally abusive behavior toward hair and makeup artists and support staff.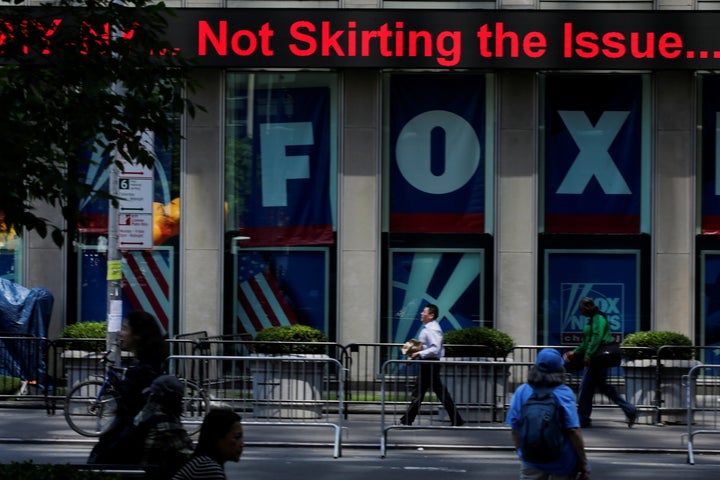 According to sources, Guilfoyle was the subject of a human resources investigation that started last year and involved interviews with Fox News employees, including hair and makeup artists and producers. Sources said HR warned Guilfoyle about her behavior several times, including a stern warning from Kevin Lord, the head of Fox News HR, in the fall of 2017. HuffPost also began investigating Guilfoyle's workplace conduct last year.
Sources said 21st Century Fox prefers that problematic employees retire or resign rather than be terminated ― the company has taken this approach with Fox News talent and executives in the past, as well as with Guilfoyle, who was not formally terminated. This method gives talent and executives a quieter way to exit and the network avoids a contentious departure. According to two sources, the network told Guilfoyle she was being given time to find a new job that she could announce before leaving.
A spokesperson for Fox News declined to comment for this story. In response to questions last Friday about Guilfoyle's exit, the network issued a terse statement: "FOX News has parted ways with Kimberly Guilfoyle." It declined to comment any further on her departure. Hours after HuffPost published its report that Guilfoyle's departure was not voluntary, her attorneys from the law firm Clare Locke LLP sent a threatening legal notice to HuffPost and this reporter, claiming the story was false and defamatory and that failure to retract it would constitute evidence of "actual malice."
Becoming Isolated
Two years ago, network insiders considered the idea of Guilfoyle's involuntary departure from Fox News to be impossible. She was a protégé of Roger Ailes, who was the chairman of the network at the time, and many saw her as untouchable. She was, as one source described it, "the woman who knows too much."
But Guilfoyle had become increasingly isolated in the past year, sources said. Three of her co-hosts on "The Five" (Dana Perino, Jesse Watters and Greg Gutfeld) have second shows to host themselves. Guilfoyle was not given the opportunity to host her own program while she was a co-host of the panel show.
Current and former Fox News employees told HuffPost that Guilfoyle openly complained about feeling slighted and criticized other women at the network. One target of her criticism was Judge Jeanine Pirro, who hosts the popular show "Justice with Judge Jeanine" on Saturdays and is close to Trump. Guilfoyle told colleagues that Pirro was too old (she is 67) and should no longer be on television, according to two sources who also said Pirro caught wind of Guilfoyle's disparaging comments.
Guilfoyle also began dating Donald Trump Jr., the president's eldest son, this spring, and sources said some people at Fox News were concerned that easing her out of the network would be slowed or halted due to the Trump family's close relationship with Murdoch. But a well-placed source told HuffPost that Murdoch signed off on the plan to remove Guilfoyle, which was brought to him by Suzanne Scott, who became CEO of Fox News in May.
While Scott reports jointly to Murdoch and his son Lachlan, who also holds the title of executive chairman of 21st Century Fox, the elder Murdoch is particularly passionate about running the cable news network and has a close hand in the decision-making. Sources said Guilfoyle's allies had repeatedly attempted to lobby Murdoch but that he was impervious to those efforts. A source familiar with Murdoch's thinking told HuffPost that the executive bristles at outside efforts to push him on business matters and that he had caught wind of Guilfoyle's behavior and was not interested in allowing it to continue.
Fox News was a hotbed of sexual harassment and retaliation under Ailes, but executives at Fox News have worked over the past two years to improve the workplace culture and institute major changes in large part due to potential legal liabilities and regulatory concerns in the U.S. and U.K. Guilfoyle, according to several sources, failed to adapt to the new culture and still operated as if she were working under Ailes.
A spokesperson for Murdoch declined to comment for this story.
"Guilfoyle called female on-air talent at Fox News and asked them to make supportive statements about Ailes publicly, sources said. Five sources who said they received calls from Guilfoyle said she framed it as making a decision as to whether they were 'Team Roger' or 'Team Gretchen.'"
Some media reports have speculated that Guilfoyle's relationship with Trump Jr. and her desire to actively campaign with him caused her to leave the network, but Guilfoyle had been told her time at the network was up before it was revealed that she was dating Trump Jr. And while Fox News standards would not have allowed her to campaign for a political candidate at events or online, a closeness to the Trump family and Trump administration certainly wouldn't be seen as a reason to leave. Sean Hannity, Pirro and Lou Dobbs, who all work for Fox News or Fox Business, are close to the president and serve as informal advisers to him.
Guilfoyle, a former San Francisco County prosecutor, started at the network in 2006 as a legal analyst and worked her way up to become co-host of "The Five." She also served as a fill-in host for top-rated Fox News stars like Hannity. While living in the city, Guilfoyle was married for several years to then-San Francisco Mayor Gavin Newsom (Newsom is now lieutenant governor of California and the front-runner in the current gubernatorial campaign). This reporter worked for Newsom for several years but has no relationship with Guilfoyle and has never spoken to her.
The Assistant
For many years, Guilfoyle was close to her Fox News colleague Eric Bolling, who was pushed out of the network after HuffPost reported that he sent unsolicited lewd photos to female colleagues. They shared a young female assistant who, according to three sources, was deeply unhappy at work and was desperate to get out from under what she described to sources as Guilfoyle's emotionally abusive behavior and attempts to involve her in her personal sexual matters by regularly sharing details about her sex life. "[Guilfoyle's assistant] was desperate to get away from Kimberly, she kept on trying to find a way to get a new job or get reassigned within the network," a source who had spoken to the assistant told HuffPost.
Bolling was pushed out of the company in September 2017 following a HuffPost report about his alleged misconduct. The assistant was interviewed by an outside law firm as part of 21st Century Fox's investigation into Bolling. After detailing her experiences working for Bolling and Guilfoyle and discussing her options with the network, the assistant was moved to work on another program. The assistant's lawyer later approached the network about her claims; the assistant was subsequently placed on paid leave at her request. She did not reply to a request for comment.
Loyalty To Roger Ailes, Later A Liability
The current and former Fox News employees who have spoken to HuffPost over the past year said Guilfoyle, who has a reputation for being unfailingly loyal to certain people, caused a rift among women at the network after former network host Gretchen Carlson sued Ailes for sexual harassment and retaliation. Some of those sources expected Guilfoyle to be pushed out for leading the charge against Carlson and others, and were surprised when she managed to hold on.
Guilfoyle called female on-air talent at Fox News in the summer of 2016 and asked them to make supportive statements about Ailes publicly, sources said. Five sources who said they received calls from Guilfoyle said she framed it as making a decision as to whether they were "Team Roger" or "Team Gretchen."
According to two sources with direct knowledge of the conversations, Guilfoyle began at least two phone calls by noting she had spoken to Ailes' wife, Elizabeth, and his personal attorney Peter Johnson Jr. At the time, Fox News employees believed Ailes to be virtually unfireable. Guilfoyle's close relationship with him made them nervous because they were afraid of retaliation if they didn't support him publicly, sources said.
Sources said that, on the calls, Guilfoyle discussed other Ailes supporters at the network who wanted to do something to help him. And she told at least two female Fox News hosts that she had already informed the Aileses and Fox News executives of the women's support. The women were shocked to hear that Guilfoyle had made that assumption and painted them into a corner.
Two sources said Guilfoyle was particularly vitriolic in those conversations about then-Fox News host Megyn Kelly, telling one person that Kelly was widely disliked across the newsroom for not speaking up in support of Ailes. (Kelly has since left Fox News for NBC News.) According to multiple sources, Kelly sat down for an interview with the law firm retained by 21st Century Fox to conduct an investigation into misconduct allegations at the network, and Kelly said she had been subject to harassment and intimidation by Ailes.
Two sources told HuffPost that Lachlan Murdoch, who was advocating for Ailes' ouster, sought to push out Guilfoyle in the summer of 2016 after hearing about her campaign to garner support for Ailes from female Fox News employees.
According to four sources, Guilfoyle also approached then-Fox News host Meghan McCain and told her the network would let her take Perino's position on "The Five" if she made a statement publicly supporting Ailes. McCain never made such a statement, and Perino is still a host of "The Five" and of her own program on the network. McCain left Fox News last year to join ABC as a co-host of "The View."
Many Fox News and Fox Business hosts did speak out in support of Ailes, including Hannity, Pirro, Bill O'Reilly (who was later ousted in his own sexual harassment scandal) and Brit Hume. Some Fox News employees, including executives, have said they have come to regret their support of Ailes, but Guilfoyle remained steadfast in her support of him even after the Murdochs pushed him out.
Guilfoyle's final days at Fox News were markedly different than her tenure during the Ailes era. She had an open door to the network chairman at the time and was close to his top executives and staffers.
Days before she left Fox News for the last time, Guilfoyle got herself booked on Steve Hilton's Sunday program ― even though she had been told she was no longer going to be on air. According to two sources, she told Hilton he should tell Fox News brass he wanted her as a regular. Hilton, according to sources, didn't know that Guilfoyle was leaving the network.
The woman who once organized a lobbying campaign to keep Ailes at Fox News was now fighting for her own future at the network, but this time she didn't have anyone by her side.
Related