A market trader banned from selling Knights Templar crusader mugs over fears they could offend Muslims has been invited to crunch talks with council officials, who look set to offer a reprieve.
Tina Gayle received an official rebuke and a ban over the coloured printed cups which Charnworth Council in Leicestershire said "breached trading rules".
Vintage book seller Gayle said she had been told the council "had a complaint that the mugs might be offensive to Muslims".
A letter stated she was in breach of trading terms and conditions and had to leave her pitch of three years at Loughborough Vintage Market.
The mugs, also stamped with the Christian chivalric order's Latin motto which translates as: "Not to us Lord, not to us, but to your name give the glory", brought a single complaint.
But now the council appears to have re-considered its approach, summoning Gayle for a meeting with market bosses next week.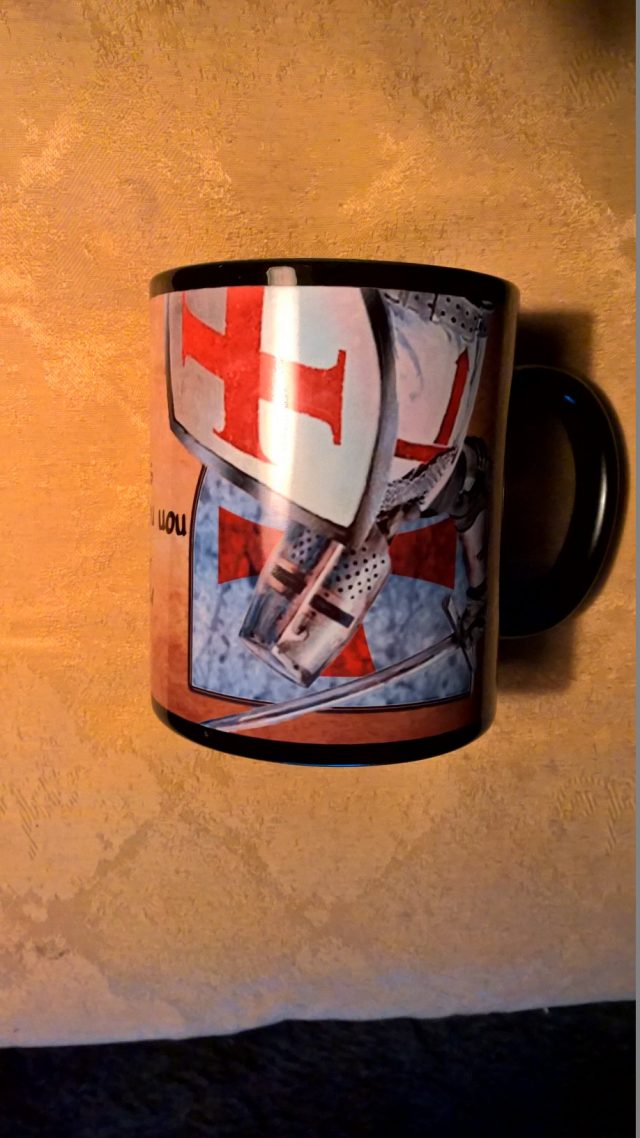 (Tina Gayle/PA)
The council said it had "got this one wrong", and apologised for the way it handled the matter.
In a statement, it added it was the fact the mugs were not vintage which had been at issue, but this fact had been communicated "poorly" to Ms Gayle.
Gayle, 57, from Didcot, Oxfordshire, who also travels the country selling Second World War vintage books, said she was "appreciative" for the council's change of approach.
"I've been summoned to a meeting with the markets manager on Thursday. They haven't apologised to me directly, but have called me to that meeting," she said.
"I'm very optimistic.
"But I realise it's a very big thing for the council to issue a public apology and I'm appreciative.
"Should I be offered my pitch back, I'll obviously be very happy."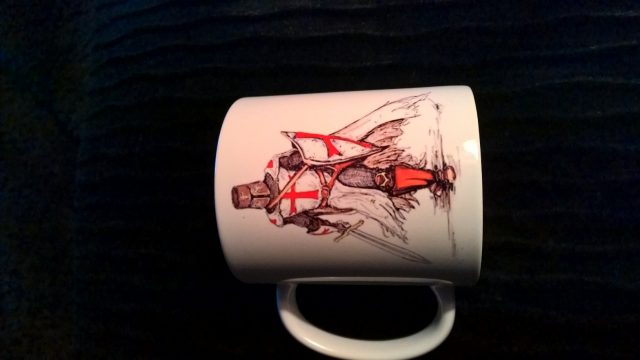 (Tina Gayle/PA)
Her ban had come in the form of a letter handed to her on October 6, after a previous run-in over the sale of some mugs bearing Second World War-era Nazi symbols.
Gayle said she had been told the council "had a complaint that the mugs might be offensive to Muslims".
She added: "The person who complained wasn't offended himself, but thought Muslims might be.
"I've never had a Muslim come into my stall and say they were offended by the mugs."
However, Gayle said she has "no bad feelings" towards the council, and understood it had been put in a "dilemma".
The council had previously formally told Gayle to stop selling mugs bearing what it described as "Nazi symbols" in August or new items which may cause offence, following a separate complaint.
Market authorities then received the complaint about the Templar mugs, and when Gayle refused to remove them from sale, she was banned.
In a statement reported by the Press Association, the council said: "Firstly, we would like to apologise. We are open and honest enough to say we got this one wrong.
"We did receive a complaint because someone was offended by the mugs, but we do not find the mugs offensive.
"Our main issue was that it is a vintage market and these items were new when we only want vintage or used items on sale.
"We communicated that poorly to the trader and we will be reviewing how this happened to learn lessons for the future. We will also be speaking to the trader involved.
"We apologise for any upset caused and we acted in what we thought was the best interests of Loughborough's markets."