Eastenders actor Lacey Turner has announced she's expecting her first child with her husband Matt Kay. The 30-year-old, who is due to give birth in July, explained that she had two "devastating" miscarriages before getting pregnant.
Turner said she wanted to encourage women to speak about their experiences of miscarriage. Around one in four pregnancies end in miscarriage, and it is estimated one in 100 couples trying for a baby will experience three or more consecutive miscarriages.
"I can't wait to nurture our baby – we've dreamed of having a family for so long," she told OK! Magazine. "When you've lost babies all you care about is the heartbeat – we've had about 12 scans."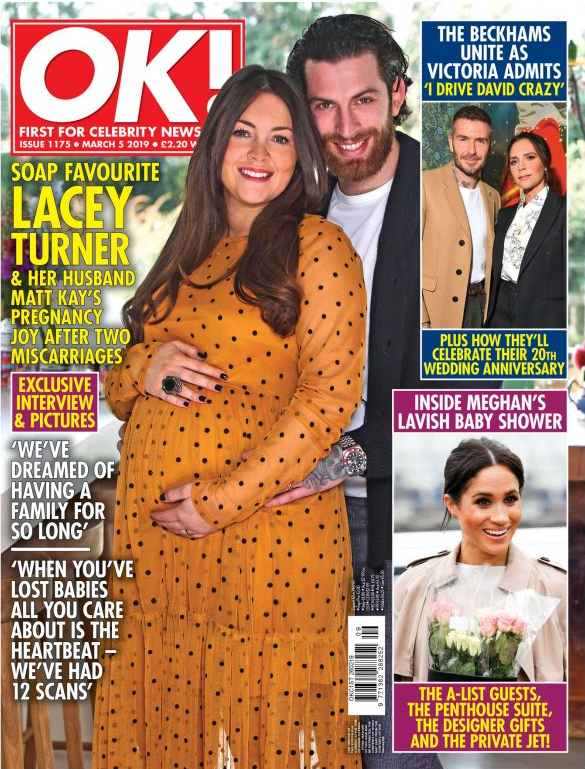 Her whole world had "fallen to pieces" during her miscarriages, she said. "There's nothing you can do apart from try and put it back together. I blamed myself thinking that I'd done something wrong. I'd think, why me? What did I do?"
Miscarriages are more common during the first trimester of a pregnancy. This is why many people choose not to share their pregnancy news widely until after their 12 week scan, which marks the beginning of a "safer" period for the pregnancy.
Speaking about her pregnancy, Turner said she's been experiencing morning sickness in the first trimester, which caused her co-star Natalie Cassidy to guess she was pregnant.
She and her husband Kay are childhood sweethearts, and married two years ago in Ibiza.
Read the full interview in this week's OK! Magazine.