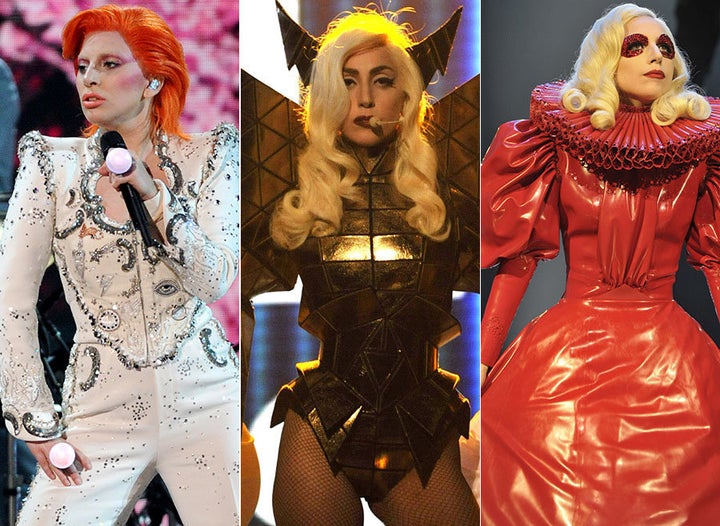 When it comes to live TV appearances, there are few contemporary stars who manage to put on a full-scale production like Lady Gaga, whether it's the grand stage of an awards ceremony or a smaller-scale affair like a TV chat show.
Over the years, she's delivered shocking stunts, impressive vocals and, of course, outfits so off-the-wall the only word for them is... well... gaga.
And even when her performances aren't realised quite as we think she intended, there's no knocking her effort or vision - and if these 15 of her most memorable TV performances don't prove our point, we're not sure what will...
Bad Romance ('The X Factor', 2009)
By the time the lead single from 'The Fame Monster' dropped, Gaga's star was already so big that had she just gone on 'The X Factor' and sung it in front of a mic stand with a bit of clapping in the chorus, no one would have batted an eyelid.
That makes it even more impressive that she put on such a show for her UK fans on 'The X Factor', singing 'Bad Romance' dressed as a bat in a giant bath-tub (complete with a piano solo seated... on the lav), all while giving us #EyebrowGoals.
'Edge Of Glory' ('American Idol', 2011)
There's often a critique of style over substance when it comes to modern popstars, so it's always nice every now and then when a singer can prove they're able to captivate an audience without the bells and whistles that they're often associated with.
Gaga's 'Edge Of Glory' performance managed that for her, showing that all you need to get people onside is a killer tune, a great vocal… and a giant piece of headgear, natch.
'Fashion' ('Lady Gaga And The Muppets' Holiday Spectacular, 2011)
Just when you thought a seasonal extravaganza that sees Lady Gaga and The Muppets teaming up for a selection of festive tunes was odd, in walked RuPaul to duet on a Bowie-sounding ode to fashion… all while she sported what appeared to be a brown lampshade on her head.
'The Sound Of Music' (Medley) (Academy Awards, 2015)
Gaga might have seemed an odd choice to channel Maria von Trapp for a special 50th anniversary tribute to 'Sound Of Music', but she floored everyone as she whizzed through the musical's key numbers, even garnering praise from Julie Andrews.
'Paparazzi' (MTV Video Music Awards, 2009)
One of the most exciting things about the early days of Gaga's career was seeing how elaborate her performances got, as her budget started to climb.
This was definitely evident at her VMAs debut, where she gave one of her most theatrical performances to date.
'Over The Rainbow'/'Applause' ('Good Morning America', 2013)
Gaga gave her own spin on 'The Wizard Of Oz' when she gave one of her first performances of 'Applause' on breakfast TV in America. In the space of just four and a half minutes, Gaga followed the yellow brick road and transformed herself into Dorothy, Glinda the Good Witch and even a singing apple tree, all with the aid of wig changes and props.
Our favourite part had to be her fans in the audience, who were given 'poppy' hats to wear, imitating one of the film's most famous scenes.
'Hair' ('Paul O'Grady Live', 2011)
Gaga snatched her own wig with this performance on Paul O'Grady's late-night talk show, which saw her covering the stage, her piano and even her dress in hair. In fact, there was hair almost everywhere except for her head.
'Venus'/'Do What U Want' ('The X Factor', 2013)
Sadly, particularly during the 'ARTPOP' era, Gaga's performances weren't always up to her usual standard. Case and point, this unusual performance, which opens with an ill-advised acoustic guitar solo, whizzes through an unfortunate wardrobe malfunction before changing direction completely as 'Do What U Want' kicks in.
Gaga's a tough one to work out at the best of times, but we're still not sure what she was thinking here.
David Bowie Tribute (Grammys, 2016)
Gaga went full throttle when she paid tribute to her late idol just a month after his death at the Grammys, paying homage to several of his iconic looks and whizzing through a plethora of his hits from 'Changes' and 'Let's Dance' to 'Space Oddity' and 'Heroes', which she closed with.
Not everyone was a fan, admittedly (including Bowie's son) but Gaga was clearly honoured to have been given the job.
'Do What U Want' ('The Voice', 2013)
Gaga took a lot of heat when she chose to collaborate with R&B singer R Kelly on her 2013 single 'Do What U Want', particularly given the sexual tone of the song's lyrics. So, when it came to performing it on the US version of 'The Voice', she teamed up with coach Christina Aguilera - who had feuded with her in the early days of her career - for a new 70s-inspired version of it, which was later released a separate single.
'Yoü And I' (MTV Video Music Awards, 2011)
"How do you top a meat dress?", many people asked ahead of Gaga's appearance at the VMAs in 2011. It turns out, you do it by dressing up as a man and singing a song about your break-up from the perspective of your ex-boyfriend, including a three-minute monologue to introduce the song, and a guitar solo from Brian May. Obv.
'Speechless' (The Royal Variety Performance, 2010)
Performing for the Royal Family was always going to be an interesting one for Lady Gaga. How would she manage to be typically outlandish and flamboyant while still staying within the boundaries of good taste?
Well, by dressing as a Tudor queen and singing a piano ballad suspended from the ceiling, of course.
'Marry The Night' ('The X Factor', 2011)
One thing that frequently crops up when Gaga's harshest critics are laying into her is her so-called self of humour failure. However, several of her performances have revealed a more playful side, which arguably includes this 'X Factor' performance, where she appeared dressed as a beheaded corpse, emerging from a confessional booth.
'Telephone'/'Dance In The Dark' (Brit Awards, 2010)
Gaga's tribute to Alexander McQueen was performed just days after his death. She chose to perform a stripped-back version of 'Telephone', with new lyrics to reflect on the late fashion designer, before launching an eerie rendition of 'Dance In The Dark', which name-checks Liberace, Princess Diana and Sylvia Plath.
'The Super-Bowl Half-Time Show' (Super Bowl, 2017)
She jumped. Off. The roof. We'll say no more.
NOW READ: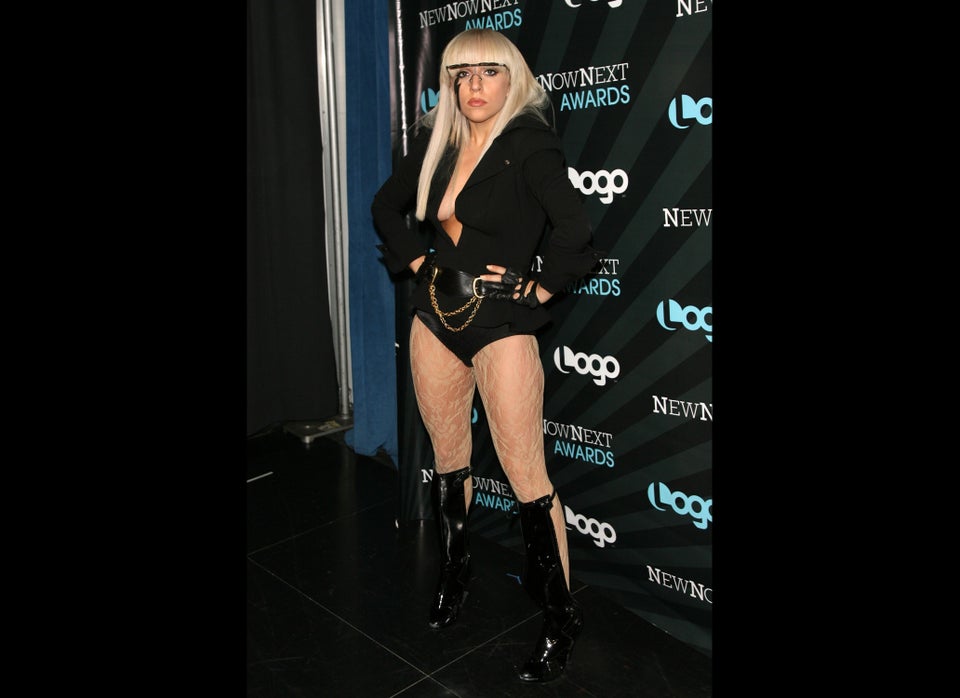 Lady Gaga Style Evolution