Police are trying to piece together the motives of a gunman who killed at least 59 people and injured hundreds more after firing on concertgoers in Las Vegas.
Stephen Paddock, 64, opened fire at the final night of the sold-out three-day Route 91 Harvest country music festival near the Mandalay Bay Resort and Casino on the city's strip at about 10.20pm on Sunday local time (6.20am Monday BST).
After apparently spraying gunfire from his hotel room for 10 minutes, he turned his gun on himself.
Paddock's family were "horrified" over the suggestion he's behind the worst mass shooting in modern US history. His victims included a school secretary, a university student and a nurse.
A growing and detailled profile of Paddock suggests he lived in a Nevada retirement community and was a multimillionaire real-estate investor who liked to travel to Las Vegas to play high-stakes video poker.
While Islamic State claimed responsibility for the shooting, saying she "shooter converted to Islam months ago", Aaron Rouse, the FBI agent in charge in Las Vegas, said investigators saw no connection to international terrorism.
Asked about a potential motive, Sheriff Joseph Lombardo of Clark County said he could not "get into the mind of a psychopath at this point".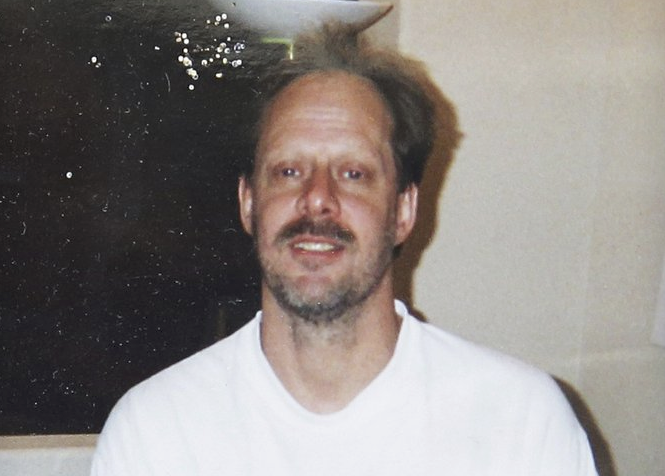 Paddock's brother, Eric Paddock, said the family was stunned by the news that he was the gunman who unloaded magazines of bullets into the 22,000-strong crowd. Police found 17 guns in Paddock's hotel room which he checked into on September 28.
"We are completely dumbfounded," his brother said. "We can't understand what happened."
"We have no idea. We're horrified. We're bewildered and our condolences go out to the victims," Eric Paddock said in a brief telephone interview with Reuters, his voice trembling.
"We have no idea in the world."
In a separate interview with CBS Eric Paddock said his brother was not an "avid gun guy at all".
"The fact that he had those kinds of weapons. Where the hell did he get automatic weapons? He had no military background or anything like that."
Eric continued: "When you find out about him... he was just some guy who lived in a house who drove down to gamble in Las Vegas."
"He did stuff. He liked burritos," Eric added, looking overwhelmed by his brother's sudden infamy.
His brother later said Paddock was a multi-millionaire property developer, adding: "He was a guy who had money. He went on cruises and gambled."
Reports emerged that Paddock's father operated an Oregon bingo parlor after escaping from a Texas prison in the late 1960s, and was put on the FBI most wanted list after the escape.
Despite the escape, Benjamin Hoskins Paddock was paroled the following year and returned to Oregon. He continued the bingo operation until authorities shut it down in 1987 and charged him with racketeering.
Heavily armed police searched Paddock's home Monday in Mesquite, about 80 miles northeast of Las Vegas near the Arizona border, looking for clues.
"We have no information into his background that is derogatory," Sheriff Joseph Lombardo confirmed on Monday afternoon.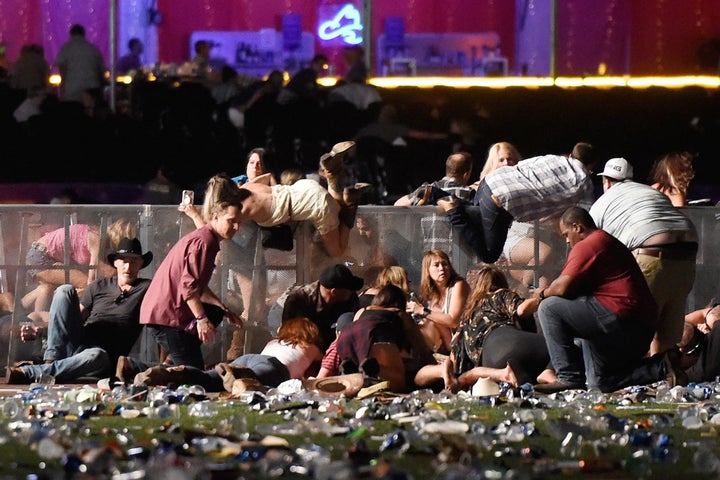 He said Paddock had been given a citation previously that had been dealt with by "normal procedure through the court system".
Asked if authorities think the shooting was an act of terrorism, Lombardo replied, "No. Not at this point. ... We don't know what his belief system was at this time."
Lombardo, during his latest press conference, refused to call the shooting an act of terrorism, saying police had not located any items that suggested what Paddock's motivations might be.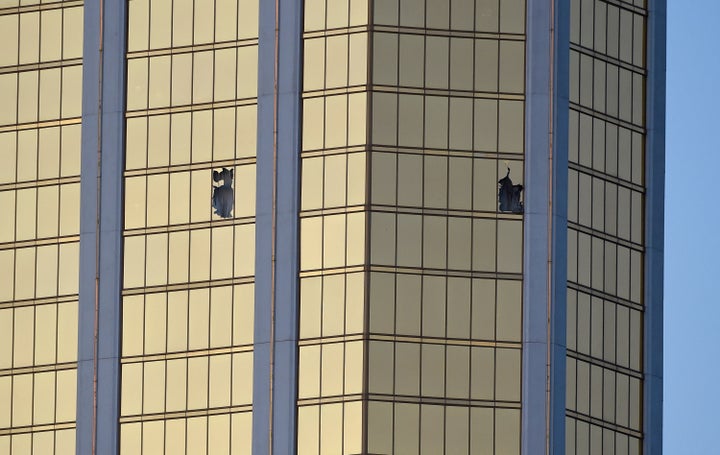 In the immediate aftermath of the shooting police were seeking "a companion" of the shooter, named Marilou Danley, who was later identified as being an Australian passport holder, possible of Indonesian decent.
Lombardo said Danely, 62, had since been located and ruled out of the investigation. She was "out of the country" the officer said, and Paddock had been "utilising her ID".
The couple's home in Mesquite is being searched. Among the dead is a LVMPD officer was was off-duty at the time.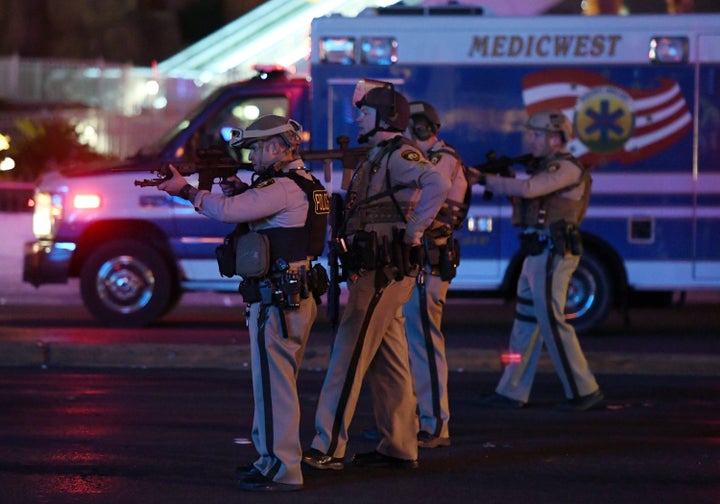 Two other off-duty officers were injured in the shooting. One was initially in a critical condition, but had since improved to stable. The other did not suffer life-threatening injuries.
The death toll increased from 20 to 50 within three hours earlier today and the number of injured doubled. Later, the police said at least 58 people had died and 515 were injured.
Police said they believe Paddock, a Las Vegas local, was the "sole aggressor" and acted alone.
It was initially reported that police had shot Paddock dead, but Lombardo has since said that Paddock took his own life before police located him.
Lombardo earlier today dismissed reports that there were multiple shooters, incidents at other locations, and explosions.
Police had descended on the Ali Baba Restaurant, about a 10-minute drive from the Mandalay Bay, and they also investigated reports of a shooting at the New York-New York Hotel and Casino, not far from the concert ground, amid the chaos of the shooting.
One explosion heard, police said, was the Swat team, entering the Mandalay Hotel to capture Paddock.
The police reported clearing out the Mandalay Bay's 29th floor and working their way up to the 32nd floor.
UK Prime Minister Theresa May said Britain's thoughts were with the victims of what she called an "appalling attack".
British Foreign Secretary Boris Johnson said he was "horrified" by the attack and said the United Kingdom "stands with the American people against this indiscriminate violence".
Johnson added: "My thoughts are with all those caught up in it."
He said the Foreign and Commonwealth Office is in contact with Las Vegas authorities to establish whether any British people were caught up in the attack "and we are ready to help however we can".
British tennis player Laura Robson was caught up in the shooting but escaped unscathed. She described the tragedy as "scary shit".
US President Donald Trump extended: "My warmest condolences and sympathies to the victims and families of the terrible Las Vegas shooting. God bless you!"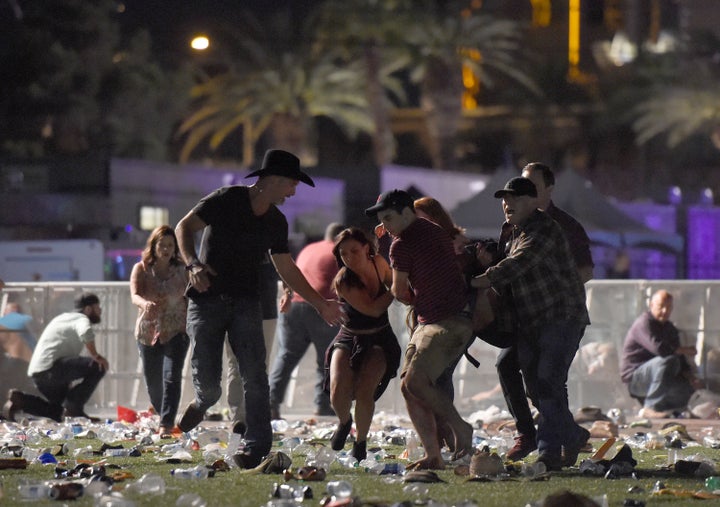 One witness told ABC news how the gunfire sounded like "fireworks" but after the "second volley" of shot his friend got hit and "people started diving on the ground".
"It (the gun fire) just continued and it was chaotic. Lots of people got hit."
The man said it took "a while" to get his friend, who had three wounds to the chest, to safety. They needed to get him over a fence and spent some time "hiding under the stage to be safe" before finally loading him into a vehicle, only to be "turned around because there was an active shooter".
The witness said he got his friend and some other injured concertgoers into an ambulance, "one guy ended up dying in my arms because he was bleeding so much".
The man's "buddy" survived.
Jason Aldean was said to be performing when the rampage began, but he was said to have been bundled safely off stage at the chaos ensued.
He later wrote on Instagram that tonight had been "beyond horrific".
Kodiak Yazzi, 36, told Associated Press that he and his girlfriend were watching Aldean's performance when he heard what sounded like fireworks.
The 36-year-old said the music stop temporarily and then resumed before another round of gunfire sent caused the singer to flee the stage.
Thousands fled as bursts of gunfire could be heard for more than five minutes, Yazzi said.
A Bakersfield police officer was one of the injured.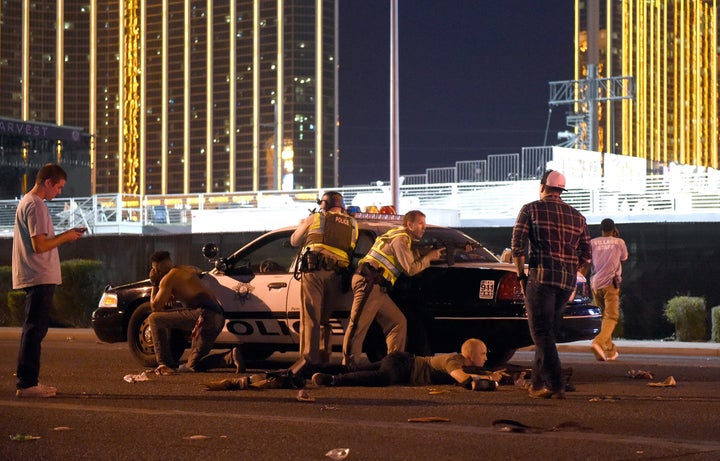 Concertgoers reported flashes from gun fire on the upper floors of the Mandalay Bay hotel across the Las Vegas Boulevard from the festival.
Hundreds of people fled the scene and the sound of what appeared to be prolonged automatic gunfire could be heard on videos posted on social media.
The hotel is near McCarran International Airport, which said on Twitter it had temporarily halted flights after the shooting. Later, the airport said that some flights had resumed.
(Warning: Some readers may find the following footage disturbing.)