The grassroots trade union movement is in revolt over Boris Johnson's bombshell decision to shut down parliament in the face of a no-deal Brexit.
A joint statement signed by 110 reps, in a personal not an official capacity, has been shared with HuffPost UK.
One trade union source signalled the move could herald mass civil disobedience, wildcat strikes and stoppages.
The reps, whose membership spans Unite, NEU, GMB, Unison and other unions, promise to "urgently mobilise direct action, including protests, strikes, and occupations".
It comes after the prime minister's shock decision to prorogue parliament between September 9 and October 14, sparking fears remain-backing MPs are being silenced as the country heads towards a no-deal Brexit on October 31.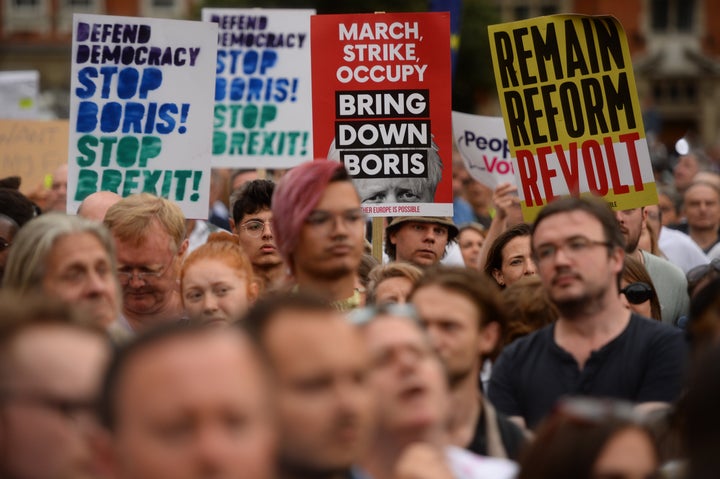 Thousands of protestors flooded the streets around Westminster on Wednesday night chanting "stop the coup" after news spread that the Queen had consented to the prorogation.
One trade union source told HuffPost UK: "Boris' Brexit plans are a massive attack on workers and working class people.
"Across the labour movement, the mood is rising. If there is a mass movement of civil disobedience, there is no reason why we shouldn't see wildcat strikes and stoppages."
Meanwhile, the grassroots left-wing campaign Momentum said it would support protests in Glasgow, Leeds, Liverpool, London, Manchester, Newcastle, Nottingham, Oxford, Sheffield and York on Saturday.
National coordinator Laura Parker has said she'll "join an occupation of parliament" and is encouraging Momentum backers to block bridges and roads.
"Eton educated, millionaire Boris Johnson is stealing our democracy so he can sell off our NHS to big US corporations in a no deal, Trump first Brexit," she said.
She added: "There are thousands of us who will join an occupation of parliament and block the roads before we let Johnson close the doors on democracy.
"Our message to Johnson is this: if you steal our democracy, we'll shut down the streets."
A further demonstration in London on Tuesday September 3 when parliament returns is also planned.
"As workers and trade union activists, we oppose Boris Johnson's attempted coup and sabotage of democracy.

"A no-deal Brexit will wreck working-class living standards and trash migrants' rights. For an Etonian millionaire, elected by only a tiny handful of Tory activists, to force this through by asking our unelected head of state to suspend parliament is an affront to democracy and a lurch towards authoritarian nationalism.

"Despite legal restrictions, we believe our unions, the Labour Party, and the whole working-class movement must urgently mobilise direct action, including protests, strikes, and occupations, in opposition to this development. We commit to arguing for this within our unions."
Full list of signatories
John Moloney, Assistant General Secretary, PCS union

Patrick Murphy, National Executive Committee, NEU

Daniel Randall, Assistant Chair, RMT Bakerloo Line branch

Simon Murch, NEU National Executive Committee and Joint Sheffield District & Branch Secretary

Riccardo La Torre, Eastern Region FBU Secretary

Mark Boothroyd, Joint Branch Secretary, Unite, Guy's and St Thomas Hospital Branch

Henry Chango-Lopes, President, IWGB

Karam Bales, National Executive Committee, NEU

Ruth Cashman, Joint Branch Secretary, Lambeth UNISON

Simon Hannah, Joint Branch Secretary, Lambeth UNISON

Murray Sackwild NEU National Executive; West Essex District NEU General Secretary; Essex Branch NEU Deputy Secretary.

Nadia Whittome, Nottingham GMB

Tom Harrington, Education Officer, IWGB Couriers and Logistics Branch

Zack Murrell-Dowson, Treasurer, Bristol Couriers' Network, IWGB

Andrew Berry, Islington UNISON

Yousaf Hassan, Waltham Forest UNISON

Dan Jeffery, Lambeth UNISON

Tracy McGuire, NEU Darlington.

Michelle Watts, NEU Workplace Rep

Joshua Lovell, Cambridge UCU

Pete Gillard, Unite

Darren Cogavin, UCU Workplace Rep

Chris Bright, Islington UNISON

Tony Harrison, President, Oldham NEU.

Mandy Hudson Ealing NEU

Alex Blenkhorn, UNISON Workplace Steward

Ian Townson, Lambeth & Southwark Unite Community.

Rob Marsden, Leicester UNISON Health

Alena Ivanova, Unite

John Medhurst, London GMB member

Tom Harris, PCS workplace rep.

Louis Bayman Southampton Uni UCU

Len Arthur UCU retired member

Andrew Coates, Chair Unite LE/1860 (Suffolk)

Janine Booth, RMT Piccadilly & District West Branch, Trade Union Liaison Officer Hackney South and Shoreditch CLP

Christie Neary, NEU

Tracy McGuire, Darlington NEU

Lisa Crane, Birmingham NEU

Alison Treacher, Secretary, Unite, Greater Manchester Social Action Branch NW389

Jamie Green, Membership Officer & Steward, UNISON at LSE

Sam Greenwood, Branch Labour Link officer, Wakefield District UNISON

Matthias Kispert, IWGB

David Ball, workplace rep, Barnet Unison & Barnet NEU

Pat Markey, Secretary, Northampton District NEU

Kieran Miles, Unite

Stephen Wood, Night Tube Officer, Finsbury Park RMT

Charlie Hore, UNISON.

Sue Sparks, Unite

Maisie Sanders, Unite

Kelly Rogers, United Voices of the World union

Mike Thompson, Unite workplace rep

Dave Roberts, Leicester Unison

Brian Cairns, Wandsworth NEU Officer

Benj Eckford, GMB

Hazel Croft, Unison

George Buskell, Unite

Caroline Powls Unison

Gill George, Unite

John Stuttle, Father of the Unite chapel at the Guardian and Observer, Political Officer, Unite National Publishing and Media Branch

Susan Pashkoff, Chair, East London Unite Community

Amanda Bentham, workplace rep, Tower Hamlets NEU

Daniel Davison-Vecchione, Cambridge UCU

James Doig, workplace rep, NEU

Tim Cooper, Nottingham Unite Community

Belinda Washington, NEU & Unite

Kevin Saint, Unite

Martin Goodsell, Branch Secretary, East London Unite Community

Tim Martin, UCU

Gary Whiting, Branch Chair, Lambeth UNISON

Steve Eason, NUJ

Nik Barstow, Unite Greater Manchester Social Action Branch & Trafford TUC

Roland Rance, Treasurer, East London Unite Community

Robin Starey, Unite

Duncan Robinson, NEU

Andy Warren, PCS DWP London Region Young Members' officer

Dave Parks, Devon County UNISON

Dave Kirk, Unite

Nalini Amichund, Workplace Rep, Croydon NEU

Bob Sutton, Unite Construction

Debbie Brown, Swindon NEU

Fiona Ogilvie, Unison

Suzanne Gannon, NEU

Gareth Murphy, Branch Secretary, Camden Unite Community Camden

Alison Lord, UCU

Gill McCall, Unite Community

Paul O'Brien, Unite Community

Jeanette Fletcher, Unite Community

Ian Fletcher, Unite Community

Sam Gisagara, Equalities Officer, Camden Unite Community

Vino Sangarapillai, Camden UNISON

Terry Clarke, UCU

Roderick Cobley, Unite

Neil Rogall, UCU

Roger Welch, UCU

Richard Brenner, Unite

Fran Springfield, Lambeth UNISON

Roberto Mozzachiodi, UCU

Anne Cooper, Lambeth Unite Community

Juliet Sherratt, NEU

Jenny Cooper, Brent NEU

Jon Rogers, Lambeth UNISON

Lucy Cox, NEU

Linda Sayle, Camden Unite Community

Claudia Ferreira, Camden Unite Community

Andrea Egan, Bolton UNISON

Paul Renny, Schools Convenor, Haringey UNISON

Ryan Hebbs, Branch Political officer, Enfield GMB

Craig Farlow, Unite

Dan Rawnsley, Sheffield NEU

Steven Carver, Tower Hamlets Unite Community