A new year feels like the right time to make some changes: start a health kick, ditch the meat, shop more sustainably.
Making small swaps that integrate easily into our lifestyles is far easier than attempting a major life upheaval, especially when it comes to implementing greener practices or switching to eco-friendlier alternatives.
Whether you're looking to invest in an e-bike this year to improve your fitness or want to have fun with products that help the planet - like the gaming app that cuts your carbon footprint and cleans up ocean waste - we've rounded up the greener lifestyle brands to know, from cleaner air initiatives to organic activewear.
Home Cleaning Products With A Conscience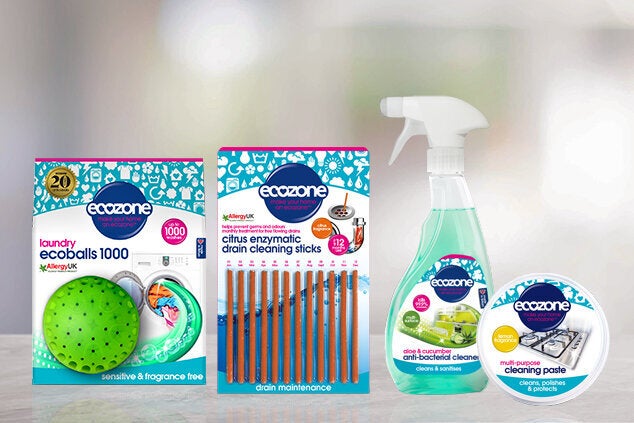 Standard cleaning products typically have an ingredient list packed with chemicals and irritants, harmful to the planet, as well as being potentially dangerous to our skin and respiratory systems.
Enter Ecozone: the responsible, chemical-and-cruelty-free cleaning brand which uses plant-based ingredients that are kinder to you, better for the planet yet still potent enough to kill germs, remove stains and leave every part of your house sparkling.
Each of Ecozone's products - there are over 100 in the range across laundry, dishwashing and household cleaning - is made from eco-friendly ingredients, with many available in bulk sizes to minimise packaging and plastic. The brand also manufactures biodegradable bin bags, as well as enzymatic drain-cleaning sticks.
Ecozone's reusable, hypoallergenic Ecoballs are cult favourites that eliminate the need for laundry detergent, saving on packaging waste and preventing unnecessary chemicals from ending up in the water system. Ecoballs are filled with mineral pellets to clean your clothes and boast the Allergy UK seal of approval for even the most sensitive skin types. They can be thrown in your washing machine for up to 1,000 cycles.
Ecozone's newest release? A Multi-Purpose Cleaning Paste, designed to clean a variety of surfaces from the bathroom sink to the barbecue.
Ethical Activewear To Stretch Your Limits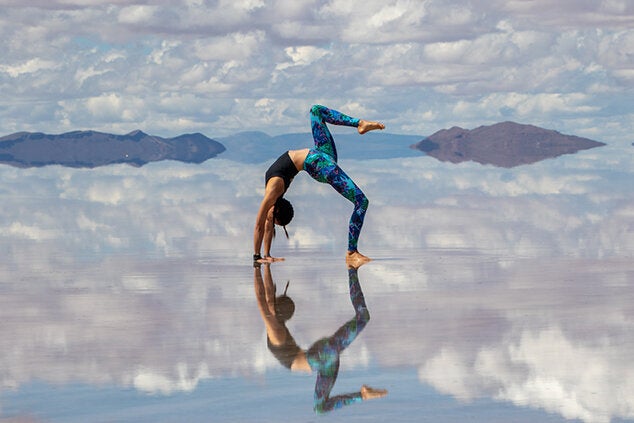 Reconnecting with nature and the great outdoors is one way to stay green - you just need the right attire to do it. Whether you're exploring new horizons on a hike or climb, de-stressing your mind and body with yoga or working on your strength, 3RD ROCK activewear has all the gear to get you moving.
Founded by Jessica Mor, a pattern cutter, designer and climber, the Peak District based ethical activewear label takes inspiration from nature in its designs for men and women, all made from organic cotton and innovative fibres sourced from regenerated plastic. Clothes are built with longevity and movement in mind: these garments were created to help you reach the next level on your fitness journey.
Better yet, the brand only works with factories in line with the Ethical Trading Initiative, so you know where your clothes come from and can rest assured that those who made them are being fairly compensated.
The brand has made an inclusivity pledge, both in terms of styles and sizing available as well as part of a broader mission to improve access to sports like climbing and yoga by funding sessions for Black, Asian and minority climbers.
From recycled leggings with show-stopping prints to versatile and super-soft organic sweats, 3RD ROCK will keep you active in sustainable style – without compromising on comfort.
The Social Network For Climate Action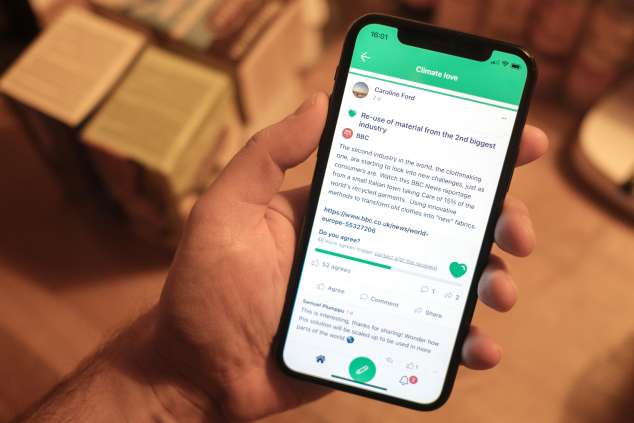 A social network powered by renewable energy that pledges to unite change-makers from around the world to help solve the climate crisis? How do we sign up?
We Don't Have Time is a networking and review platform for climate action, brimming with up-to-date climate news, ideas, reviews and solutions.
Falling somewhere between Twitter and Tripadvisor, it's arguably the easiest way to reach those in positions of power like politicians or business leaders - to urge them to do more for the climate. You can also see how various companies are rated with regard to their eco-impact - the good, the bad and the ugly.
We Don't Have Time also provides a platform for huge international gatherings, like the digital, no-fly Exponential Climate Action Summit, which was broadcast live to 8 million people in 100 countries in September 2020. Earlier the same year, Earth Day Week, celebrating Earth Day's 50th anniversary, was broadcast online to millions as a global six-day event.
With over 700,000 followers and members, We Don't Have Time is the world's largest climate action network and there's an added incentive to sign up: the social network will plant a tree with trees.org for each new member.
Green Energy From Your Own Bit Of A Wind Farm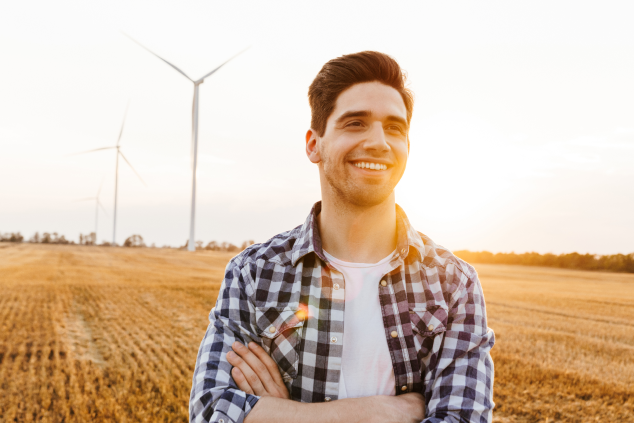 Interested in reducing your energy bill while doing something good for the planet at the same time? Well, you could own your very own wind farm...
For those looking to take action on climate change in a straightforward way, Ripple Energy could have just the solution.
With Ripple, you can purchase your very own bit of a new wind farm: the clean electricity it produces will be supplied to your home via the grid, courtesy of Co-Op Energy (powered by Octopus Energy).
Bonus: your bill will be reduced as a result, by as much as 25% over the wind farm's lifetime.
Think of it like putting solar panels on your roof, but cheaper (by as much as 65%). Your share of the wind farm will supply your home with green electricity for the next 25 years.
Unlike solar you can live in a flat, rent and if you move home it goes with you. Ripple takes care of everything for you throughout the wind farm's life.
Embracing The Electric Vehicle Revolution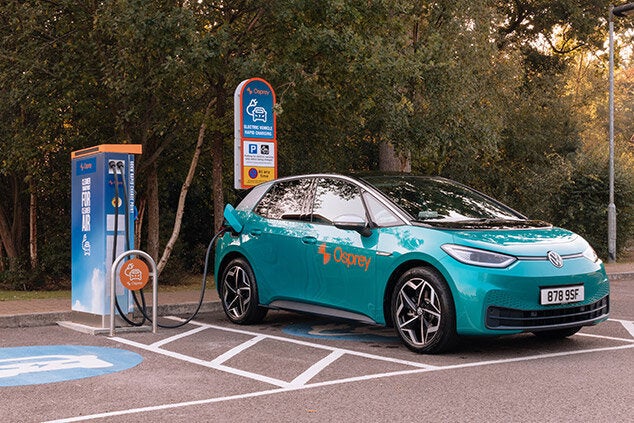 2021 is all set to be the year of the electric car, as drivers ditch their petrol-and-diesel guzzling automobiles for a future-ready, zero-emission vehicle. People are being spurred on by the UK's government's decision to bring forward its pledge, banning the sale of diesel and petrol cars, to 2030.
One criticism levelled against EVs in the past is that the infrastructure hasn't caught up to demand yet. Good news: Osprey Charging is helping to change that to ensure that electric vehicles aren't only the greenest vehicles on the roads, but also the most convenient ones.
Osprey Charging is one of the largest rapid charging networks, which funds, installs and manages the EV network on behalf of various landlord partners. Osprey has been instrumental in changing the EV charging landscape in the UK – in 2020, it was the fastest growing independent rapid EV chargepoint operator in the country, and the third largest installer overall. Osprey are also one of the country's favourite EV charging networks, as voted for by EV drivers in the 2020 ZapMap survey. Rapid EV chargepoints can power up electric vehicles in as little as 30 minutes, compared to the five-hours-plus of standard EV charging points.
All of Osprey's chargers are powered by 100% renewable electricity and accept contactless, app and RFID payments, so it couldn't be easier to recharge your electric car's battery.
Thanks to Osprey Charging, 2021 is set to be the year of a mass roll-out of EV charging infrastructure across the UK, including motorway service areas, town centre car parks and rural parts of the country.
The App That Reduces Your Carbon Footprint Through Gaming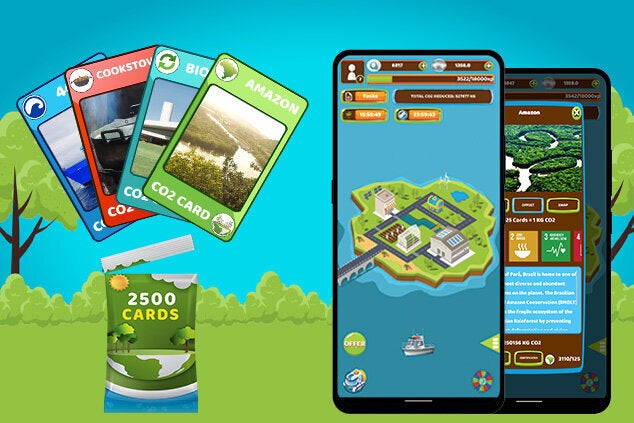 There are countless ways we can work to reduce our carbon footprint: jumping on our bikes instead of in our car, cutting our meat intake, not flying for a year… but there's one really fun way to offset our carbon load while receiving some Bitcoin and Ethereum in a built-in crypto-wallet. A gaming app called Green Karma.
Green Karma is a gamified carbon-offset platform which launched in January 2020. The only carbon-offset game powered by crypto-currency, it supports a variety of green projects. The larger the app gets (the more people sign up), the more significant those environmental contributions will be.
So, how does it work exactly? You download the Green Karma app from Google Play, and you'll have a range of tasks to complete as well as minigames to play, treasure chests to open and wheels to spin for added rewards.
As you advance, you collect CO2 cards, which have a host of information on a range of CO2 projects. When you offset, through the cards or phoneum tokens, you get rewards, in the form of PHT crypto tokens and major cryptocurrencies like Bitcoin and Tron, which you can redeem to offset carbon reduction projects, like Amazon rainforest conservation, solar, wind and biomass energy generation and removing plastic from oceans. Store your crypto currency in the app's built-in crypto wallet. Saving the planet has never been so enjoyable.
The game is free to play but those who are keen can purchase in-app items to advance faster. Players who manage to reduce 100kgs of CO2 will receive a carbon offset certificate in their name.
Green Your Skin Regime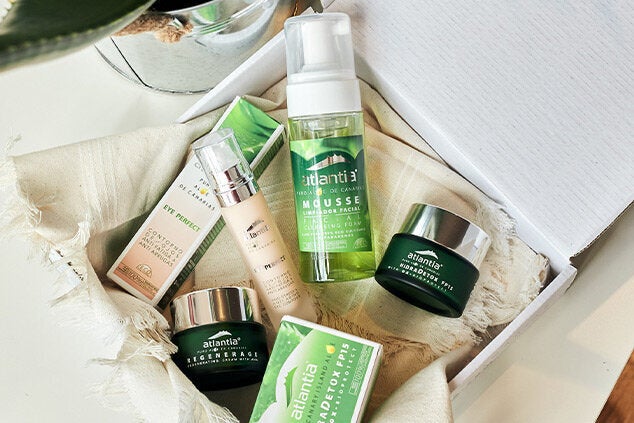 We're always on the lookout for the next potent skincare ingredient but aloe vera isn't a new invention - rather, it's a gem of the past. Ancient Egyptians considered it to be "the plant of immortality" thanks to its antiseptic, soothing and healing properties.
Aloe vera is the not-so-secret ingredient in skincare brand Atlantia's products. Every cream and cleanser contains cold-stabilised, 100% pure aloe vera juice, found in the volcanic soil of the Canary Islands, where the plant is sourced and the products are made. While other brands may list aloe vera as an ingredient, read the fine print to see how it's been sourced: cheaper aloe powder or concentrate, as opposed to the pure aloe vera juice used in Atlantia's products, will minimise the plant's efficacy.
Find Other Like-Minded Souls At GreenSingles.com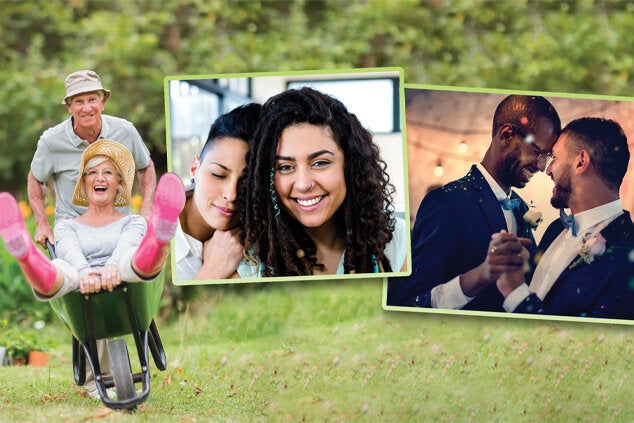 When looking for a life partner, you want someone who marches to the same ethical beat as you. For the environmentally conscious, a relationship with someone who isn't as impassioned about animal welfare or the future of our planet is going to be a deal-breaker… and you want to be able to weed them out before you're out to dinner together and they've ordered a rare steak.
Green Singles is the dating site for you. One of the first online dating sites, initially launched in 1996, Green Singles is now a part of the Conscious Dating Network, catering to all manner of conscious and spiritual individuals.
It's the place to meet fellow vegans and vegetarians, as well as climate and animal-rights activists, those interested in holistic and alternative therapies and eco-conscious singles of all persuasions from around the globe.
The inclusive dating platform is open to everyone, regardless of religion, orientation and the types of relationships people are seeking. With thousands of success stories over the years, many of those first tentative dates and conversations on Green Singles have evolved into lifelong friendships, relationships and life partnerships.
The Stylish Eco-Solution Getting You From Point A To Point B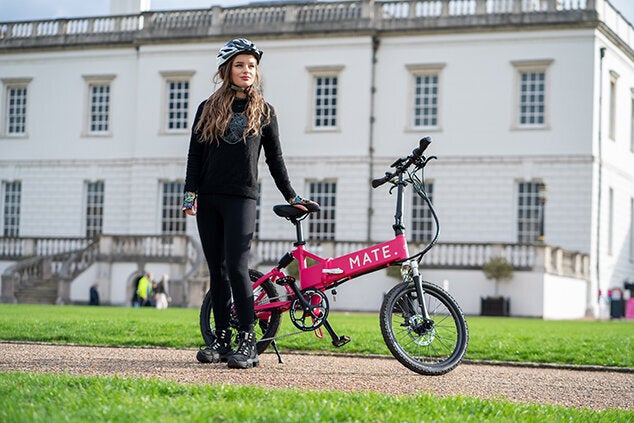 It's official: the must-have accessory of the season isn't a handbag or a pair of shoes. It's a sustainable solution that keeps you fit, lets you enjoy nature and gets you where you're keen to go. Yes, of course we're talking about an e-bike - searches for "e-bikes" have gone up nearly 200% in the UK in the past four years, as e-bikes have become more affordable, accessible and attractive pieces of kit.
Fitted with an electric motor to help you go further and cycle for longer with ease, one of the best-rated e-biking brands is MATE.BIKE, which has a slew of celeb fans who love riding the Danish brand's sustainable, stylish and foldable e-bikes, which start at £1,499.
Founded in 2016, MATE.BIKE's mission is to improve our planet - and look good while doing it. With stylish colourways and cool collaborations (fancy a Moncler edition MATE.BIKE?), each model is fully foldable, equipped with its own battery and covered by a two-year warranty. There's also always someone to chat to for advice or assistance at the UK call centre, before or after purchasing a MATE.BIKE. In addition, most MATE.BIKEs now come packaged in 100% recyclable materials.
The Charity That Grows Trees For Change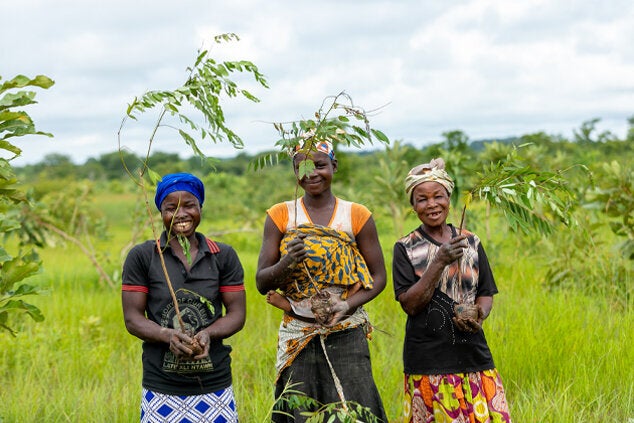 Finding a charitable initiative to get behind is one way you can help slow the effects of climate change, often while supporting communities in the process.
Tree Aid works with people living in Africa's drylands to tackle the climate crisis while also tackling poverty.
At its core, the charity runs a range of projects centred around the growing of millions of trees, in the Sahel region of Africa: trees that provide food and income, as well as helping to combat the climate crisis.
Tree Aid isn't about planting a tree and moving on; no, the organisation ensures that locals have the training and tools to make each tree thrive and provide nutritious food, as well as products like shea butter and soap, to provide income. The charity ensures that locals are able to manage these natural resources in an effective, climate-positive way.
Tree Aid's work is part of a larger movement in Africa known as the Great Green Wall, which aims to restore land and grow an immense belt of trees and vegetation across the Sahel. So far, Tree Aid has grown over 22.5 million trees. Each tree tackles the effects of the climate crisis and enables people to change their future.