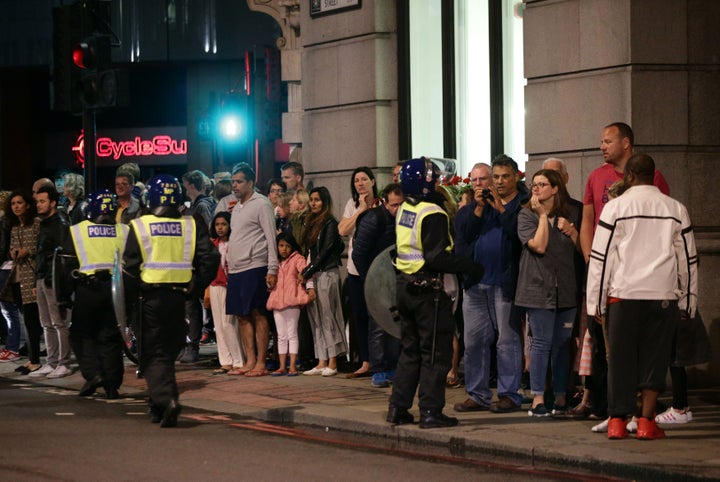 The police who took on the attackers armed only with batons
According to Sky News, the first police officer at the scene was a rugby player who took on the attackers until he was forced to the ground.
He is now understood to be in a serious condition in hospital.
He was stabbed in the face, head and leg.
British Transport Police Chief Constable Paul Crowther visited the officer at a hospital and said that he's in stable condition.
Crowther said that "it became clear that he showed enormous courage in the face of danger."
He added added that "for an officer who only joined us less than two years ago, the bravery he showed was outstanding and makes me extremely proud."
The taxi driver who tried to ram the terrorists
"Then three men got out with long blades, 12 inches long and went randomly along Borough High Street stabbing people at random. I saw a young girl stabbed in the chest.
"I said to the guy in my cab I was going to try to hit him, I was going to ram him. I turned around and tried, but he side-stepped me.
"Then there were two police officers running towards him with their batons drawn, they didn't know what was happening."
The hero cafe owner who saved 130 people
A Borough Market restaurant owner revealed how his quick-thinking staff were able to bring 130 customers to safety as the London Bridge terror attackers came running towards his cafe.
Mark Stembridge told his staff at Cafe Brood, some of whom were ex-military, to pull customers from the open balcony as they saw three men brandishing weapons coming towards the building.
"I can't tell you what they were screaming but they seemed to hesitate when they saw we were slightly organised," Stembridge told HuffPost UK.
"They then veered off beneath the bridge towards another establishment called Borough Bistro."
Read the full story here.
The pub customer who threw pint glasses
One man, named as Gerard Vowls by the Guardian, said that he was in the Ship pub near Borough Market when the attack, which left seven dead and 48 injured, took place.
He said he saw a woman being stabbed by three men at the south end of London Bridge towards the market.
He said he threw chairs, glasses and bottles at the attackers in a bid to stop them.
"They were running in all the pubs and all the bars and they were stabbing everyone", he said. "I was throwing bottles at them, pint glasses, stools, chairs."
Read the full story here.
The women who barricaded restaurant doors
Two women were hailed as "heroes" after barricading the doors of a busy restaurant to try to stop the attackers getting inside an continuing their murderous spree.
The Evening Standard reported that a cab driver said he picked up two women who had held the doors of the Black and Blue restaurant in Borough Market shut, before leading customers out of the back entrance.
He said: "They managed to escape from the rear door, possibly saving 20 people's lives."
The business journalist stabbed was trying to defend a bouncer
Sunday Express Business editor Geoff Ho has been hailed a hero for coming to the aide of a Southwark Tavern bouncer being set upon by a knife-wielding terrorist.
Ho, the Express reported, was stabbed in the throat during the altercation and was later seen walking calmly to an ambulance while holding a makeshift bandage over his wound.
The journalist, who is still recovering in hospital, has since posted a message on Facebook playing down his actions, saying he wasn't sure whether it was "stupid or noble" to intervene.