"All our warnings fell on deaf ears," the group wrote on their website where they have detailed fire safety concerns since January 2013.
Somewhat prophetically, in November 2016, the group wrote that "only a catastrophic event" would expose issues residents faced at Grenfell Tower and within hours of today's tragedy details of the building's rotten history ricochetted across social media, inflaming grief into rage.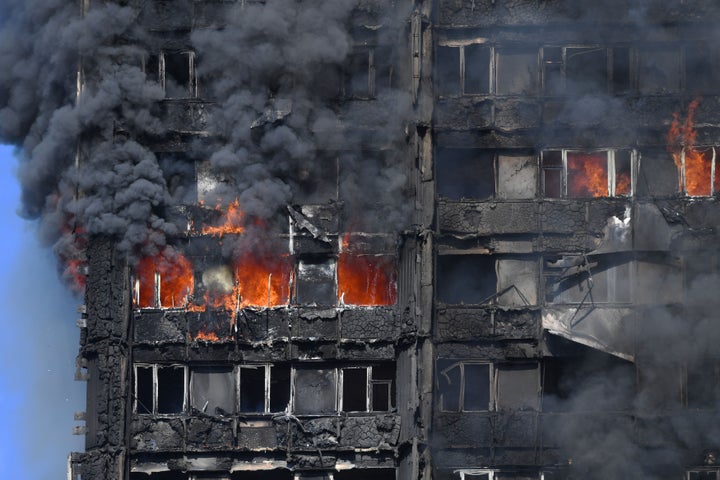 The residents' long-running fights with their landlord were well known before the London Fire Brigade, at 8am, confirmed the inferno was fatal and by 11am - when the death toll was confirmed at six - the full horror of the alleged negligence by authorities was being widely dissected.
Reports suggested fire alarms didn't work and sprinklers failed
And the 400-500 residents, spread over the 20 residential levels, had been advised to "stay put" inside their flats - possibly because there was only one exit.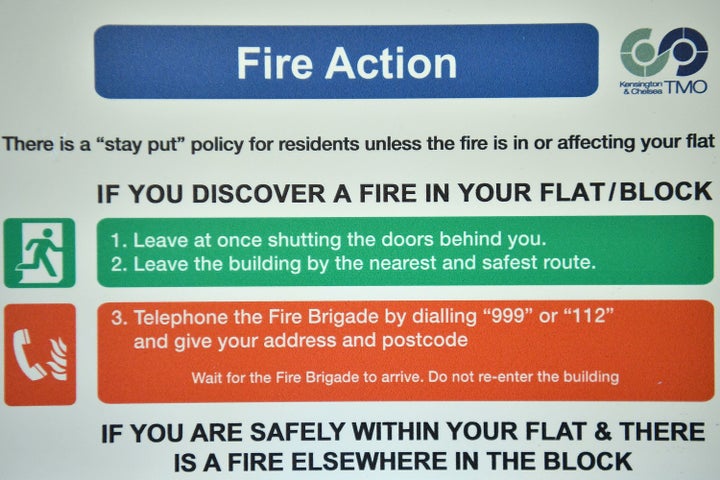 "The people trapped in the flats were screaming and crying for help. It was very very sad," Hamda Ali, who lives nearby and got to the scene shortly before 1am, told HuffPost UK.
"The entire building doesn't have an alarm and the fire brigade were telling people not to come out. I saw people jumping from the top floors without anything because the only way out was down the stairs, which has a gas pipe next to it."
Samira Lamrani told HuffPost UK that the building was an "accident waiting to happen".
Grenfell Action Group's post on Wednesday:

Watching breaking news about the Grenfell Tower fire catastrophe. Too soon (5am) to even guess at numbers of casualties and fatalities. Our heartfelt and sincere condolences to all who have perished, to the injured, to those who are bereaved or are still searching for missing loved ones.

Regular readers of this blog will know that we have posted numerous warnings in recent years about the very poor fire safety standards at Grenfell Tower and elsewhere in RBKC.

ALL OUR WARNINGS FELL ON DEAF EARS and we predicted that a catastrophe like this was inevitable and just a matter of time. Below is a list of links to previous blogs we posted on this site trying to warn the Royal Borough of Kensington and Chelsea who own this property and the Kensington and Chelsea Tenant Management Organisation who supposedly manage all social housing in RBKC on the Council's behalf.
While the Grenfell Action Group's complaints to the Kensington and Chelsea Tennant Management Organisation (KCTMO) are well documented, the issues - like the fire - went all the way to the top floors of power.
The review was called for after an inquest into a tower block fire in Camberwell, south-east London, in 2009, which found regulations covering such buildings were not up to scratch. The fire at Lakanal House claimed six lives and injured 20.
The coroner concluded that the panels on the exterior of the block had not provided the required fire resistance and insufficient fire risk assessments had been completed. A series of recommendations were made but a full review of the building regulations is yet to take place.
Speaking on LBC Radio, Ronnie King, honorary administrative secretary of the All-Party Parliamentary Group on Fire Safety and Rescue and a former Chief Fire Officer, said they had "strongly recommended" installing fire suppression systems and sprinklers in 4,000 similar tower blocks across the country.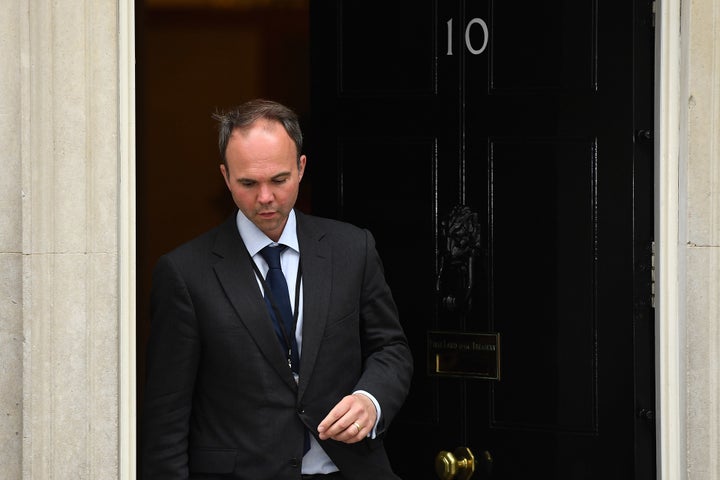 He said: "We were strongly recommending this because the fire at Lakanal House spread within four minutes and came into the flat above and then went on to kill six people, regrettably."
King said it was likely similar failings existed in Grenfell Tower.
"I wouldn't have expected fire to spread like that if there had been automatic fire sprinklers installed," he said.
London Labour MP Jim Fitzpatrick, who was a firefighter for more than 20 years, said this morning that the government had resisted calls to install sprinkler systems in tower blocks.
Fitzpatrick, who chairs the All-Party Group, said the Lakanal House fire should have been a "wake-up call", The Mirror reported.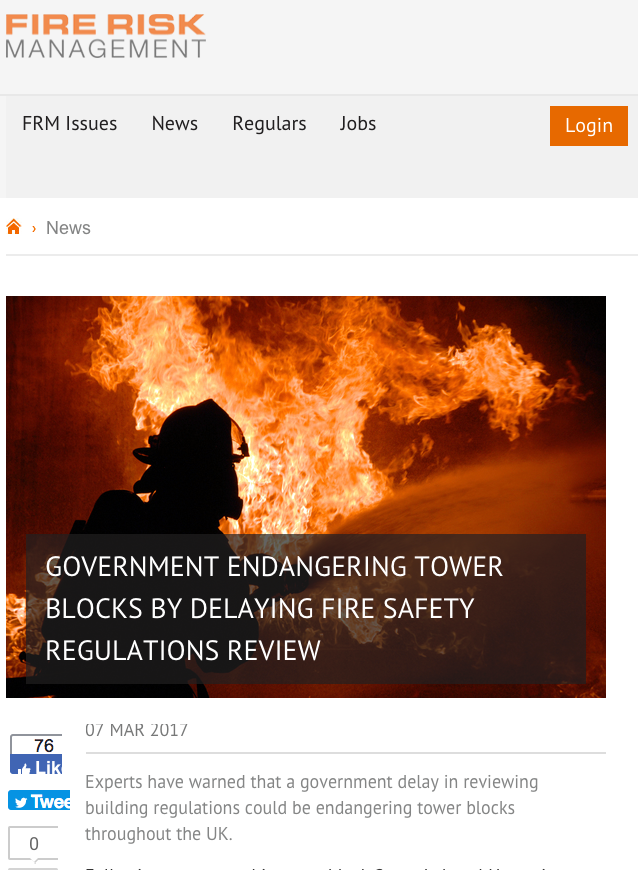 Grenfell Tower, on Latimer Road, was built in 1974 by Kensington and Chelsea Borough Council and as part of the Lancaster West Estate, a social housing complex of nearly 1,000 homes.
The tower sits near Westfield shopping centre in White City and the A40 - a major route for traffic entering and leaving west London.
Last year a two-year £10m refurbishment was carried out at the tower, which was part of a wider transformation of the estate and a £57m borough-wide regeneration.
The new exterior cladding was put up, double glazed windows were added, and a communal heating system.
The cladding, which encased the building, was claimed today to have caught fire "like a matchstick".
The project, which was designed and delivered by KCTMO in partnership with Rydon Construction, was said to have been complex, as it took place while all 120 flats were occupied.
Rydon issued a statement on Wednesday saying it was "shocked to hear of the devastating fire" adding that their work "met all required building control, fire regulation and health & safety standards".
Rydon added that it would cooperate with the authorities and that any further comment would be inappropriate.
Andrew Goldman, a director of Rydon, told Good Morning Britain that he didn't know if there was "any direct link between the fire and cladding" but added that the company followed relevant guidelines.
"There are various different types of cladding and I don't know the exact specifications..
"It's a terrible disaster and again we want to get to the bottom as quickly as possible"
"All the materials that we used and the procedures we put in place follow health and safety guidelines.
"These things are signed off by the relevant authorities to make sure they comply."
The cladding was installed at a cost of £2.6m by specialist facades contractor Harley Facades Limited. The company has referred inquiries about the fire to Rydon.
Mohammed Jamal, 27, who lives nearby, said that he believed the building's new cladding may have helped the fire spread.
"You could see the blaze following the line of the panelling up the building," he told HuffPost UK.
He also said the cladding was only added to make it look more like a nearby school, Kensington Aldridge Academy.
He added: "There's a plaque on each landing that says 'in a fire emergency don't leave your homes'.
"The emergency services were telling them verbally to stay in their homes but were telling them 'get out, the whole building is on fire."
Another resident, who declined to be named, went further with his criticism of the building and its cladding, saying the alteration had turned it into a "death trap".
The man, whose family lived on the fourth floor, told HuffPost UK: "That place was a death trap. Cladding was installed last year to make the building look better but that made the building more flammable.
"There's also gas pipes which contributed to the problem."
MailOnline today claimed the fire was an "almost carbon copy" of a blaze in October 2015 in another KCTMO property, in Adair Tower in Appleford Road, North Kensington, when sleeping residents were evacuated from a tower block and 16 people taken to hospital after a fire in a third-floor flat.
Emma Dent Cord, the MP for Kensington, told BBC's Today Programme that she was waiting for a briefing on the fire, but said there had been a "number of concerns over a number of years" raised about fire safety in west London tower blocks.
Cord cited an incident in April, at nearby Trellick Tower, which resulted in 200 people being evacuated after a cigarette butt, thought to have been thrown out a widow by a resident, started a fire on a balcony below.
The Guardian reported that the owner of tower placed its safety policy under review last year and ordered multiple changes to take place, including the way it handled fire risk in its properties.
The review by KCTMO was underway, according the newspaper, at the same time as the Grefell Action Group warned on its blog that it believed that "only a catastrophic event will expose the ineptitude and incompetence of our landlord, the KCTMO".
KCTMO, the newspaper said, had been handed a "deficiency notice" by the London fire brigade after it audited another of its properties – Lonsdale House.
According to board papers for November 2016, seen by the Guardian, KCTMO admitted it needed to make a number of improvements.
The Grenfell Action Group later raised a number of concerns about the improvements.
The KCTMO are yet to respond to allegations about the building's fire safety record. The Metropolitan Police say it "too early to speculate on the cause " of the blaze.