London Underground has apologised after staff guidance on dealing with homeless people on the network referred to them as "dirty and smelly".
Revealed by The Times, the Safer Steps document advises staff: "From time to time vagrants gain access to the London Underground system. They are often dirty and smelly but, in reality, they are usually fairly amenable to being moved on, although there's always the exception.
"Additionally, some are affected by alcohol and this, in turn, can make them aggressive."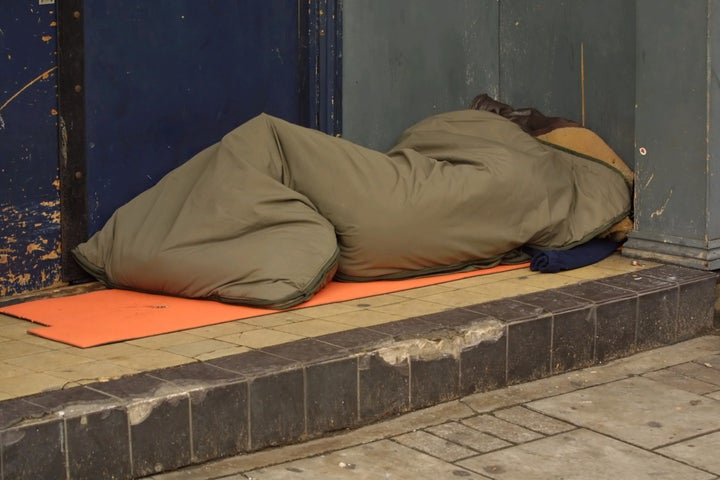 It informs staff who have encountered homeless people in the rail network to call the police and ensure CCTV is working, making no mention of contacting charities which help rough sleepers, such as Streetlink and Crisis.
It adds: "Buskers can be a real nuisance on stations. Not only do they obstruct passageways but they are often not particularly musical."
Steve Griffiths, London Underground's Chief Operating Officer, told Huffington Post UK by email: "I apologise wholeheartedly for the language used in this document, which is completely unacceptable and wholly unreflective of our views or approach to this issue.
Concerned about someone sleeping rough? Tell Streetlink
"We've immediately withdrawn it from circulation and are carrying out an urgent review into how the document came to be produced.
"We work closely with our established partners at the Thames Reach charity to ensure we provide as much support as possible to homeless people, and have a long history of treating homeless people with respect."
Mike Nicholas of Thames Reach told Huffington Post UK: "Thames Reach welcomes the wholehearted apology by Transport for London and recognises that a document issued last year does not reflect their current stance on working with homeless people.
"On the contrary, Transport for London and Thames Reach are working together to help homeless people in need.
"This year Thames Reach has worked with TFL to introduce an app that enables TFL staff to report sightings of people who they think may be sleeping rough on tube trains or in tube stations.
"Thames Reach outreach staff will respond to any sightings by meeting up with and offering support to the rough sleeper to help them escape homelessness, secure accommodation and get their life back on track.
"If the public see any homeless people on public transport, please inform TFL staff who can then get in touch with us so we can go out and find and help that person."
Howard Sinclair, chief executive of St Mungo's said: "Homelessness is not inevitable, and the fact it exists shames everyone in our society.
"It is a shame that whoever wrote, and whoever agreed this guidance overlooked that fact. I'm sure that on reflection they will have wished they had.
"The starting point for our work at St Mungo's is that rough sleeping is harmful and dangerous, and that no one should have to sleep rough in this day and age. Each person's story is individual, often involving physical and mental health problems.
"Rough sleeping has more than doubled in England over the last six years and people are experiencing a shocking amount of violence and abuse on the streets. One in four people we interviewed for recent research had been the victim of a violent assault, and in London, one rough sleeper has died every fortnight since 2010.
"Those who work on the frontline, including our partners in transport and other services, have a key part to play in rising to these challenges and helping services like ours get vital support to people at the right time."
Popular in the Community