Lord Sugar is facing a huge backlash after posting details of a conspiracy theory about coronavirus on Twitter.
On Thursday, the Apprentice star raised eyebrows when he posted a tweet – which has since been deleted – suggesting that the virus had been man-made in a laboratory.
This has now been debunked by Full Fact, and while Lord Sugar has conceded the theory he shared was "fake news", he has continued to defend his decision to tweet it, and keep the post up for some time.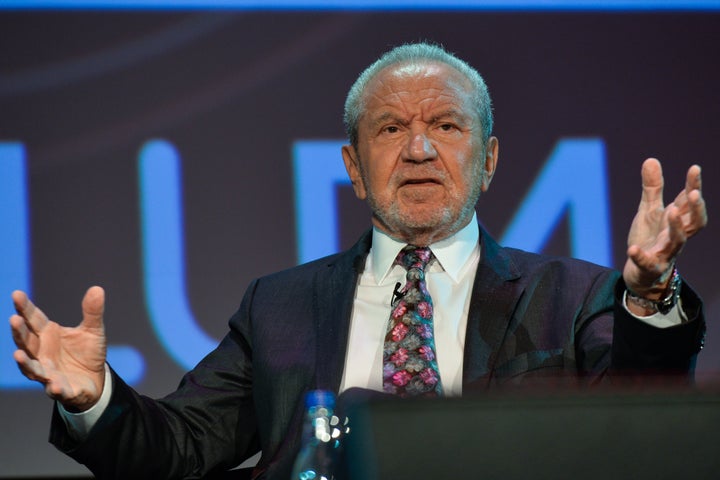 Initially responding to one of his detractors with the message "I just passed [the theory] on… I didn't write it", his tweets to critics became increasingly more irritated and sarcastic as time went on.
"Isn't your slogan I didn't write the headline. I didn't write that either," he told one journalist, who he then urged to "chill out", later telling another Twitter user to "shut [their] face".
However, Lord Sugar isn't the only star who's come under fire for sharing false theories about coronavirus in the last few weeks.
"I totally agree with everything you're saying, but what I don't accept is mainstream media immediately slapping that down as not true, when they don't know it's not true," he said.
"No one should attack or damage [phone masts] or do anything like that, but it's very easy to say it is not true because it suits the state narrative. That's all I would say as someone with an inquiring mind."
Meanwhile, Amanda Holden had previously found herself at the centre of a similar controversy when a link to a petition suggesting 5G is linked to coronavirus appeared on her Twitter page.
However, she insisted she had accidentally tweeted the link, and does not believe in 5G conspiracy theories.
"Amanda was sadly emailed a petition suggesting 5G is linked to coronavirus, did not know she'd accidentally tweeted a link to it, and does not believe in 5G conspiracies," her rep said at time.