After last year's series became a cultural phenomenon, 'Love Island' fever is about to sweep the nation once again, when a new batch of singletons get down to grafting and pieing off under the sun-drenched skies of Majorca.
Hunger for the new series is seriously high and in the weeks leading up to the big launch, there have been various rumours in the press about what fans can expect and how bosses will manage to top 2017 - but what is the truth in all of them?
RUMOUR: There's going to be two villas from the start
"I don't know," Caroline said.
Talking about the infamous Casa Amour twist during the last series, she continued: "Last year, we had the normal villa and they had this ongoing twist they kept talking about and it was called 'The Jackson Five' on set, and I'd be like, 'what is it?'
"One day, I walked down the side of the villa and saw this other villa that was all lit up exactly like 'Love Island', and I just go, 'oh look, there's another villa down there,' and they went, 'that's a coincidence, isn't it?' But I never twigged! So, we don't know, but I don't think so."
Iain added: "I wouldn't like that. If we had two villas from the start, I'd have to remember so many names."
CONCLUSION: Sorry folks, but we reckon it's a case of 'been there, done that' with this one.
RUMOUR: Danny Dyer's daughter, Dani, is going to be a contestant after dropping out of 'Survival Of The Fittest'
"She was great on 'Survival Of The Fittest' and I really liked her," Iain said. "I also really like Danny Dyer as a concept of a human, and I'd like if she was involved in it for me to for me to be able to be near Danny Dyer in some way.
"He's the only person who I think could voice the show better than me."
RUMOUR: This year's series is going to be the longest ever
"We are here for an extra week longer," Caroline confirmed. "And a week in 'Love Island' relationships is like a year in real relationships - and a lot can happen in a year...
"It's going to be the longest ever."
CONCLUSION: It's official - we're going to have an extra week of 'Love Island' in our lives this year, and for that we are truly thankful.
RUMOUR: There will be a lot more swapping in and out of the Islanders
"There's always been a lot of swapping in and out," Caroline insists. "This is the truth - the show produces itself. There's no, 'we'll have an eviction here or another there'.
"For instance, if they feel like I need to go in the villa and shake things up, they will phone me the day before - I don't know when I'm going there.
"When they put people in, like Muggy Mike last year, it's because of what's going on in the villa. I don't think they can plan anything."
CONCLUSION: Expect more of the same in terms of dumpings, recouplings and new faces, we reckon.
RUMOUR: The villa is getting a big makeover
"There was pap pictures of people on their lunch break building the set," Caroline laughed. "I think they're just building the same thing, but I haven't seen it yet."
Iain added: "It's not ours, it's really expensive, so we build it and then we take it all out, and when the show starts, we build it again.
"It's a multi-million pound villa, so I'm guessing millionaire old people live in it normally, and I don't think they wan't 'buff' written on the wall of their toilet - I don't think a 70-year-old banker from Switzerland needs an outdoor gym or an outdoor kitchen."
CONCLUSION: The 'Love Island' villa has always had a distinctive look, and while a few additions can probably be anticipated, it's probably going to look just as it did last year.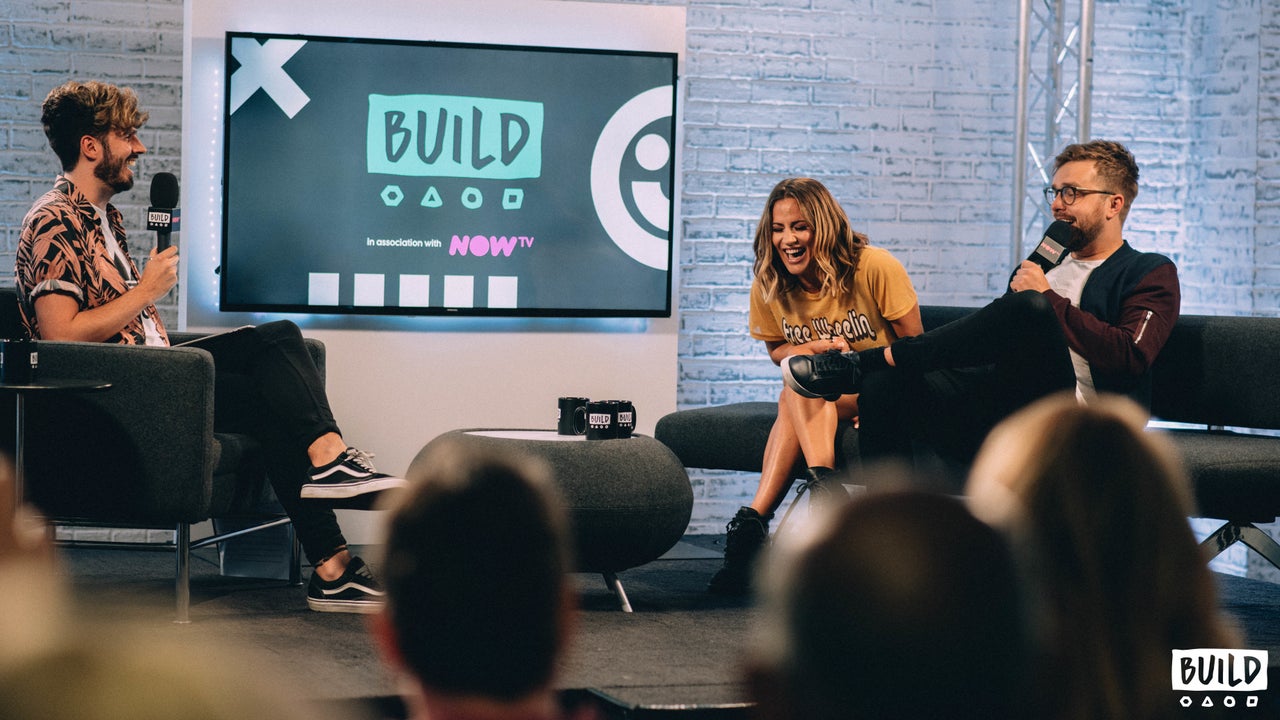 RUMOUR: Former Islanders could be returning
"I don't know if anyone would be going in as an Islander," Caroline admitted.
"One year, we put Omar [from series one] back in as a waiter and it was so funny, but I don't see the point of putting old contestants in - you've got to create a new story rather than go back on the old one.
CONCLUSION: As much as we'd love to see the Chris and Kem bromance rekindled under the bright lights of the villa, Caroline's right - it's time to let some newbies take the limelight.
The 'Love Island' Lowdown

Caroline on the new Islanders: "I've seen some of them in the flesh. We've gone up a notch."

Iain on the possibility of same-sex relationships: "Anyone can enter. The nature of the show is men and women make it easier, but that's format - it doesn't mean it has to be the way."

Caroline on topping last year's success: "You can't ever recreate the same magic because there was a certain magic to it last year, you've just got to hope you can make a different kind of magic."

Caroline on their unlikely Bafta win: "It was quite a moment. Everything sort of went in slow motion and really quiet, and then I tripped up the stage. We were so happy just to be nominated - that was the nod I thought we were going to get, not the full nod."

Caroline on her infamous walk into the villa: "Can I just point out to the people who get really angry at my slow motion walk - it's not a real walk! I walk normally and then they slow it down with special effects!"

Caroline on 'Big Brother' backing off their rivalry: "I think it's good we're going to be on at different times because we've got a similar audience, so we both benefit from it."
'Love Island' returns to ITV2 in June. Watch the full interview with Caroline and Iain in the video below...