At least seven people have been killed in a deadly attack at an upscale hotel and office complex in Kenya.
Kenya's interior minister told reporters that "the situation is under control" on Tuesday evening and all buildings, including the luxury DusitD2 hotel, are now secure.
Somalia-based extremist group al-Shabab has claimed responsibility for the "suspected terror" incident at the 14 Riverside Drive complex in Nairobi.
A fire and sustained gunfire sent workers fleeing for their lives in the Kenyan capital on Tuesday afternoon, Reuters witnesses said.
A spokesperson for al-Shabab told Al Jazeera on Tuesday afternoon: "We are currently conducting an operation in Nairobi."
Three cars were ablaze by the entrance and a picture of the hotel grounds on Twitter showed what appeared to be human remains lying on the path, according to Reuters.
A woman shot in the leg was carried out and three men emerged covered in blood. Some office workers climbed out of windows.
"There's a grenade in the bathroom," an officer yelled as police rushed out from one building.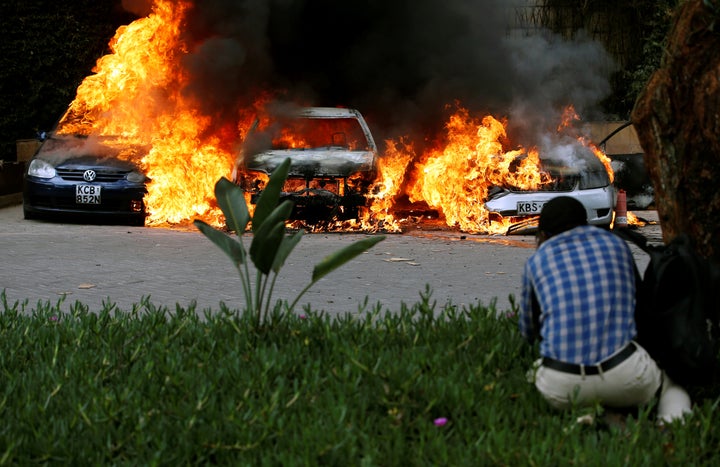 Kenya has often been targeted by al Shabaab, who killed 67 people at the Westgate shopping centre in 2013 and nearly 150 students at Garissa university in 2015. Al Shabaab says its attacks are revenge for Kenyan troops stationed inside Somalia, which has been riven by civil war since 1991.
Nairobi police commander Philip Ndolo said they had cordoned off the area around Riverside Drive, where the DusitD2 hotel is located.
During a media briefing Joseph Boinnet, inspector-general of Kenya's national police service, said: "We are aware that there still could be some armed criminals still holed up in the building. And our special forces are, as I said, engaged in that operation to flush them out."
"All our critical national infrastructure as well as battle installations remain on guard. We wish, at this stage, to urge the public to remain calm and to cooperate with the instructions given by security agencies. Of course, we are looking forward to bringing this situation to normalcy within the shortest time possible."
A woman working in a bank near the hotel said she heard gunshots and two explosions.
She said: "I just started hearing gunshots, and then started seeing people running away raising their hands up and some were entering the bank to hide for their lives."
"We heard a loud bang from something that was thrown inside. Then I saw shattered glass," Geoffrey Otieno, who works at a beauty salon in the complex, told Reuters. "We hid until we were rescued."
"We are under attack," another person in an office inside the complex told Reuters, then hung up. A large plume of Smoke could be seen rising from the area.