Apple has revealed the next generation MacBook Pro.
As rumoured, it comes with a Touch ID finger print sensor and Touch Bar, doing away with traditional function keys.
After images of the MacBook Pro surfaced on the MacRumours earlier this week, the laptop wasn't a huge surprise. But it does look pretty swish.
Both models are the fastest ever MacBooks of their size and are slimmer and lighter than their predecessors.
Apple also announced a cheaper 13" without the Touch Bar and ID.
The new 13" MacBook Pro without a Touch Bar will start at £1,449. The 13" with a Touch Bar starts at £1,749 and the 15" MacBook Pro starts at £2,349.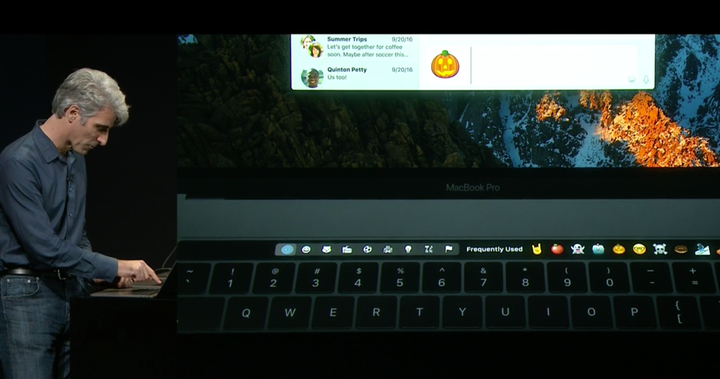 Here's a round-down of the most important new features:
At the last special event, Apple revealed it had removed the headphone jack from the iPhone. Now it's replacing function keys with Touch Bar.
The ten finger sensitive retina display transforms depending on which app you're using. If you're sending messages, for example, it will display emojis.
And if you want to navigate between different tabs in Safari, it will show you small visual previews. There's a whole host of potential professional applications using Final Cut Pro, Photoshop, DJ Pro, and Word.
Sitting next to Touch Bar is Touch ID. It enables users to quickly make payments in App Store, log in and instantly switch user accounts.
Second Generation Butterfly Keyboard
This is an upgraded version of the super responsive keyboard found in smaller MacBook Airs.
It's twice the size of previous track pads...
They're designed to maximise displacement of air and "fill the room with hi-fidelity sound". We'll believe it when we hear it...
Apple claims that both notebooks come with 10 hour battery life.
More specs - MacBook Pro 13" and 15" "the most powerful ever" MacBooks:
Four Thunderbolt 3 ports - Thunderbolt 3 is a USB-C port shape, which enables each port to be a power port. But unless you already have lots of USB-C ports, you'll almost certainly need an adapter to get it to work.
The 15" design comes with a quad-core Intel Core i7 with 2133Mhz memory. It has a 4GB VRAM, which 2.3x faster than the previous 15".
The middle 13" Pro with Touch ID has a 2.9Ghz dual-core Intel Core i5
Variable fan blades propel air through a nearly solid structure.
The 15" is 6.8 millions times faster than the original Apple notebook, released 25 years ago this week.