A drug derived from 'magic mushrooms' could help reduce symptoms in people with depression, a new study has suggested.
A small trial of 12 patients with treatment-resistant depression found that every participant experienced a reduction in symptoms one week after taking the Class A drug psilocybin.
Three months later, five patients were in complete remission.
While only small, the study's findings have been hailed as "promising" by scientists.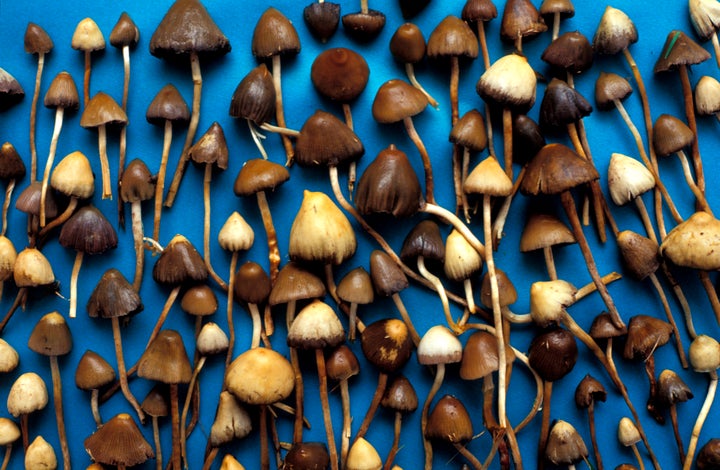 The trial involved taking two high doses of psilocybin one week apart, each does was equivalent to eating several 'magic mushrooms'.
In the first instance, a 10mg dose was given to patients. Then, one week later, a higher 25mg dose was offered.
All of the patients taking part in the study had been diagnosed with moderate to severe depression and had previously failed to respond to two different types of antidepressants.
On average, the participants had suffered from depression for 18 years. One man, aged 40, had suffered with depression for 25 years and a woman, aged 43, had struggled for 30 years.
The 12 patients - who had been carefully screened to exclude anyone with a history of suicide attempts, psychosis or drug dependence - were required to "trip" on the drug as part of the treatment.
Patients were assessed one day after the first dose and then at one, two, three and five weeks, and three months, after the second dose.
All received psychological support during the trials to help them cope.
Lead scientist Dr Robin Carhart-Harris, from Imperial College London, said it was important to provide psychological support afterwards as the experiences of those taking psilocybin can be "incredibly profound".
As predicted, the treatment did have a few adverse side effects on patients.
Some reported confusion, nausea and headaches, while two people suffered brief episodes of mild paranoia.
Within a week of taking the drug, all of the participants had experienced a reduction in symptoms.
Three months after taking psilocybin capsules, seven patients continued to show an improvement.
Of these, five remained depression-free.
Dr Carhart-Harris explained that the treatment does have its limitation, as it can be "psychologically challenging".
Additionally, because all the patients knew what they were taking, the reliability of the study's results is open to question.
"This isn't a magic cure, but even so the effects at this stage do look promising," he said.
"New treatments are urgently needed, and our study shows that psilocybin is a promising area of future research.
"The results are encouraging and we now need larger trials to understand whether the effects we saw in this study translate into long-term benefits, and to study how psilocybin compares to other current treatments."
Researchers now hope to obtain funding for a larger randomly controlled trial which would compare the effects of psilocybin with those of an inactive "dummy" drug or other form of treatment.