Bidders are being told "don't panic" as jars of the quintessentially British spread are being offered at an extortionate rate.
It emerged on Wednesday that Tesco had stopped selling major household brands such as Marmite, Flora and Persil detergent to its online customers following a row with supplier Unilever.
Following the news, people announced that they would be selling the soon-to-be much-coveted item on the auctioning site.
And it seems that some took the idea quite seriously, with jars of Marmite now being advertised on eBay as a direct result of yesterday's news.
Under the listing, the description reads: "One of the last remaining examples of this fabled product in private hands.
"Unsealed, it is in the same condition it was when it was plucked from the supermarket shelf.
"Little did I know it would be the last Marmite I ever bought - and now, you, too, can buy your last ever Marmite"
"FREE postage, UK only. I will not post this item to Europe."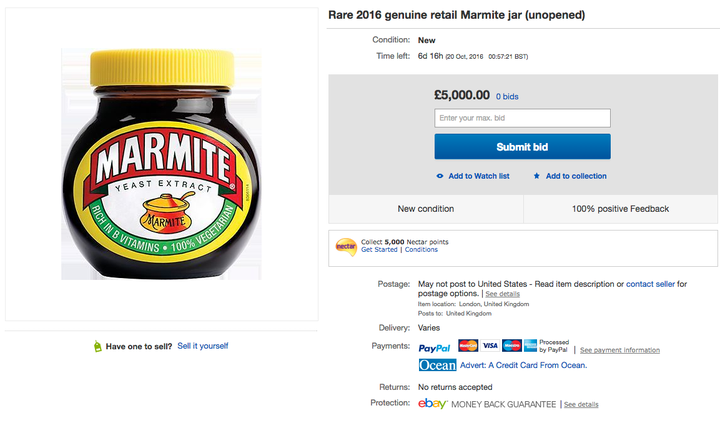 So far there have not been any bids placed on the item.
Its description reads: "A much loved/hated spread once found in many cupboards across Britain, but following the decision to leave the EU has now become an extremely rare item.
"The decision to (leave the) EU is likely to cost thousands of jobs, and billions of taxpayer pounds; obstacles to employing foreign workers will hold back public and financial services; British people travelling abroad could be subject to visa controls and holidays and goods abroad will increase in cost; far-right agitators will continue to be emboldened by the xenophobia of UKIP and Brexit leaders.
"This rare jar of yeast extract could at least ensure that a family somewhere in the country will receive their recommended daily allowance of the B12 vitamin."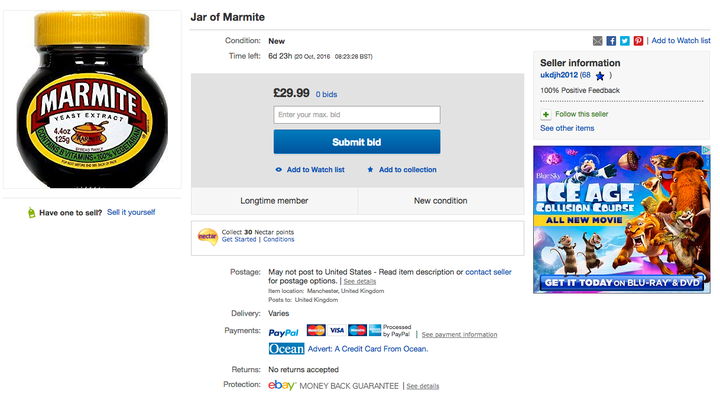 Jars of Marmite are also being sold at more conservative prices.
One advert starts the bidding at 50p, with the description reading: "Don't panic. I have a new, squeezy 200g unopened Marmite. Happy bidding."
"This jar maybe the last bought before the price hike, a unique post Brexit pre-inflation example."
Univlever is believed to have demanded a 10% price rise due to the falling value of the pound against the dollar and euro, and halted deliveries to Tesco when the supermarket refused.
Brands affected include Surf washing powder and Comfort fabric conditioner, mayonnaise maker Hellmann's, Pot Noodle and Ben and Jerry's Ice Cream - none of which are available from Tesco's website.