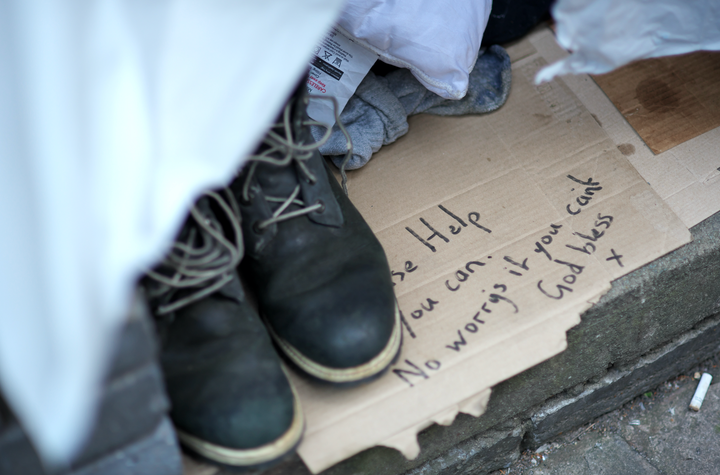 Greater Manchester Mayor Andy Burnham has called on the government to declare a homelessness emergency – and for the region's plan to tackle rough sleeping to be rolled out as a national strategy.
In a speech on Wednesday morning, Burnham said he was calling for urgent action in the wake of at least 449 deaths on UK streets during over the last two years.
Burnham told HuffPost UK that early findings reveal Greater Manchester's A Bed Every Night scheme – launched in November – has supported more than 1,400 people to get off the streets into somewhere safe and warm. Of these, more than 400 have now moved into longer-term and stable accommodation.
Burnham said: "If you leave people to become long term rough sleepers, it does not save money as the cost to public services is considerable.
"Doing nothing to tackle homelessness and rough sleeping does not save money – in fact doing the right thing is likely to save the country money."
He added: "We are absolutely certain there are savings to the health service, the police service and the criminal justice service from running A Bed Every Night."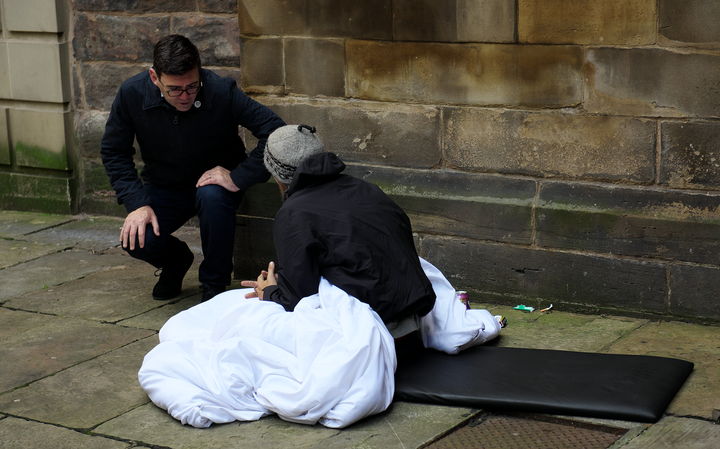 A Bed Every Night was established last autumn to give rough sleepers in Greater Manchester a bed, a hot meal, a shower and support to move off the streets and into a permanent home.
Night shelters have been open in every one of the city-region's 10 boroughs. They offer a bed as well as advice and support to every person accommodated.
Burnham says he is determined the scheme will be extended by 12 months with the second phase involving a broader range of organisations both in Greater Manchester and nationally.
The mayor believes the rest of the country can learn a lot from the scheme and wants the government to support other cities to tackle the humanitarian crisis.
He told HuffPost UK: "When there are hundreds of people dying on British streets, there is a real need to prioritise this issue across the board.
"I am fed up that Brexit is being used as an excuse to go adrift on so many domestic issues.
"Crisis estimates that if one person is left to sleep rough for a year, the cost to the public purse is about £20,000 in providing emergency support.
"A Bed Every Night costs £32 a night for one person – so £11,680 over a year. When you consider it costs more to do nothing about rough sleeping, it is a powerful argument and a moral imperative for more urgent action.
"Homelessness and rough sleeping just requires public bodies to work differently and lives can be saved.
"We need a society that picks people up as soon as they fall rather than picks up the pieces after they have been left shattered for months."

However, Burnham admitted the scheme hasn't all been plain sailing and issues have arisen such as variation in accommodation and the referral process needing to be improved.
Overall, 1,423 people have been accommodated through A Bed Every Night in shelters across all 10 Greater Manchester boroughs since the launch in November last year. Of these, 480 people – more than a third – have moved on to a more suitable housing solution.

Burnham said: "Last week parliament voted, rightly, to declare a climate change emergency. But where is the declaration of a homelessness emergency?
"Surely, when hundreds are dying every year on British streets, that is exactly what is needed.
"People in doorways is in danger of being accepted as just an inevitable and unchangeable fact of modern life. It can't be allowed to happen.
"This is a humanitarian crisis is of our own making – and entirely fixable. We need to approach it with a new mindset and a new urgency."
In his speech at Mustard Tree, a homelessness charity in Manchester city centre, the mayor restated his manifesto commitment to end the need for rough sleeping in Greater Manchester by 2020 – seven years ahead of the national government target.
He will also reveal his intention to continue to contribute 15% of his salary to the cause.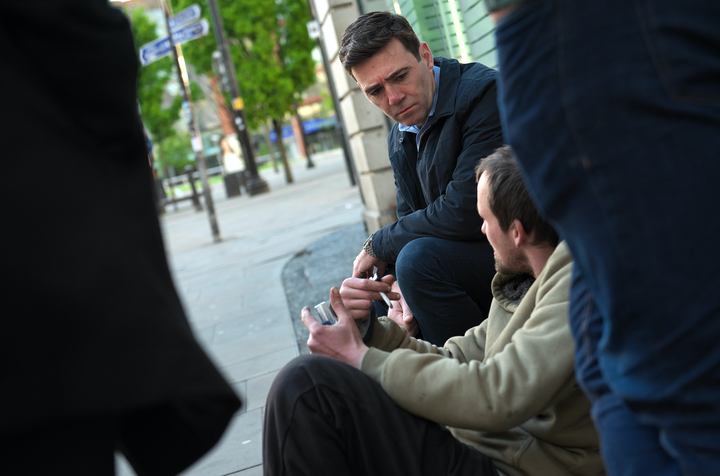 Eleanor Watts, area manager for Riverside housing association in Manchester, which aims to end homelessness, says the shelter she runs has made an incredible difference in the amount of people it has helped.
She told HuffPost UK: "A Bed Every Night has given us more opportunities to work with more people and has freed up more accommodation to help people.
"It is about pulling together and sharing resources and building a relationship with people and then working with them to achieve a more permanent solution to staying off the streets and getting them into their own home."